Beets. Love 'em or hate 'em, you can't deny they're a beautiful color, and so is this beet hummus.
This hummus recipe is definitely for beet lovers. The beets weren't just added for color in this one - they also contribute to the flavor. The acidic lemon juice is a perfect counterpart to the sweetness of the beets, and the pistachio oil adds savoriness and a beautiful color contrast.
The recipe calls for cooked beets, so you'll need to cook them ahead of time. The easiest way to do this is to wrap the beets in foil and roast, then let cool before peeling and cutting into cubes. I included some quick instructions at the beginning of the recipe for you.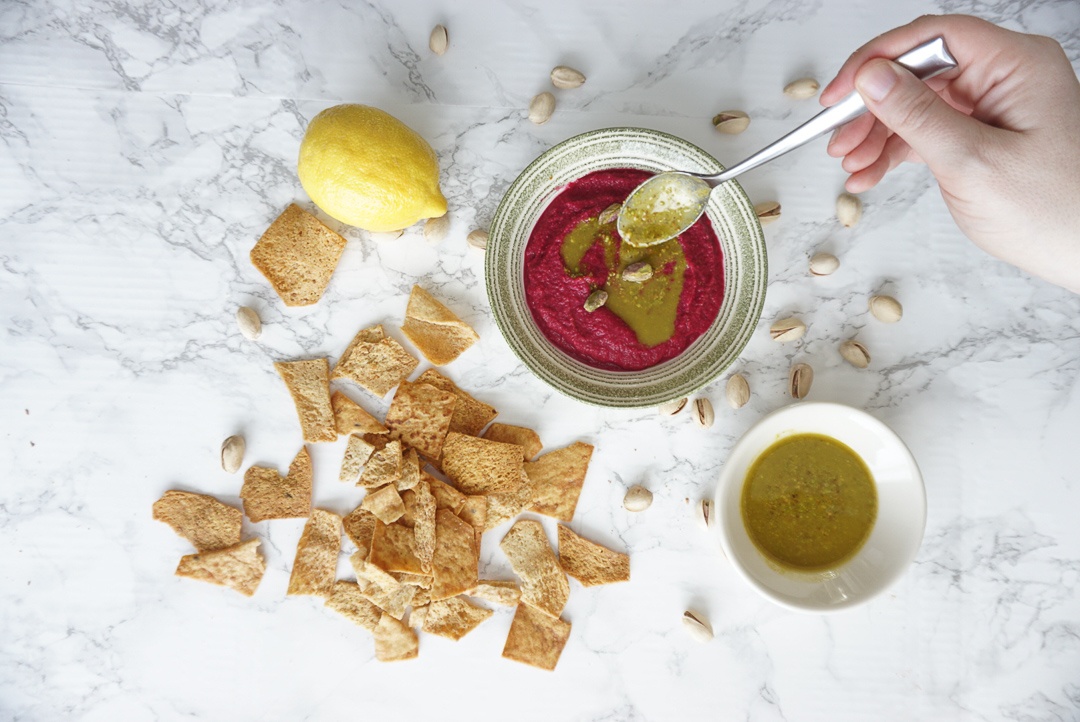 This recipe was actually more challenging than I expected to get right. When you create and publish recipes, you go through a process - first write the recipe, then cook it following the instructions. From there, you take notes and make adjustments, then rinse and repeat until you're satisfied that the flavors are good and the recipe is easy to follow.
Honestly, I figured I'd just throw some beets into my go-to hummus recipe and hit publish. I mean, it's just hummus, right? Easy-peasy (see what I did there?), no testing needed. But you know the old adage about assuming.
So… yeah, just FYI, beets and tahini are NOT a good flavor combination. Also, you need a fair amount of beets to really get the right flavor and prevent the hummus from being a weird, frosting colored, cotton candy pink. (I don't think hummus is allowed to be that color - it's very confusing).
The pistachio butter turned out to be the real conundrum. It took FOUR tries to get right. (Hooray for shelled pistachios). First, I figured I'd make it like a cashew cream - soak the pistachios overnight, blend with some water, and voila! Ha. Pistachios turn a very unappetizing brown color when you soak them/ add water. I tried two versions of this before I realized that wasn't going to work.
Then, I tried blending with just oil, figuring that would retain the color. I decided to get fancy and toast the pistachios first to bring out the flavor - which turned out an even more unappetizing brown color when blended. (Tasted great though!)
Finally, I hit the winner with only pistachios and olive oil. The final product got better when I took ingredients away - go figure. And there you have it - an excellent hummus to add to your chickpea recipe portfolio :)
Hope you enjoy this delicious hummus - I think I'm going to serve it at my birthday party myself!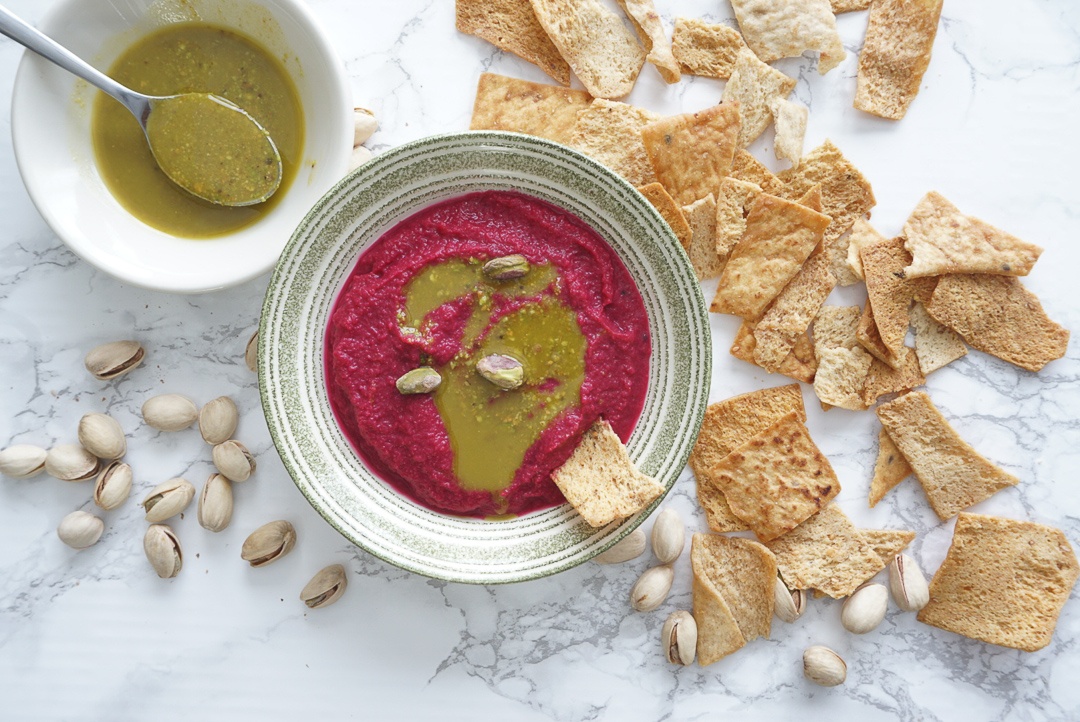 Servings: 4
Time: 20 minutes (not including cooking the beets)
Ingredients
½ cup shelled pistachios
¼ cup olive oil + ¼ cup olive oil, separated
1 ½ cups cooked beets
One 15 oz. can chickpeas, drained and rinsed (1 ½ cups cooked)
1 clove garlic, chopped
3 tablespoons lemon juice (freshly squeezed, please)
½ teaspoon salt
½ teaspoon pepper
Instructions
To roast beets
Preheat the oven to 400 degrees.
Wrap the beets in foil and put on a sheet pan.
Cook for anywhere from an hour to 90 minutes, depending on the size of the beets. They're done when you can pierce them all the way through with a knife.
Remove from the oven and let cool completely. Unwrap.
Peel the outer skin off and slice into 1" cubes (you may want to use gloves here if you don't want your hands to turn a bit pink, but I never bother).
Pistachio Butter
Add the pistachios and 2 tablespoons of oil to a food processor and blend on high. Slowly drizzle in the remaining 2 tablespoons of oil until it's a pourable consistency. Remove and set aside, and rinse out the food processor bowl and blade.
Hummus
Add the beets, chickpeas, ¼ cup olive oil, garlic, lemon juice, and salt and pepper to the food processor. Process on high for 3-4 minutes, adding up to ¼ cup of water as needed to thin the consistency. (You might not need any water - use your judgement).
Transfer the hummus to a serving dish and drizzle with pistachio cream.
Serving
Serve with pita bread, pita chips, carrots or celery - all the usual hummus dipping suspects.
Storing
Keep in the fridge up to three days - like any hummus, it freezes beautifully.