Here's an easy, healthy dish that's perfect for dinner. With only 9 ingredients, minimal prep, and mostly unattended cooking, it's easy to get on the table and ever so flavorful.
Black beans are cooked from scratch with aromatics, then seasoned with cumin and chili powder. Hearty greens are stirred in at the end for a warm, flavorful stew that's just a bit spicy.
While collards work especially well here, I suggest buying whatever hearty greens look best, since that can vary week to week (at least in my supermarket). In the photos, you'll see that I actually used Swiss chard since the collards were looking pretty wilted, and the chard was looking fresh and crisp.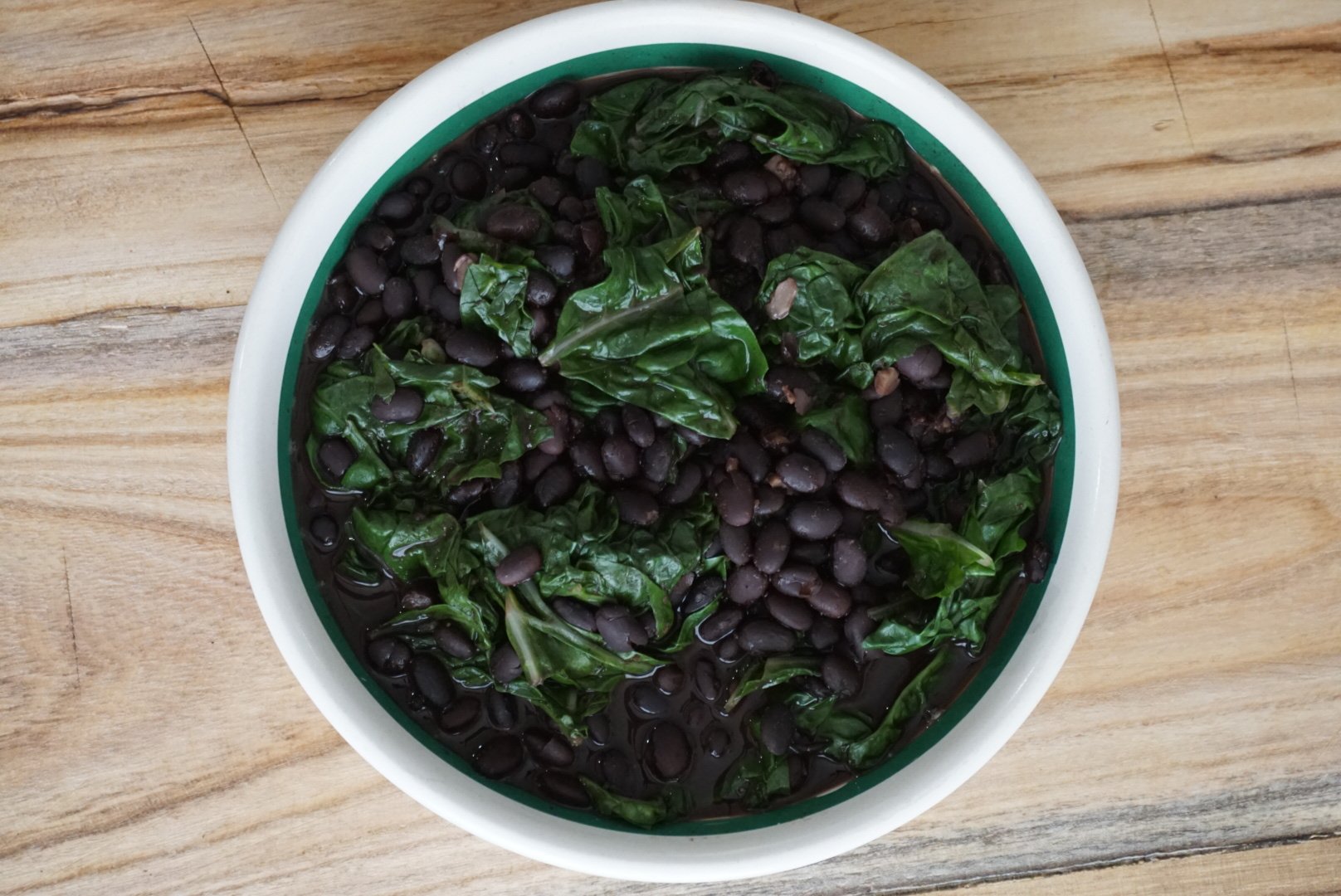 One of the great things about this dish is that you can change up the texture - if you like something a bit more like soup than stew, simply add more liquid. If you'd like a drier texture, drain off the liquid before serving (or simply scoop out of the pot with a slotted spoon).
I do also want to note here that these black beans and collards alone really aren't enough calories to qualify for an entire meal, so I'd suggest serving this with baked sweet potatoes topped with salsa and this spicy red cabbage slaw (which the hubby LOVES - mayo based slaws aren't really his thing). The flavors harmonize perfectly. And if you'd like to bulk it up a bit more, throw in some tortillas (warmed in the oven first, preferably) or brown rice. The baked potatoes are practically no work at all - they just bake in the oven while the beans are bubbling away. Toss the slaw together while everything is cooking.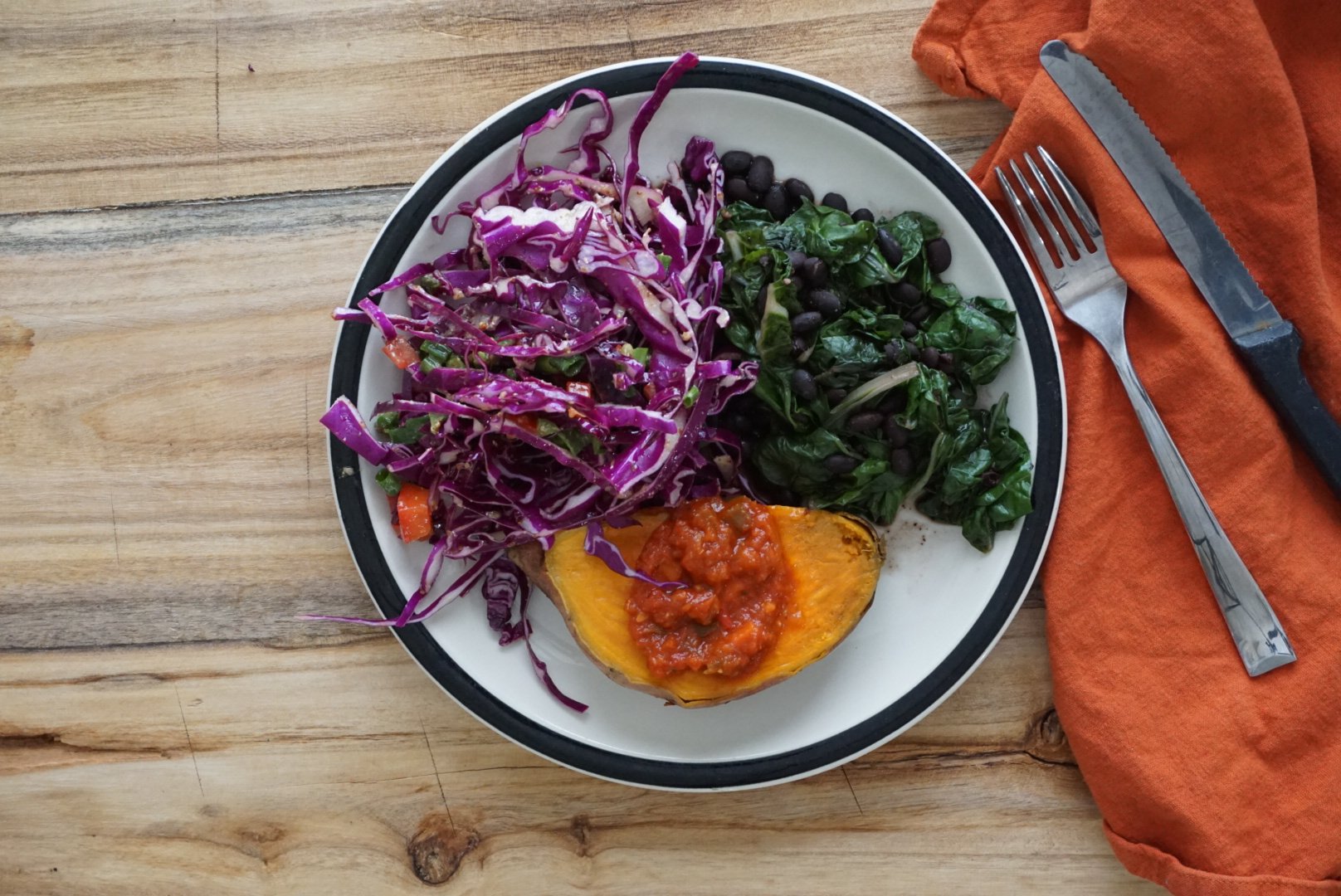 As always, you can choose to soak the beans for 8-12 hours to reduce the cooking time. (My beans were done in less than two hours without soaking, but this of course depends on the batch of beans you get). If you really want to cut the time to get on the table down, just use canned beans, cut out the aromatics, and cook everything together for about 15 minutes before adding the greens so the flavors have time to meld.
Adding the spices at the beginning makes the house smell delicious and warm (in my opinion), but if you'd prefer add the spices about 10 minutes before the beans are done, before you add the greens.
If you're concerned about eating healthful, plant-forward meals and keeping your food costs reasonable, cooking at home is a necessity. Since I'd really like this site to be friendly to the health conscious home cook, I've decided to start adding the cost per serving and calories per serving to the recipes (you can find this below). I'd love to hear if you think this addition is valuable in the comments!
Servings: 4
Prep Time: 10 minutes
Cook Time: 1-2 hours, mostly unattended
Cost Per Serving: $.76 dish / $4.31 meal
Calories Per Serving: 172 dish / 467 meal
Ingredients
2-3 shallots or a small onion
1 clove
1 bay leaf
1 cup dried black beans (optionally, soak for 8-12 hours prior, this will reduce the cooking time)
2 teaspoons chili powder
1 teaspoon cumin
½ teaspoon salt
¼ teaspoon ground black pepper
1 head of hearty greens, rinsed and roughly chopped (collards work well, but whatever looks best at the store will work just fine), 5-6 cups
Instructions
This is excellent served with baked sweet potatoes, and if you agree, now is the time to start them. Preheat the oven to 375 degrees F. While the beans are cooking, bake the potatoes for 60-90 minutes or until the potatoes are tender all the way through when pierced with a knife.
Cut a slit into the onion or one of the shallots and insert the clove.
Combine all ingredients except for the greens in a pot and cover with 3 cups water.
Cover and bring to a boil.
Turn the heat down to medium low and cook at a low simmer, partially covered, for 1-2 hours or until beans are tender. If at any time the beans become dry, add water to cover.
Another side that goes perfectly with this to make a well rounded meal is slaw - now is the time to make it if you're serving it.
When the beans are tender, remove the onion or shallots and the bay leaf.
Add the greens and continue to cook, tossing every so often, for about 10 minutes, until the greens are reduced and silky and flavors are melded.
Serving
This makes a great meal served with baked sweet potatoes topped with salsa and spicy coleslaw. If you like, add some warm tortillas or brown rice to the table.