I'm apparently in the mood for warm gooey filling and crispy bread. I write up a menu each week to help me make my grocery list, and this week's menu has grilled cheese (vegan, of course) with tomato soup, enchiladas (gotta use up that butternut squash), and these quesadillas. (Note to self: make a healthier menu next week.)
Sometime during the summer I made a note to "make cabbage and mushroom quesadillas", and it's finally time. March is still full winter at this point, and calls for all of the hearty vegetables. The cabbages are especially tempting right now.
Quesadillas have such great texture- the wraps get all crunchy on the outside and the filling is all warm and soft on the inside. These are spiced with thyme and garlic, rich seasonings that pair perfectly with the savory cabbage and mushrooms. They needed to be finished with something that wasn't salsa - I thought about pesto, but parsley has a brighter, cleaner flavor which balances the deep flavors that the beans, cabbage, and mushrooms present. And as a bonus, the bright green of the parsley makes for an interesting plating.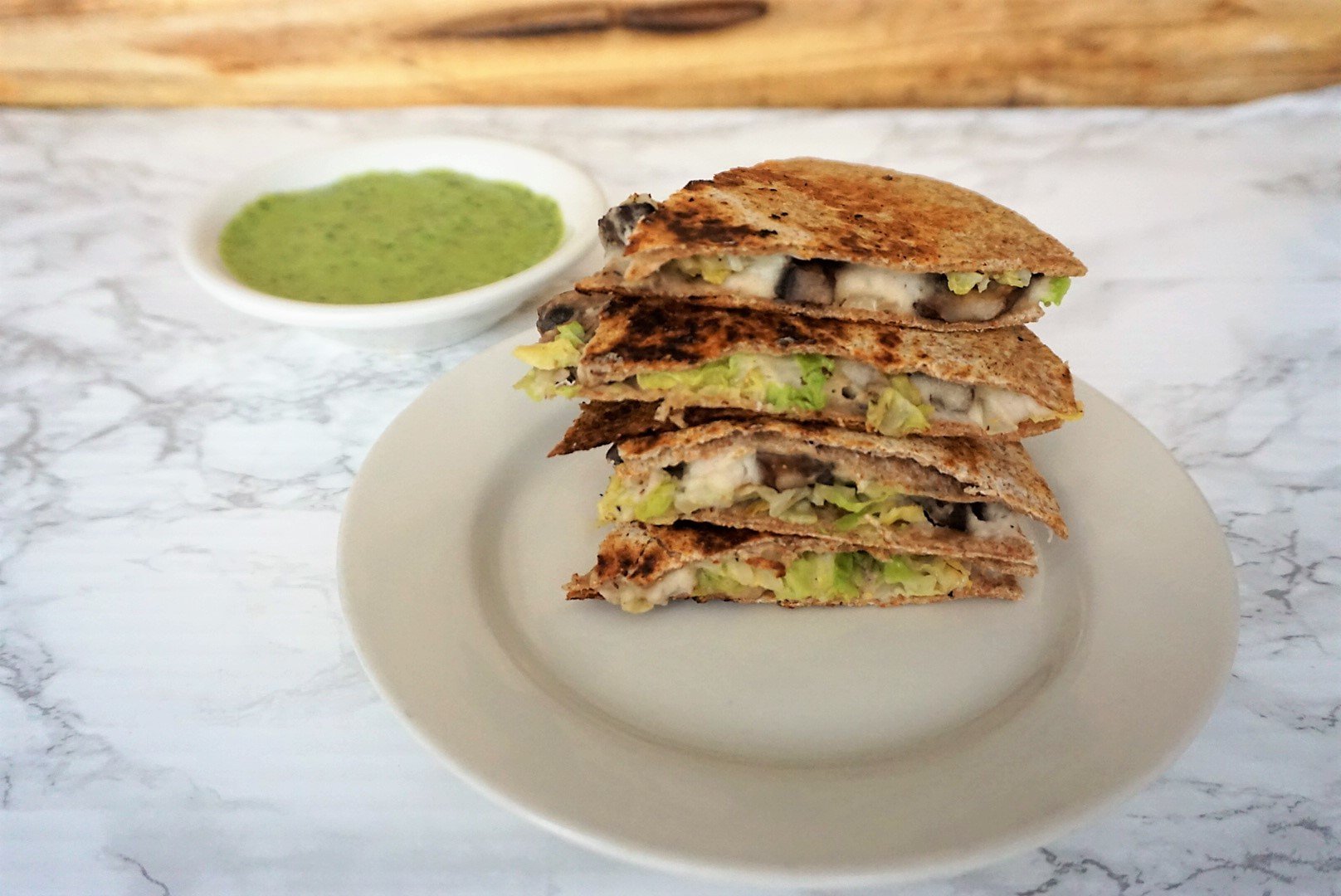 White beans are pureed with thyme to create a rich base layer and hold the shells together. Cabbage is sauteed and paired with rich mushrooms flavored with garlic and soy sauce, tucked into the shells, and dotted with more bean spread. A bit of the spread is taken aside and combined with lots of parsley and a bit of sherry vinegar to create a sauce that's perfect for dipping or drizzling.
Serve this with some simple dressed greens or a pureed soup for a perfect light dinner.
Would love to hear your thoughts in the comments!
Servings: 4
Cost Per Serving: $1.78
Calories Per Serving: 389
Prep Time: 30 minutes
Cook Time: 30 minutes
Ingredients
2 tablespoons + 1 tablespoon + 1 tablespoons olive oil, separated
6 cups shredded cabbage
1 twelve oz. Packages of button/ cremini mushrooms, sliced thinly
1 tablespoon of soy sauce
1 teaspoon minced garlic (1 medium clove)
1 can of white beans or 1 ¼ cups cooked, drained and rinsed
1 teaspoon salt
½ teaspoon pepper
¼ teaspoon dried thyme
Whole wheat fajita size tortillas
¼ cup white bean puree
½ cup parsley leaves
1 tablespoon sherry vinegar
1 teaspoon maple syrup
Instructions
Preheat the oven to 350 degrees F.
Heat 2 tablespoons of oil in a skillet over medium high heat until shimmering. Add the cabbage and cook for 7-10 minutes, stirring occasionally, until soft.
At the same time, add one tablespoon of oil to another skillet over medium-high heat. Once the oil begins to shimmer, add the mushrooms and cook for 20 minutes, until they are brown and the liquid in the pan has dried up. Stir in the soy sauce and garlic and cook for another 5 minutes until dry.
While the cabbage and mushrooms are cooking, add the white beans, salt, pepper, thyme,one tablespoon of olive oil and 2 tablespoons - ¼ cup water to a food processor and blend until smooth, about one minute. You should end up with a mixture that's a bit thicker than hummus. Remove from the food processor and set aside.
Take ¼ cup of the bean mixture and add it back to the food processor along with the parsley leaves, 2 tablespoons of water, the sherry vinegar, and the maple syrup and blend to make the dipping sauce. Pour into 4 small ramekins and set aside.
When the cabbage and mushrooms are done, transfer to a large bowl, mix together, and taste, adding salt and pepper as needed.
Heat another tablespoon of oil in a large nonstick skillet. Spread about ¼ - ½ cup of bean mixture on a wrap, leaving about ½" open around the border, then add to the pan. Spread ½ cup of filling evenly on top of the white bean filling, then dot the top with a few more tablespoons of filling in the middle and around the edges (this helps the top wrap adhere).
Put a second wrap on the top and lightly press, just enough to make it stick. After 2-3 minutes when the bottom wrap is browned, flip it so the other side can cook. (I find the easiest way to do this is to slide onto a plate, put another plate face down on top, flip so the cooked side is now facing up, and slide back into the pan). Cook for another 2-3 minutes until the shell is browned.
Move to a cutting board and cut in half, then into thirds to make triangles.
Repeat the last two steps to make a second quesadilla.
Serve with the dipping sauce on the side.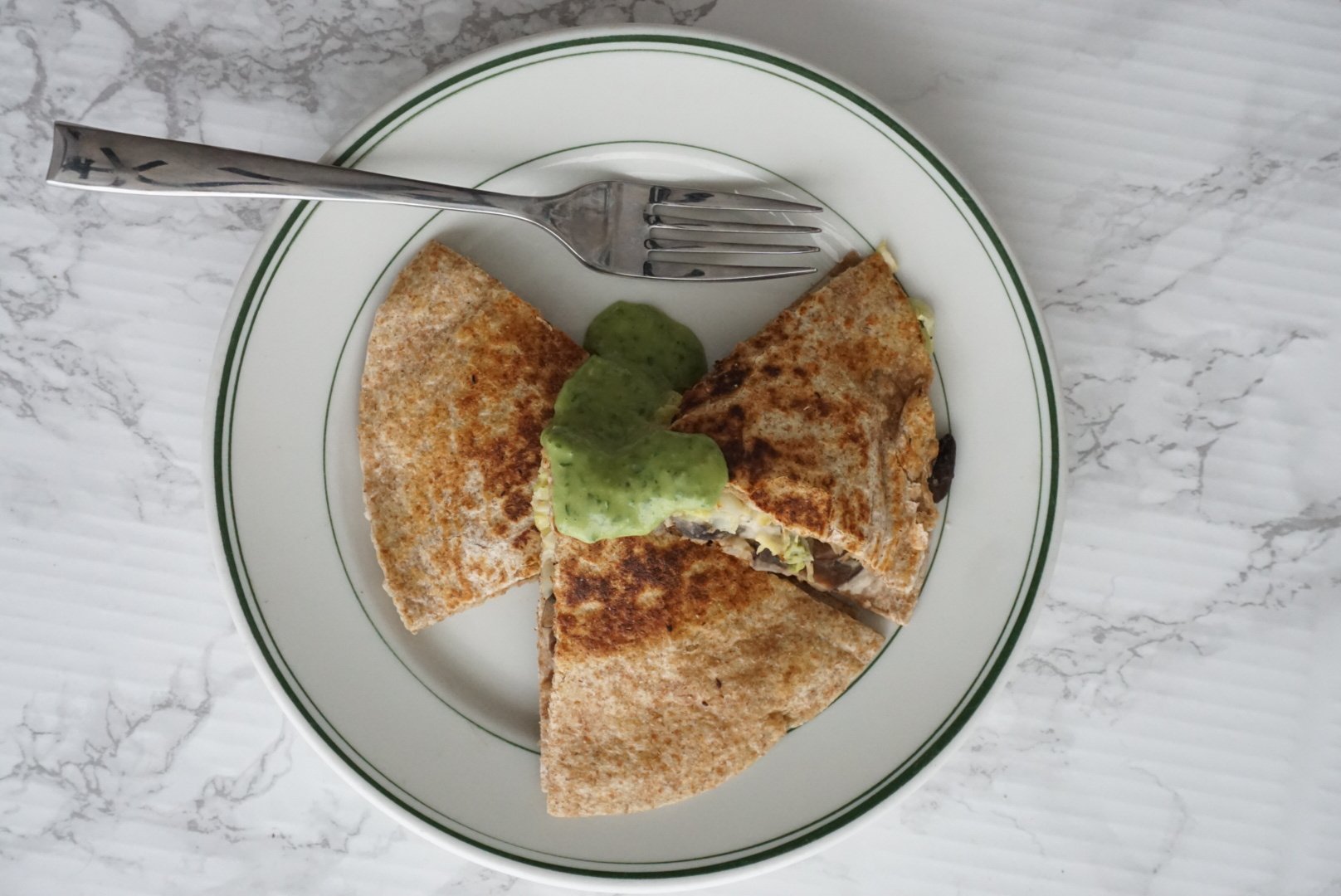 Serving Suggestions
Serve with spicy sauteed greens - spinach, kale, or collard greens will do in winter, a pureed soup like butternut squash or potato leek, or a simple salad of dressed greens for a delicious light dinner.

Mushroom and Cabbage Vegan Quesadillas with Parsley dipping sauce