Ahh, macarons. After making my first batch of pistachio macarons, I knew I wanted to try more flavors tout suite, so next up are these blueberry cardamom vegan macarons. A purple blueberry flavored vegan buttercream is sandwiched between pale blue cardamom shells for a sweet dessert with a hint of exotic flavor.
Cardamom is used in some desserts in middle eastern recipes (there's a place near work that has a cardamom ice cream that's to die for), and it pairs perfectly with sweet blueberries. To get the blueberry flavor, I made a blueberry reduction by first boiling blueberries in water, then straining and further reducing the liquid.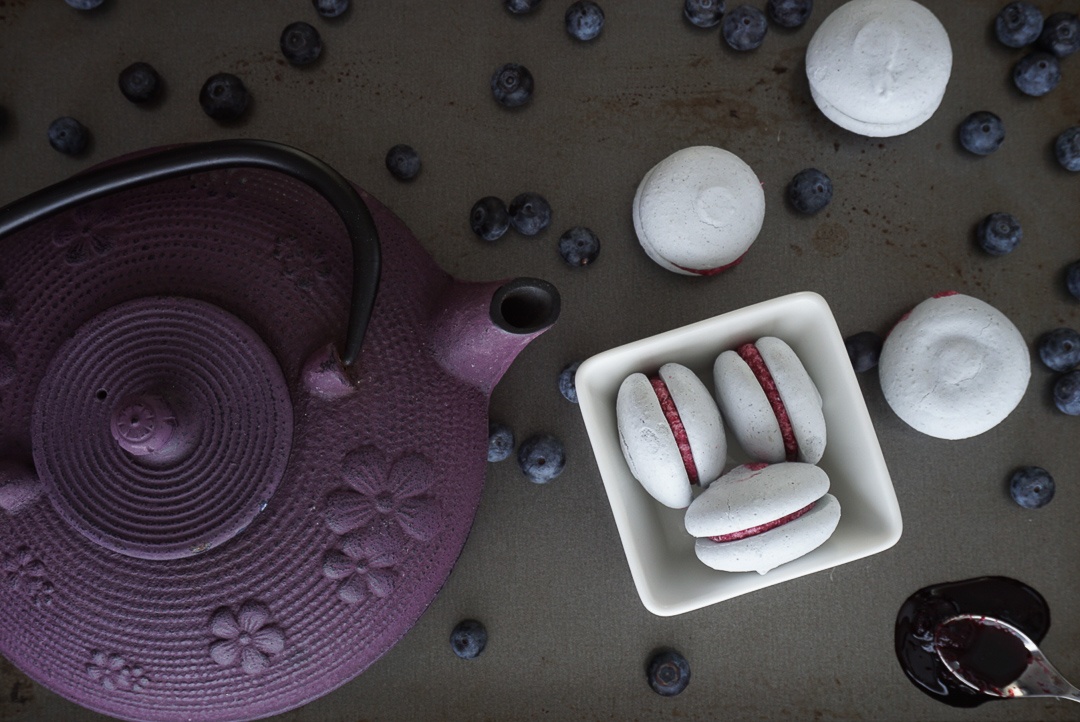 If you haven't already seen my pistachio macaron recipe, these are vegan macarons made with aquafaba. Aquafaba is the liquid from a can of chickpeas, and it whips up into a fluffy meringue just like egg whites do. This means it's just as versatile - think chocolate mousse, meringue cookies, lemon meringue pie - anything you would use egg whites for. And there are no raw eggs in it, which makes taste testing the batter not scary.
These are a really impressive, fancy dessert and once you get the process down they're easy to make. They take awhile, but most of that time is the macaron shells either resting or cooking, so they're a great weekend project.
Cardamom is another love it or hate it ingredient - to some people it has a distinctly floral taste, though I get a sweet and spicy combination.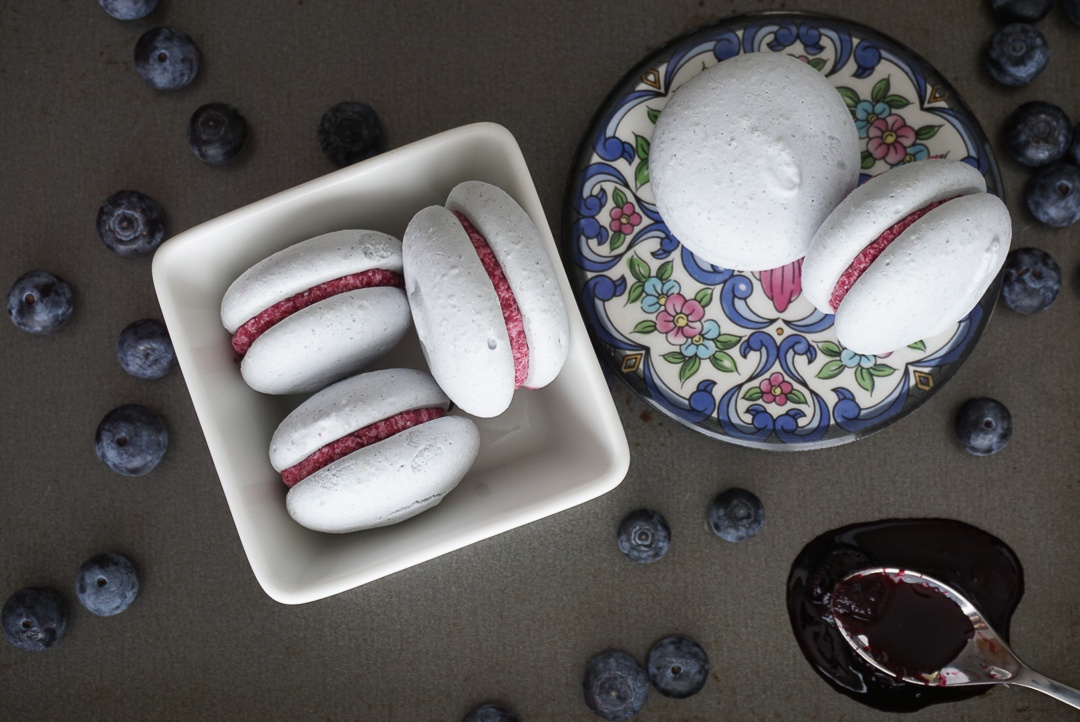 Servings: Makes about 15 macarons
Time: 4 hours, about 3 of which are unattended
Ingredients
Blueberry reduction
1 cup blueberries
1 cup water
Shells
Liquid from one 15 oz can of chickpeas (aquafaba)
½ cup cane sugar (organic is vegan)
⅛ teaspoon cream of tartar
1 cup almond flour (make sure to get the superfine kind without the skins)
½ cup confectioners sugar
½ teaspoon ground cardamom
1 teaspoon blueberry reduction
¼ teaspoon blue gel food coloring
¼ teaspoon red gel food coloring
Filling
2 tablespoons vegan butter
⅓ cup confectioners sugar
1 tablespoon blueberry reduction
Optional: blue and red food coloring if you want to make the color more vivid (though I found that just the blueberry reduction lent enough color)
Instructions
Shells
Add the blueberries and water to a saucepan and simmer over medium heat for 20 minutes, until the blueberries are soft and breaking apart.
Strain the blueberries, retaining the liquid. Put the liquid back in the saucepan and simmer for another 10 minutes until thickened even more. Set aside and let cool at least to room temperature, or make ahead and put in the fridge. You don't want to add this to anything while it's at all hot, so make sure it's room temperature at minimum.
Add the aquafaba to a saucepan and simmer over low heat for about 10 minutes, until reduced by a little more than half. You want to end up with ⅓ cup - pour into a liquid measuring cup periodically to measure as you go. It might smell a bit beany, but never fear - that will all disappear as it whips up. Set aside and let cool.
Sift the almond flour and confectioners sugar together into a bowl - you want no lumps. I usually sift once and it's fine, but you can sift 2-3 times to make certain.
Add the aquafaba to a stand mixer fitted with the whisk and metal bowl.
Add a pinch of salt and the cream of tartar to the stand mixer and whisk on high for about two minutes until foamy.
Gradually add cane sugar while continuing to whisk, about five to ten more minutes, until stiff glossy peaks form.
Add the cardamom, blueberry reduction, and food coloring and whip for about a minute longer until the color is uniform, scraping down the sides as needed. (Add more food coloring as you like for a darker purple).
Gently fold your flour/sugar mixture in with a spatula, about ⅓ at a time. This is a tricky part to get right - you are looking for the batter to be just thick enough to hold its shape when piped, but thin enough to smooth out as it settles. You can test this by spooning a bit of batter onto a plate and seeing if the small dot on the top from pulling away the spoon disappears. The mixture will thin as you fold in the dry ingredients, but you may also need to add a little more blueberry reduction. Add the liquid ¼ teaspoon at a time (I had to add ¾ teaspoon of blueberry reduction, but humidity and the amount of dry mixture you're left with after sifting will affect this).
This part takes some practice to get right, so be patient - getting the batter right is what makes these look so fancy.
Line a baking sheet with parchment paper. Fill a piping bag and a large plain tip with the mixture and pipe into small rounds. My trick to get uniformly sized shells is to hold the piping bag at about a 90 degree angle just barely above the sheet pan and count "One one thousand, two one thousand, three one thousand". It works for me!
Lift the sheet pan up and slam it down on the countertop a few times. This eliminates the air pockets and helps the "feet" form, and helps get rid of the peaks that are on the top from lifting the piping bag away.
Leave the macaron shells to rest at least two hours until they form a bit of a shell - they'll no longer be sticky to the touch and the peaks should be smoothed out. This helps avoid cracking during the cooking process.
Preheat oven to 205 degrees F and bake each batch for 40 minutes. Check for doneness by lifting a shell off the parchment paper. It should release easily. If the bottom sticks and the insides 'fall out', continue to cook and check every 10 minutes.
Remove from the oven and let shells cool thoroughly before removing from the sheet pan - about 30 more minutes to an hour.
Repeat and bake the rest of the macarons if you have more.
Filling
Add the vegan butter to the stand mixer fitted with the paddle attachment.
Cream the butter until smooth.
Add the blueberry reduction, continuing to mix.
Slowly add the powdered sugar, scraping down the sides as needed. You should end up with a buttercream frosting texture. Add a bit more blueberry reduction ¼ teaspoon at a time if the mixture is too thick.
Add the blue and red food coloring if you like and mix until a uniform color (I didn't find I needed this, but if you want a deeper color now is the time to add it).
Put frosting in a piping bag fitted with a wide tip.
Pipe a dab of frosting into the center of a shell, leaving space around the edges. Then top with another shell, pressing gently so that the frosting pushes out almost to the edges, but not quite. You're looking for the frosting to be visible between the two shells, but not dripping out. Repeat until all the shells are used.
Serving
The interior texture of the cookies and the filling improves in the fridge, so I'd recommend refrigerating these for at least an hour before serving. These look super pretty laid on their sides, so a box or a dish with edges is the ideal presentation.
Storing
These will hold up quite well for a few days in the fridge, so don't be afraid to make these ahead.
Would you have made these a darker blue, or purple? Would you bring these to a party? Do you love cardamom, hate it, or haven't tried it? Let me know in the comments!