Bright carrot and white bean soup is loaded with carrots and onion simmered in vegetable stock until totally tender. Blending in cannellini beans makes the soup creamy without the need for milk or cream, and adds heft and extra nutrition. This easy soup has lots of carrot flavor and is savory enough to make the perfect light meal when paired with some dressed greens and bread.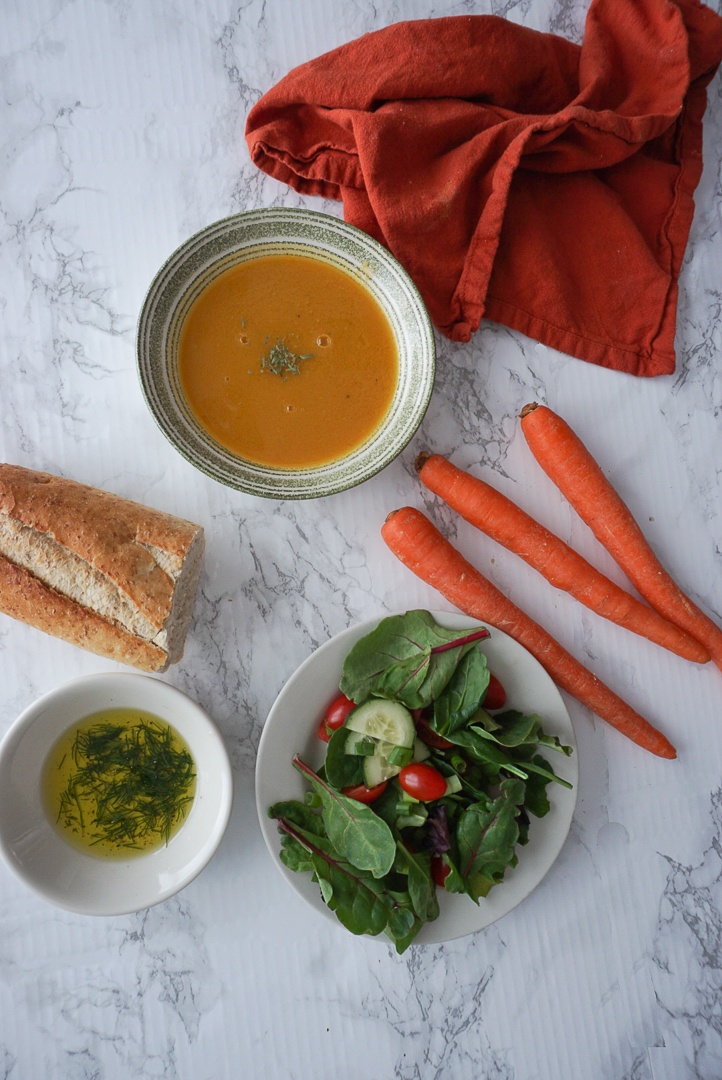 Springtime has me craving creamy soups like potato leek, split pea, asparagus, and of course carrot. Not sure why, but I definitely associate springtime and carrots - probably because of all the things Easter Bunny. This soup married my desire for creamy soup and carrots perfectly.
I don't love non-dairy milks for making creamy soups. Coconut milk is really the only one thick enough, but it imparts a strong flavor so it isn't right for all soups. Potatoes work well, like in potato leek soup, but I thought they'd overpower the carrot flavor. Of course, as the Bean Queen, it naturally made sense to try blending in a mild flavored white bean. I'm quite pleased with the results.
The white beans don't muddy up the color, so the lovely orange color from the carrots stays intact. The mild flavor of cannellini complement the carrot flavor perfectly without overwhelming it.
This soup is fun to make and comes together very quickly. And man, it looked so good just as it was, I almost didn't want to puree it. (And then my immersion blender broke, which was maybe a hint from the universe?)
But I knew I wanted a creamy soup, so I forged ahead and (very carefully) pureed it in my food processor. Which paid off, 'cause it was delicious and everyone liked it.
This soup is simple and fast to make - just check out the ingredient list and short list of instructions. Garnish the soup with a small pinch of dried (or fresh) terragon for a perfect sweet and herby note. Hope you enjoy this creamy spring soup!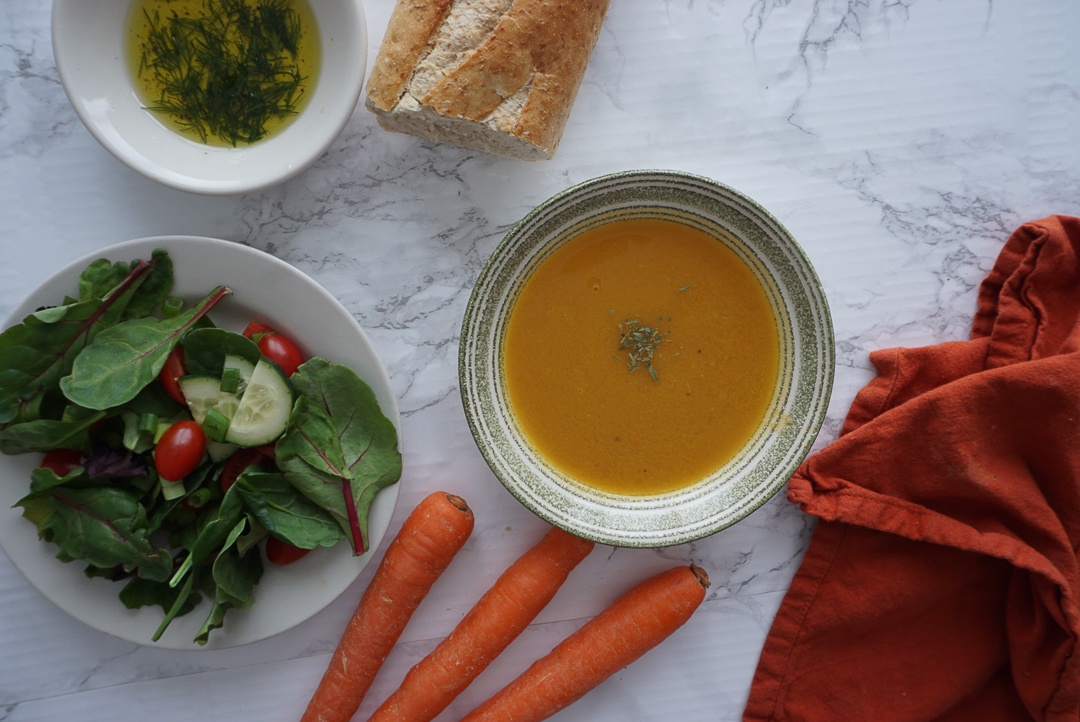 Servings: 4
Time: 35 minutes
Ingredients
2 tablespoons olive oil
1 clove garlic, minced
1 red onion, diced
4 cups vegetable stock
2 cups carrots, cut into coins
1 can cannellini beans, rinsed and drained (1.5 cups cooked)
1-2 teaspoons of dried or fresh tarragon for garnish (optional)
Instructions
Add the olive oil to a pot and heat over medium heat until shimmering.
Add the garlic and cook just until puffy, about 30 seconds.
Add the onions and cook until soft, about 7 minutes.
Add the vegetable stock and bring to a boil. Once boiling, turn down to a simmer and add the carrots and beans.
Cook for about 15 minutes until carrots are tender enough to be easily pierced with a sharp knife.
Puree with an immersion blender, and season with salt and pepper to taste.
Serving
The soup is perfect with a pinch of dried (or fresh, if you can get it) tarragon on the top. Serve this with salad - a homemade lemon shallot vinaigrette is lovely - and bread with oil and fresh dill for dipping.
Storing
Store for up to three days in the fridge. This soup freezes well.