I'm back! Thanks for your patience as I took some time off in August to visit family. Luckily for me, they live in San Diego so it was lots of quality family time, wonderful food, warm weather and ocean breezes. It's good to be back though, and back in the kitchen.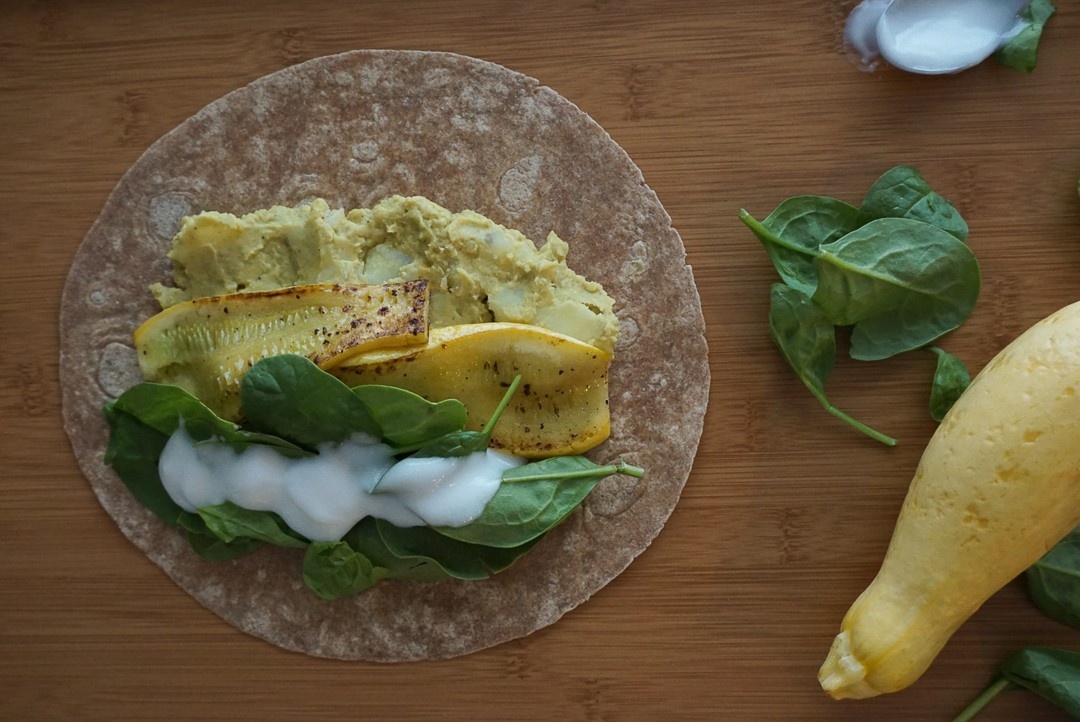 Leftovers can get boring - but there are lots of ways to repurpose them. Wraps are pretty fun! I love sandwiches so much in summer - I'd just rather be outside than spending a lot of time cooking. Summer is a time for bowls, simple stews, and sandwiches, and this recipe makes it easier by taking your leftovers and repurposing them into a sandwich!
Potato and lentil curry at its core is a pretty basic stew - a simple blend of coconut milk, curry powder, potatoes and lentils. It's a delicious meal on its own, and you're invariably left with leftovers. Stored in the fridge, the curry will solidify into a pretty firm texture thanks to the coconut milk and lentils, so this is a perfect sandwich base.
This wrap takes potato and lentil curry, chills it in the fridge, and then tucks the cold leftovers into a wrap. Add some summer squash , some baby spinach, and a dab of coconut yogurt and you've got a delicious sandwich that's easy to make and a pleasure to eat.
Would love to hear what you think in the comments!
Servings: 4
Time: 45 minutes
Ingredients
1 15 oz. can coconut milk
2 russet potatoes, peeled and cut into bite size chunks
1 cup dried red lentils
1 tablespoon curry powder
1 - 2 tablespoons olive oil
2 summer squash, cut into thick, wide strips
4 sandwich wraps
2 cups baby spinach
½ cup coconut yogurt
Instructions
Add the coconut milk, 1 ½ cups water, potatoes, lentils, and curry powder to a stockpot or dutch oven and bring to a simmer. Cook for 20-25 minutes, until potatoes are tender and lentils are melting into the liquid. Season with salt and pepper to taste.
Put in the refrigerator to chill (or of course, eat some now and refrigerate the leftovers!)
Brush both sides of the summer squash strips with the oil and season with salt and pepper.
Heat a skillet over medium high heat. Add the summer squash strips and cook for 6-7 minutes on each side, until cooked through. Set aside. (Grilling is perfect here as well!)
When the curried lentils and potatoes are chilled, place a wrap on a plate or countertop.
Fill the wrap with ¾ cup curried lentils and potatoes, ¼ of the summer squash strips, ½ cup of baby spinach, and dress with 2 tablespoons of the coconut yogurt.
Repeat for the other three wraps, serve and enjoy!
Serving
Any of the typical sandwich sides would do well here - perhaps some beet chips or a nice salad. You can make this in advance and wrap in parchment paper for a nice picnic!
Storing
The curried lentils and potatoes store very well in the fridge for up to three days, and in the freezer after that.