These sweet and spicy Thai peanut noodles aren't just flavorful, they're also visually impressive with their beautifully vivid orange and green colors. The sauce starts with rich and creamy coconut milk and peanut butter. Vegetable stock keeps the fat under control, and the butternut squash melts into and becomes part of the sauce contributing even more sweetness and creaminess.
This recipe makes a bit more than the typical four servings because I prefer to use the entire butternut squash, but feel free to cut the recipe and use the extra squash for pizza or butternut squash soup later in the week.
When you first add the sauce ingredients to heat, stir frequently to keep the sauce from sticking. After a bit of time passes, the butternut squash melts into the sauce and becomes part of it, making it saucier and thicker.
Serve these noodles topped with scallions, lime, and chopped peanuts for even more lovely texture, color, flavor, and crunch. And if you aren't into rice noodles, this is equally wonderful over rice.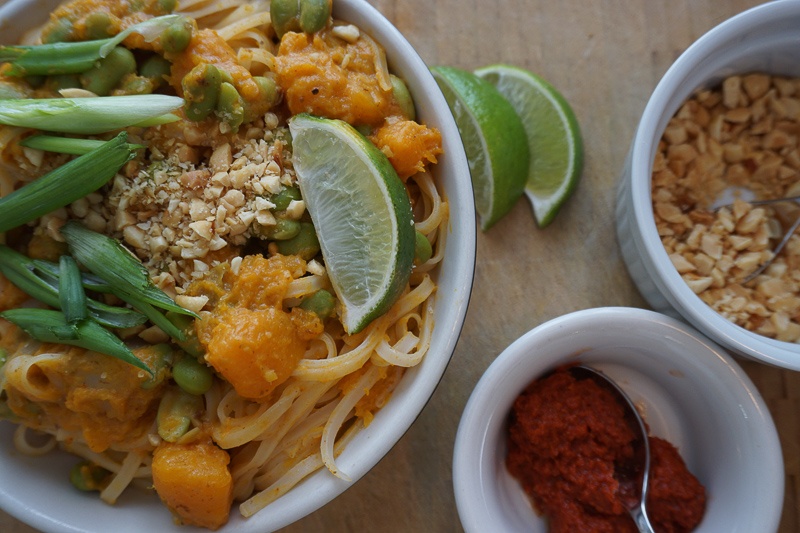 Recipe Info
Servings: Six servings
Time: 1 hour
Ingredients
8oz flat rice noodles
½ cup coconut milk
½ cup vegetable stock
½ cup peanut butter
3 tablespoons grapeseed oil
1 tablespoon fresh minced garlic
1 tablespoon fresh minced ginger
1 ½ tablespoons red curry paste
½ tablespoon soy sauce
6 cups butternut squash cut into 1" cubes (about a 3 lb squash)
3 cups frozen shelled edamame, thawed (if you don't have edamame, frozen peas are a great substitution)
For serving (optional)
¼ cup chopped peanuts
Sliced scallions
Lime wedges
Instructions
Whisk together the stock, coconut milk, and peanut butter and set aside.
Add oil to a large wide pot or a dutch oven over medium heat.
When oil is shimmering, add garlic and ginger. Cook for about 30 seconds, until fragrant and garlic is puffy.
Add curry paste and stir for 30 seconds more.
Add soy sauce, butternut squash, edamame, and peanut butter mixture.
Turn heat to med-high and bring liquid to a simmer.
Turn the heat down to medium and cover. Simmer for 15-20 minutes or until the squash is tender enough to offer no resistance when pierced with a knife.
Stir frequently, especially at first, to keep the sauce from sticking. If you need to, add a bit of water (about two tablespoons at a time). The sauce will appear very light at first, but the butternut squash will "melt" as it cooks, and everything will become more saucy and thicken as it simmers.
When you're getting to the last 10 minutes, place the rice noodles in a large shallow bowl or a casserole dish. Pour boiling water (this is easiest from your teakettle) over noodles, cover, and set timer for 8 minutes. When timer goes off and noodles are done, drain and set aside.
Toss the noodles with the edamame and squash.
Serving
Serve topped with scallions, lime, and chopped peanuts. This is equally good over rice instead of rice noodles.
Storing
Good for about 3 days in the fridge. Rice noodles don't freeze well, so if you want to freeze the extra, serve the butternut squash over rice noodles and store the rest of the edamame and squash on its own in the freezer. From there you can just thaw and make up a batch of rice noodles when you're ready.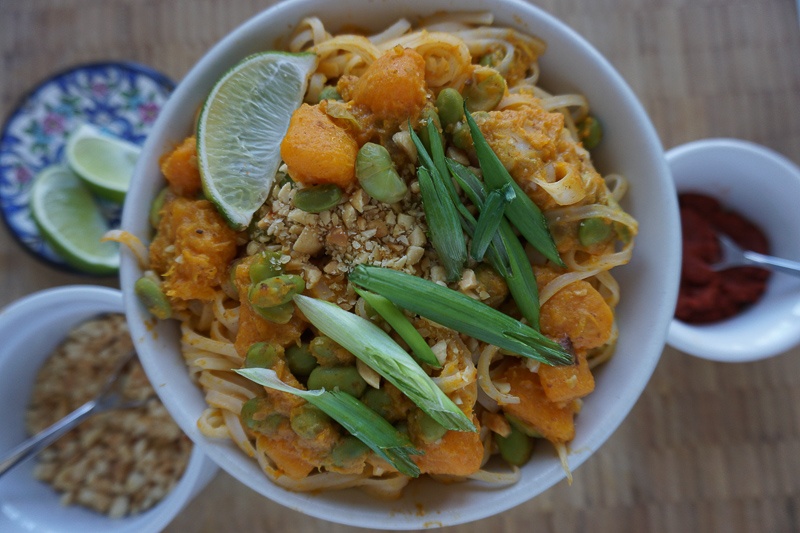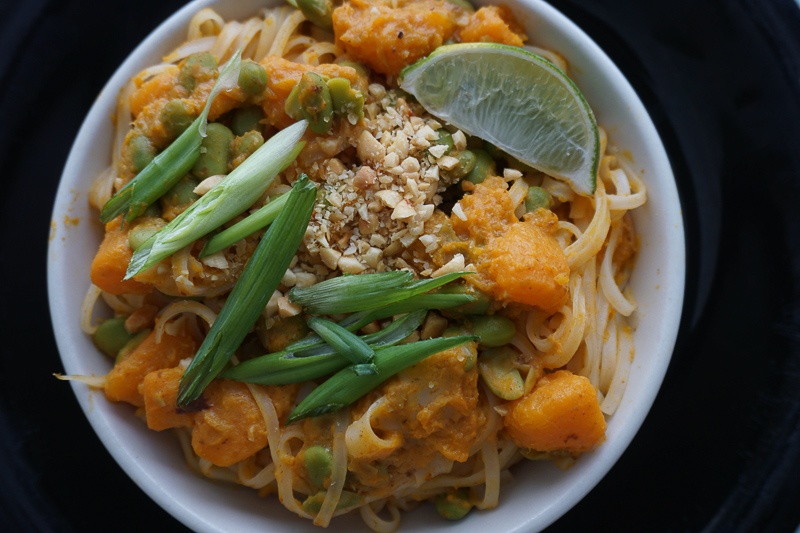 Have you tried these? What did you think? Are you a fan of peanut noodles in general? Let's dish in the comments!