I'm really feeling the bowls lately. What's great about them is that you get whole grains, beans, and veggies all in one meal. They're full of flavor, filling, and easy to make. My go to bowl "formula" is grains + beans and veg sauteed together (with seasoning and flavor-adds, of course).
This bowl was inspired by Italian flavors. I was craving pasta but I'm trying to stick with whole grains right now, so I wanted to sub in the grains. Working in vegetables helps it stay filling and adds fiber and nutrition.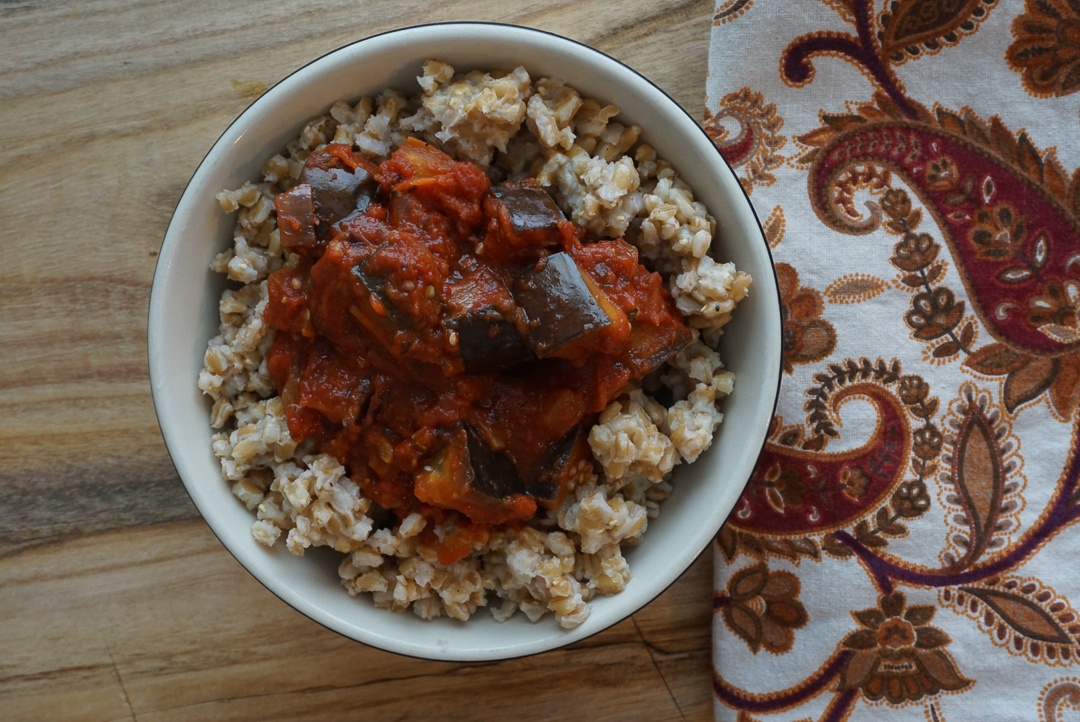 This recipe is easy to make, and the cornerstone is definitely the homemade tomato sauce. It's pretty delicious if I do say so myself :-)
To make tomato sauce, you don't need to go crazy with a food mill or anything like that - starting with an onion and a can of diced or crushed tomatoes will do it. And it's so much better for you, because you're not eating all the added sugar and preservatives that come with processed tomato sauce. It's also a lot less expensive! I usually freeze any leftovers and will use it on pizza, pasta, or just whole grains later.
This dish is hearty and distinctly Italian. Mediterranean farro is topped with eggplant and chickpeas braised in a homemade tomato sauce and seasoned with oregano and bay leaf. Shredded carrot lends a bit of sweetness to the sauce while the eggplant adds plenty of bulk (and fiber).
This is pretty much a one pan dish (aside from the grains), and you can serve the tomato sauce over anything - switch out the farro for rice, any other whole grain, or pasta. There are only ten ingredients and you can get this on the table in 30 -40 minutes. Healthy, easy, and delicious - win win win!
Would love to hear from you in the comments if you make this, or post your dish on social media and tag me!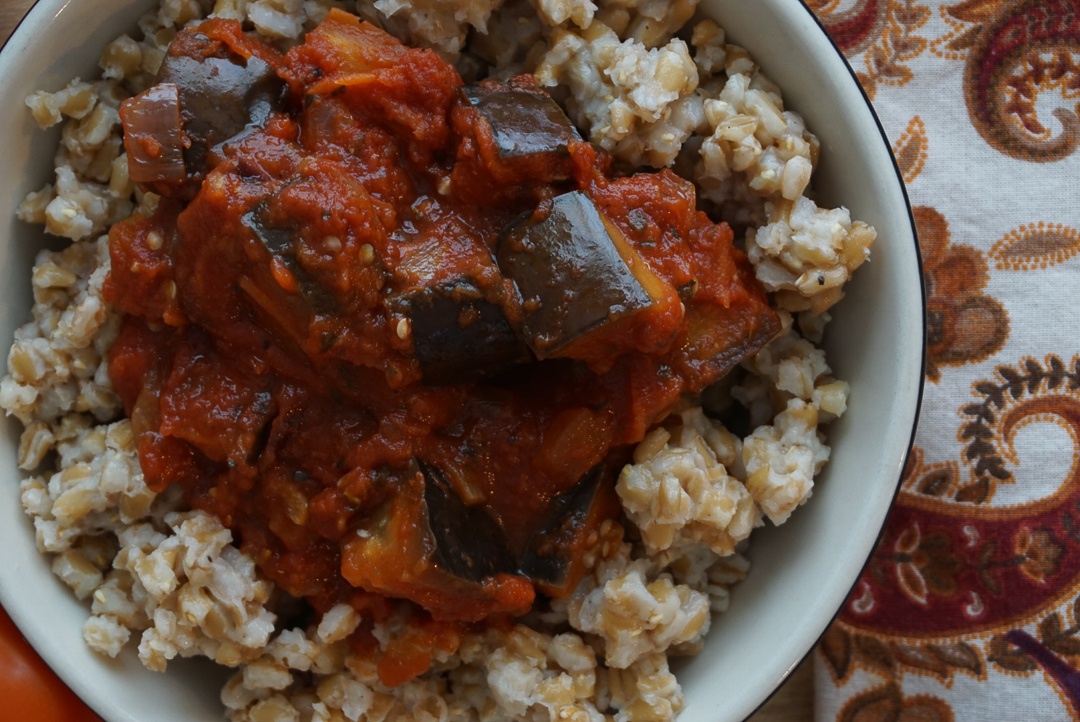 Servings: 4
Time: 40 minutes
Ingredients
List ingredients in the order they are used in the recipe.
1 ½ cups dried farro
1 tablespoon olive oil
1 red onion, diced
3 garlic cloves, minced
1 medium eggplant, cut into bite size cubes (about 3 cups, but don't worry if you have more or less, just use the whole thing)
1 28 oz. can crushed tomatoes (feel free to sub diced for a chunkier sauce)
1 teaspoon dried oregano
1 bay leaf
1 carrot, finely grated
1 15 oz. can chickpeas, drained and rinsed (1 ½ cups cooked)
Instructions
Rinse the farro well and add to a saucepan. Cover with about an inch of water. Bring to a boil, then turn down to simmer and cover. Set the timer for 30 minutes (it's done when it's chewy without being hard).
Add the olive oil to a large skillet or saucepan over medium heat and let it warm until shimmering.
Add the onion and cook until soft, stirring occasionally, about 7 minutes.
Add the garlic and cook until just puffy, about one minute more.
Add the eggplant and cook until soft, stirring occasionally, about ten minutes. You should be able to insert a sharp knife into the eggplant with no resistance.
Add the crushed tomatoes,, oregano, bay leaf, carrot, chickpeas, and salt and pepper to taste. Cook for fifteen minutes, letting the flavors blend and the tomatoes break down a bit.
When the farro is done, drain it if needed and cover.
Everything should be done about the same time - serve the beans and vegetables over a bed of farro.
Serving
The purpose of bowls is to have a one dish meal, so I would recommend serving alone, though anything like this is always excellent with a green salad (a red wine vinaigrette would be lovely).
Storing
Store for up to three days in the fridge, then move to the freezer. It's useful to store the tomato eggplant sauce on its own because it's easy to re-purpose over pasta, with bread, or even on pizza.