If you're looking to get your greens in, look no further! This soup blends hearty kale with - well, buttery - butter beans and white potatoes. Finish it off with a big crouton and velvety olive oil for a delicious soup-as-a-meal that's surprisingly filling.
The broth will really make or break this soup, so I highly recommend a homemade vegetable stock like this one (I make big batches of this, about six quarts at a time, and freeze it.)
Use homemade bread to make nice thick croutons (or use store bought, no judgement here!). The bread goes perfectly with the fresh greens and hearty beans and potatoes and softens as it sops part of the broth.
This is lovely for the transition from winter to spring, and easy to make - this is a great addition to your weekly menu!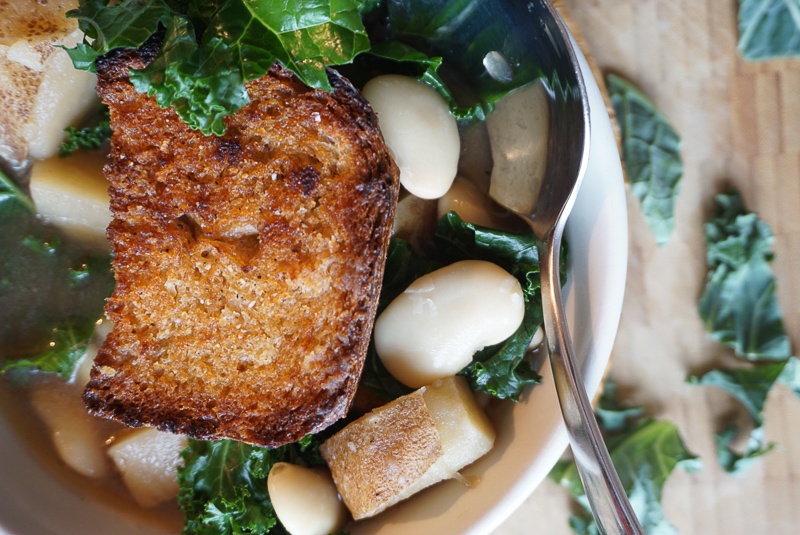 Recipe Info
Servings: 4
Time: 1 hour
Ingredients
Soup
3 tablespoons olive oil
1 medium red onion, diced
3 potatoes, cut into 1" cubes (no need to peel, but wash thoroughly if you're leaving the skins on)
8 cups of vegetable stock (I prefer a rich broth for this soup, like this)
2 15 oz. cans of butter beans/ large white lima beans
7 cups of roughly chopped kale
Croutons
2 thick slices of bread sliced to 1" thickness, then cut in half
Olive oil
Instructions
Preheat the oven to 400 degrees.
Brush the slices of bread with olive oil on both sides and put on a sheet pan. Cook in the oven for five minutes, then flip the pieces of bread and cook for another five minutes. You're looking for both sides to be nicely browned. Pull out of the oven and set aside. (You'll have to reduce the time on each side if you're using thinner store bought bread.)
Add the olive oil to a stockpot over medium-high heat and heat until shimmering. Add the onions and cook for 5-7 minutes until soft.
Add the potatoes, salt, and pepper, stir to coat, and cook for another 2-3 minutes, stirring frequently.
Add the vegetable stock and turn the heat up to high until it comes to a boil. Turn it down to a simmer and cook for about 10 minutes, until you can push a sharp knife through the potato with only a little resistance.
Add the beans and kale, and simmer for another 5 minutes, until the kale is wilted and the potatoes are completely tender. Season with salt and pepper to taste.
Serve topped with a crouton and drizzle a bit of olive oil over the top.
Serving
Serve this topped with a large crouton and about a ½ teaspoon of olive oil drizzled on the top of each bowl.
Storing
Store this for up to 3 days in the fridge - this also freezes nicely.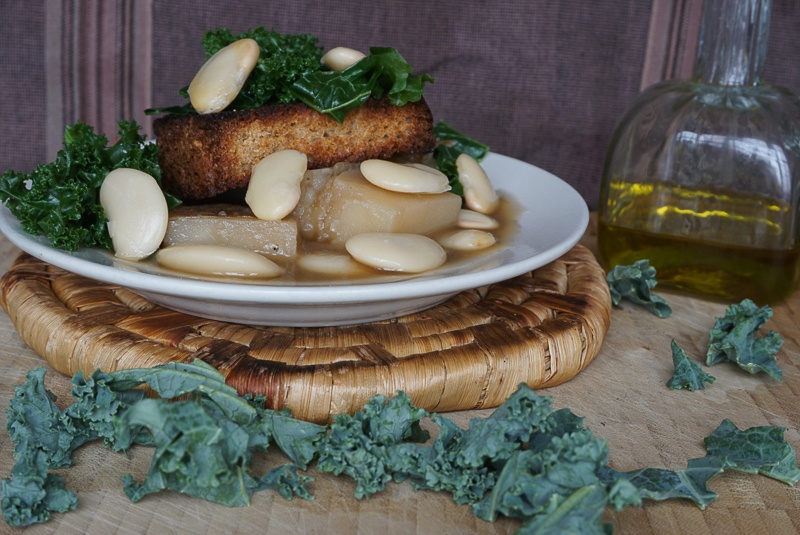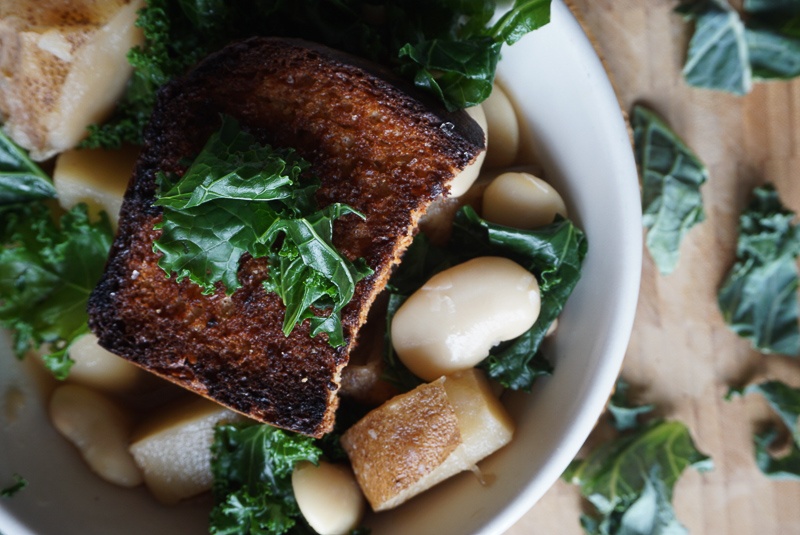 Does this look like something you'll try? What do you think? Let's dish in the comments!