I was definitely thinking about piccata when I put together this recipe. That flavor combination of lemons, capers, and artichokes… YUM. Lemons may be in season in winter, but summer weather makes me crave that bright acidity that lightens up vegetable centric meals. Using farro instead of pasta ensures that whole grains play their part in the healthy diet.
I adore capers, and you can't ever have really have enough of them, so there are lots in this dish (as there should be). And I'm sure you can tell that I've been super into farro bowls lately. It's a grain from the Mediterranean, so it's an obvious pairing with the other elements of this dish.
Chewy farro is tossed with lemon, then topped with a mix of chickpeas, artichokes, and capers sauteed with lemon and garlic. This delicious vegan Mediterranean chickpea bowl is bright, flavorful, nutritious, and a perfect summer meal.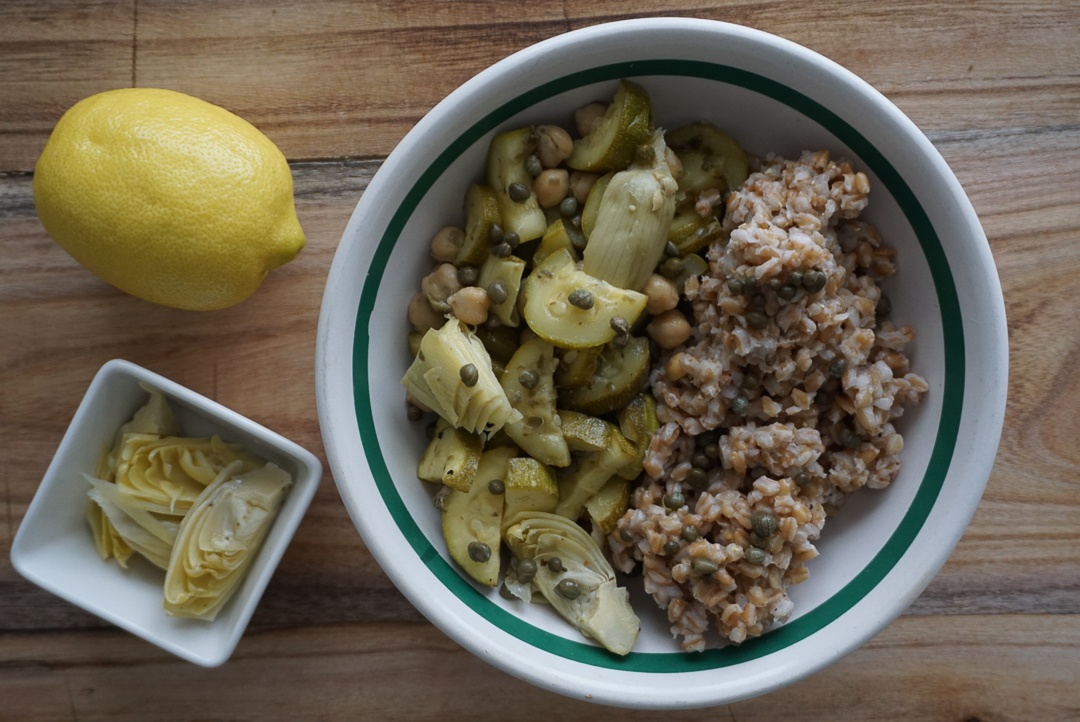 I grabbed marinated jarred artichoke hearts for this recipe - I haven't yet attacked a full artichoke. Have any of you prepped/ cooked/ eaten like a whole artichoke? I know I'll have to try it sometime, but artichokes looks so complicated and I'm a little paranoid about those hairs on the leaves that can make you choke.
I hope you like this meal! And while I have you, I'd love to hear from any of you that are vegan, or thinking of going vegan, or are even part time plant based. I want to make this blog as engaging and helpful as possible. What do you like to read about? What blogs do you look at? What makes you come back to a food blog regularly?
One example of helpful content I've been super into lately is the Richroll podcast. If I could product content even 1/10th that valuable, I'd be happy - I need your help though :-)
Servings: 4
Time: 1 hour
Ingredients
1 cup uncooked farro
2 cans chickpeas, drained and rinsed (2 cups cooked)
3 zucchini, halved and sliced (3 cups slices)
3 tablespoons capers
1 cup artichoke hearts (jarred or canned, marinated is fine)
2 tablespoons lemon juice + 1 tablespoon lemon juice, divided
2 tablespoons olive oil
Instructions
Place the farro in a saucepan and cover with water by about one inch. Bring to a boil, then turn down to a simmer and cover. Cook for 30 minutes or until tender.
Add 1/4 cup of water and the zucchini to a skillet over medium-high heat. Cook for about 7 minutes until tender, stirring frequently.
Add the capers, beans, artichokes, olive oil and 2 tablespoons of lemon juice.
Cook until warmed through, about 6 minutes.
Add salt and pepper to taste.
When the farro is done, drain it if needed. Stir in the last tablespoon of lemon juice and salt and pepper to taste.
Divide the farro and chickpea topping among four bowls.
Serving
This is delicious served on its own (it's a bowl after all), but garnishing with a bit of dill or parsley wouldn't go amiss. It's also lovely topped with sun dried tomatoes.
Storing
This freezes perfectly, so feel free to double the recipe and freeze the leftovers!