There's nothing quite as satisfying as stew in the winter - it's warming, comforting, and filling. This one is a favorite among the family, and garlic and thyme are really all that's needed to make this a perfectly seasoned winter dish.
Beans and potatoes do wonderful things to broth, acting as a thickener without the need for flour, cornstarch, or roux of any kind. The broth has a lovely, slightly thickened stick-to-your-spoon texture, which is just want you want in a stew.
Make this in a pretty big pot as it makes quite a bit - it freezes well though, which is why I recommend making a large batch here. If you like, just halve the recipe.
There are so many additions you can make to this stew to go in a slightly different direction. Add grains (pearl barely is lovely) to make this super hearty and a meal that can easily stand on its own. Or try adding zucchini or summer squash to slant this more towards a minestrone (and add a very pretty color contrast to the reds and oranges of the stew). And of course, greens are always welcome - just stir in some roughly chopped spinach or kale towards the end and cook just until wilted.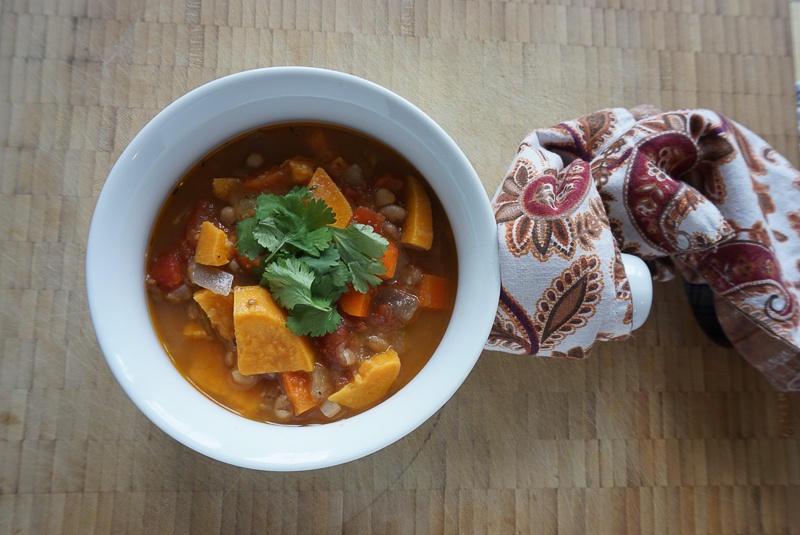 Recipe Info
Servings: 8
Time: 45 minutes
Ingredients
3 tablespoons olive oil
1 tablespoon minced garlic (2-3 cloves)
2 carrots, diced
1 stalk celery, diced
1 medium red onion, diced
8 cups vegetable stock
2 sweet potatoes, cut into cubes
1 ½ teaspoons dried thyme
1 28 oz. can diced tomatoes
2 15 oz. cans navy beans (about 3 cups)
Instructions
Put the olive oil in a large pot, turn heat to medium and warm until shimmering.
Add the garlic and cook just until fragrant and puffy, about 30 seconds to one minute.
Add the onion, celery, and carrot and cook until onion is soft, 5- 7 minutes.
Add the vegetable stock, sweet potatoes, and thyme. Bring to a low boil. Cook for about 15 minutes until the potatoes are easily pierced with a knife.
Add the tomatoes and beans and turn heat down to a simmer. Cook for about 15 minutes more to let the tomatoes soften and the flavors meld.
Season with salt and pepper to taste.
Serving
Sprinkle the stew with a bit of chopped parsley or cilantro - either will work here. This is delicious served as a meal with crusty bread, olive oil for dipping, and/or salad.
Storing
This stew freezes very well (as does pretty much anything with beans and potatoes), so freeze the leftovers and enjoy for work lunches!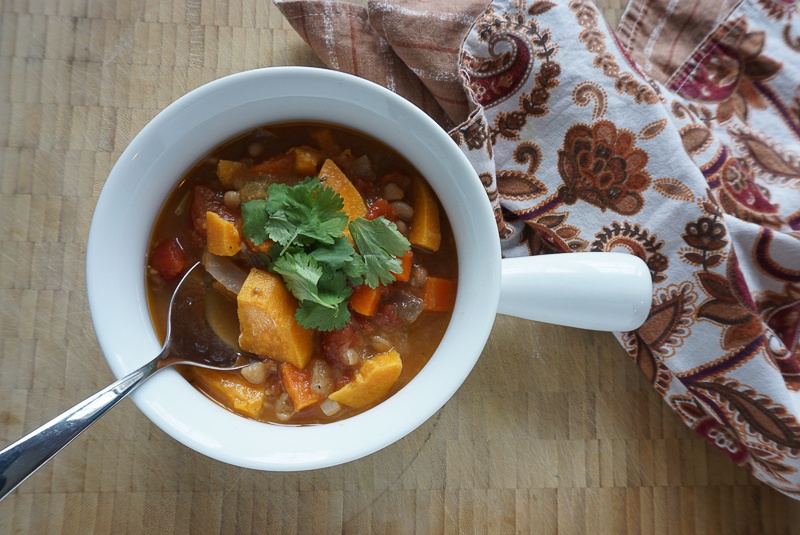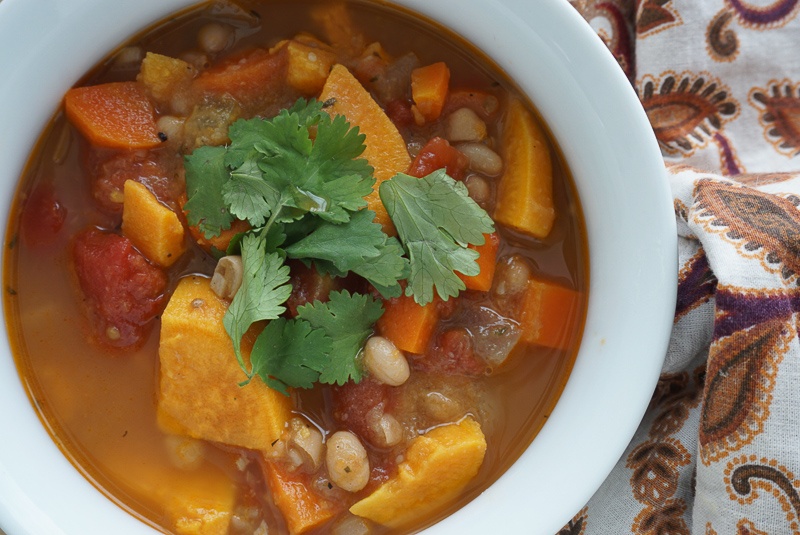 Do you love stew in the winter? What are your favorite stew seasonings? Think you'll give this a try? Let us know in the comments and let's dish!