I've been really wanting to make a blue potato salad, but alas, there are no blue potatoes to be found in my local supermarkets right now (I even called around). Is there a season for these things? Blue potatoes (like any blue or purple colored version of a vegetable) are higher in antioxidants so you get an extra nutritional boost, and they're a gorgeous color to boot. Fortunately, I was able to find blue baby potatoes in a bagged tri-color potato medley (red, white, and blue potatoes).
This potato lentil salad features roasted baby potatoes and is seasoned with fresh rosemary, garlic, and lemon. It's pretty and delicious at the same time! Adding cooked green lentils makes it extra filling, plus lemon and lentils are a great flavor pairing. The colors go nicely too :)
I was a bit sad to find that the blue baby potatoes aren't blue all the way through, so I'll have to try another version of this later on when I can get some full sized blue potatoes. I'll stock up on them in my pantry if I do!
The rosemary and lemon are fragrant and delicious, making this a lovely and fresh version of potato salad. It's an easy dish to make ahead and bring to a party, or serve it as a side with just about anything.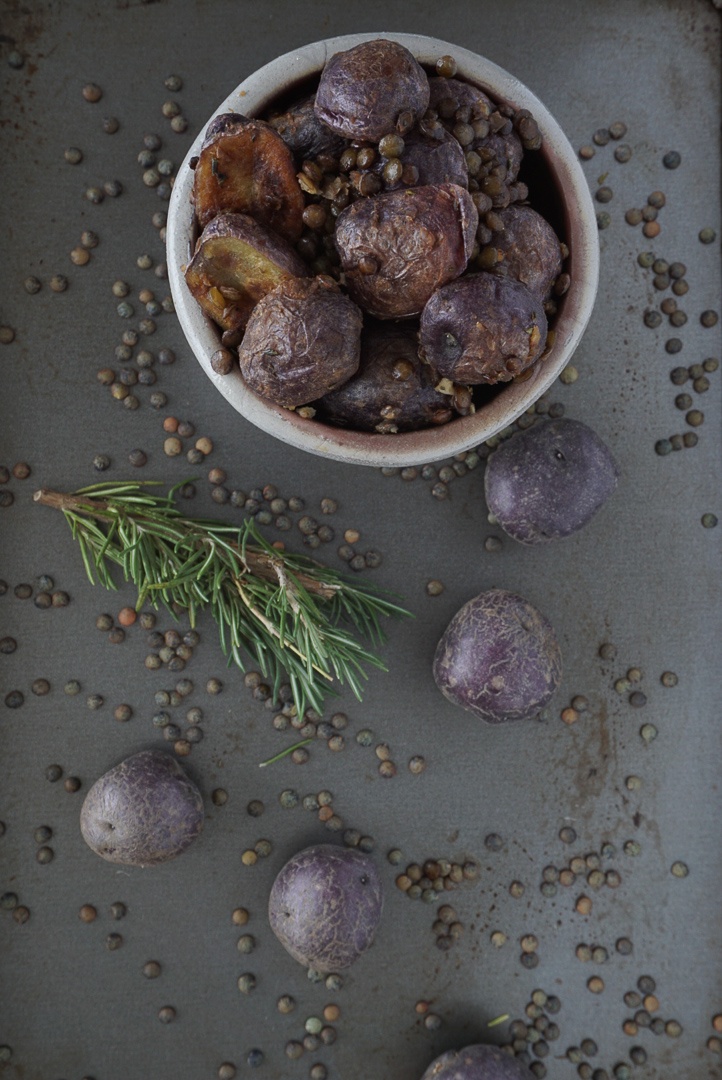 Servings: 8 as a side dish
Time: 1 hour
Ingredients
½ cup dried green lentils
2 lbs. blue baby potatoes (or regular sized potatoes)
2 tablespoons olive oil + ¼ cup olive oil, divided
¼ teaspoon fresh rosemary, minced
3 teaspoons fresh lemon juice
1 clove garlic, minced
Instructions
Preheat the oven to 350 degrees F.
Add lentils to a saucepan with 1 ½ cups water or vegetable stock and cook at a very low simmer for 20-25 minutes. (You want to make sure it's a low simmer to keep the shape of the lentils and prevent them from splitting). You want the lentils to be tender, but not falling apart.
Cut the baby potatoes in half (or the regular potatoes into large bite size pieces). Toss with the 2 tablespoons of olive oil and place on a sheet pan. Cook for 20-25 minutes, until tender all the way through when pierced with a knife.
Remove potatoes from the oven and put in a large mixing bowl.
Drain the lentils and add those to the mixing bowl.
Add the remaining ¼ cup olive oil, rosemary, lemon juice, and garlic and toss. Let sit - the hot potatoes and lentils will absorb the flavors.
Serve at room temperature.
Serving
This is a great side with just about anything, and it's also an elegant potato salad to bring to a gathering or serve at a party you're hosting. It looks quite pretty with some rosemary branches placed around it (though don't place it on the salad when serving, you don't want
Storing
You can make this in advance and store in the fridge - just bring up to room temperature before serving. Like any bean and potato dish, it also freezes quite nicely.
Do you like an olive oil based potato salad? Are you a fan of rosemary? Are purple potatoes available where you live year round (or have any tips on where I can get them)? Let me know in the comments!