Ahhh, spring in New England. March was in like a lion but definitely not out like a lamb this year. As the cold lingers, I find myself wanting to make all the comfort food recipes I didn't have a chance to get to over this past winter.
Savory pies seem like something that fits the bill perfectly. This vegan kidney bean pie recipe is inspired by traditional kidney pie flavors - tomato paste, bay leaves, Worcestershire sauce - but swaps out the meat for kidney beans. It also adds in all the "hearty" vegetables - mushrooms, potatoes, carrots, and onion. Instead of just, you know, a pie full of meat (or in this case, beans).If we still had root cellars, this would a good way to finish off the store from winter.
If you've ever had chicken pot pie, this is similar in construction, but even more rich and savory. The kidney beans are a lovely, dark red color and the tomato paste adds depth while the Worcestershire brings the flavor profile up a few more notches.
The pie crust is homemade and simple to make - vegan butter, flour, and ice water (but of course, if you're vegetarian, feel free to sub in real butter - the recipe is the exact same). The secret to browning the crust is to brush it with oat milk, a sweeter non-dairy milk that works well in vegan baking. (If you're vegetarian, brush the crust with an egg yolk instead).
This is also a fun party dish - it's easy to make ahead and it's something different. It's easy to just pop in the oven when you get there to reheat, or it can definitely be served at room temperature. It's also perfect for your own dinner party - it can all be assembled up to a day in advance (just let the filling cool completely before rolling the pie crust over it) and popped in the oven about an hour prior to dinner time. Serve with a salad (definitely balsamic dressing with this dish, I think) and you have a lovely meal. It also looks fancy - savory pies aren't super common so it's something different, and you can make the pie crust look fancy with cutouts or braiding or any technique you like. Especially in a beautiful large pie hand painted dish - thanks Mom!
Since this pie is hearty enough to serve with just some dressed greens, I've also shared my favorite balsamic dressing recipe as a bonus at the end. I hope you give this a try, and if you do, please share your thoughts in the comments! Even if you don't, let me know if it looks good and if you would try it :)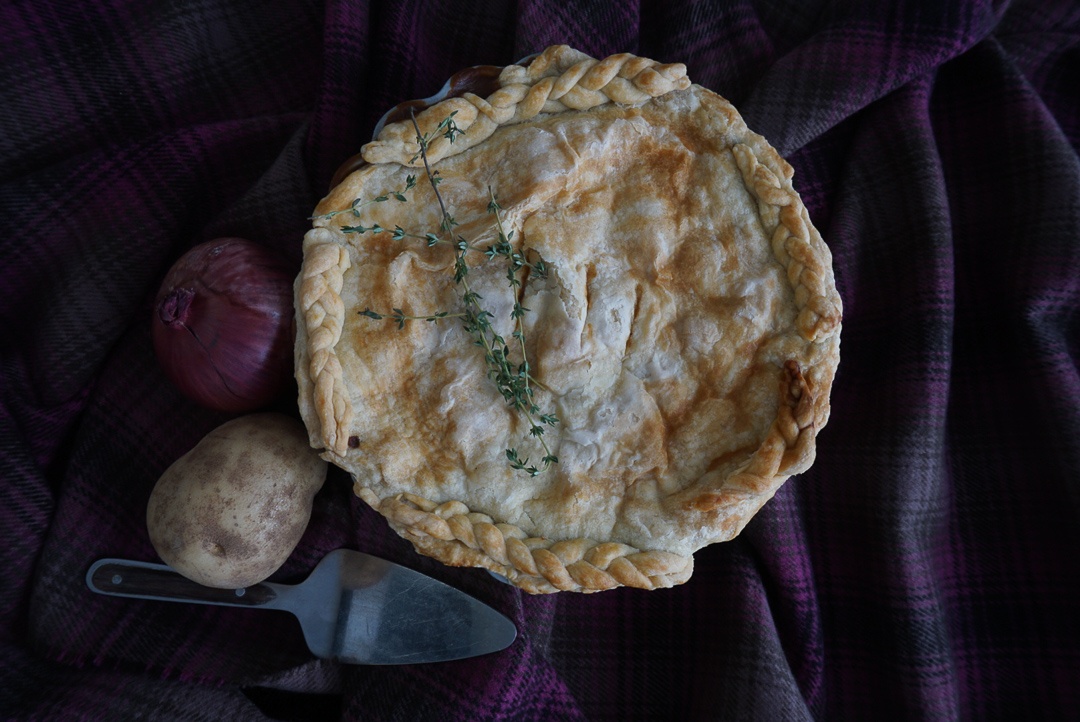 Servings: 4
Time: 2 hours (One hour is in the oven unattended)
Ingredients
Vegan pie crust
This can be made up to a few days ahead, wrapped in saran wrap and stored in the fridge. You can freeze pie crust too and just take it out to thaw when you want!
1 cup plus 2 tablespoons of all purpose flour
½ teaspoon salt
8 tablespoons vegan butter, cut into about 8 pieces (or real butter, if you prefer - the amount is the same)
3 tablespoons ice water
Kidney bean pie
3 tablespoons olive oil
2 garlic cloves, minced
1 medium red onion, diced
1 stalk celery, diced
1 carrot, diced
1 tablespoon tomato paste
1 lb button mushrooms, halved or quartered into bite size pieces
1 white starchy potato, like russet
2 teaspoons salt
1/2 teaspoon pepper
¼ cup all-purpose flour
3 cups vegetable stock (because this makes a kind of gravy, a rich stock is preferable here, like the roasted vegetable stock here)
1 bay leaf
2 15 oz. cans kidney beans, drained and rinsed (3 cups cooked)
2 tablespoons vegan worcestershire sauce (or not vegan, if you prefer)
2 tablespoons oat milk
Instructions
Pie crust
Combine the flour and salt in the food processor and pulse a few times to combine.
Add the butter and process on high for 30 seconds to a minute. You're looking for a crumbly texture, like cornmeal.
Move mixture to a large bowl and add three tablespoons of ice water. Combine into a smooth ball using your hands.
Wrap in saran wrap. This should be refrigerated for at least 30 minutes prior to using, and can be stored in the fridge for up to 3 days or the freezer for a few weeks at least.
Pie
Add the olive oil to a soup pot and heat over medium heat until shimmering.
Add the garlic and cook just until puffy, about 30 seconds.
Add the onion, celery, and carrot and cook for 7-10 minutes until soft.
Stir in tomato paste and cook for another minute or two, until fragrant and darkened.
Add the mushrooms and cook for 5 minutes, letting them get tender and release some juices.
Add the potatoes, salt and pepper, and stir to coat.
Add the white flour and stir for another minute or so.
Add the vegetable stock and the bay leaf and bring to a boil.
Turn heat down to a simmer, and cook for about 15 minutes until the potatoes are tender enough to be pierced with a knife and broth has thickened and reduced by about half. (You should preheat the oven to 350 at this point).
Stir in beans and Worcestershire sauce.
Remove bay leaf and transfer mixture to a large oiled 9 ½" pie dish about 2" deep - you can also use a 2 quart oiled casserole dish.
Preheat the oven to 350 degrees.
Sprinkle your countertop with flour and roll out your pie crust to a circle big enough to cover the top of the pie dish, about ¼" thick.
Gently and loosely drape the crust on the rolling pin, and place on top of the filled pie dish. Trim to about ¼" over the dish edge, and crimp the edges.
Cut a few slits in the center of the crust to allow the steam to vent.
Brush the crust generously with oat milk.
Place the pie on top of a sheet pan and bake for 50-60 minutes, until crust is golden and filling is bubbly.
Let the pie sit for 10-15 minutes before serving. Now is the perfect time to make a side (some suggestions for pairing are below).
Serving
This is excellent served with a spiced vegetable that can stand up to the heartiness of the savory kidney bean pie. Sautee up a hearty green like spinach and add a pinch of nutmeg, or boil and drain some peas and then toss with some olive oil and a generous amount of pepper. And a salad is perfect as well- you don't need more than some mixed greens tossed with balsamic to pair nicely with this pie.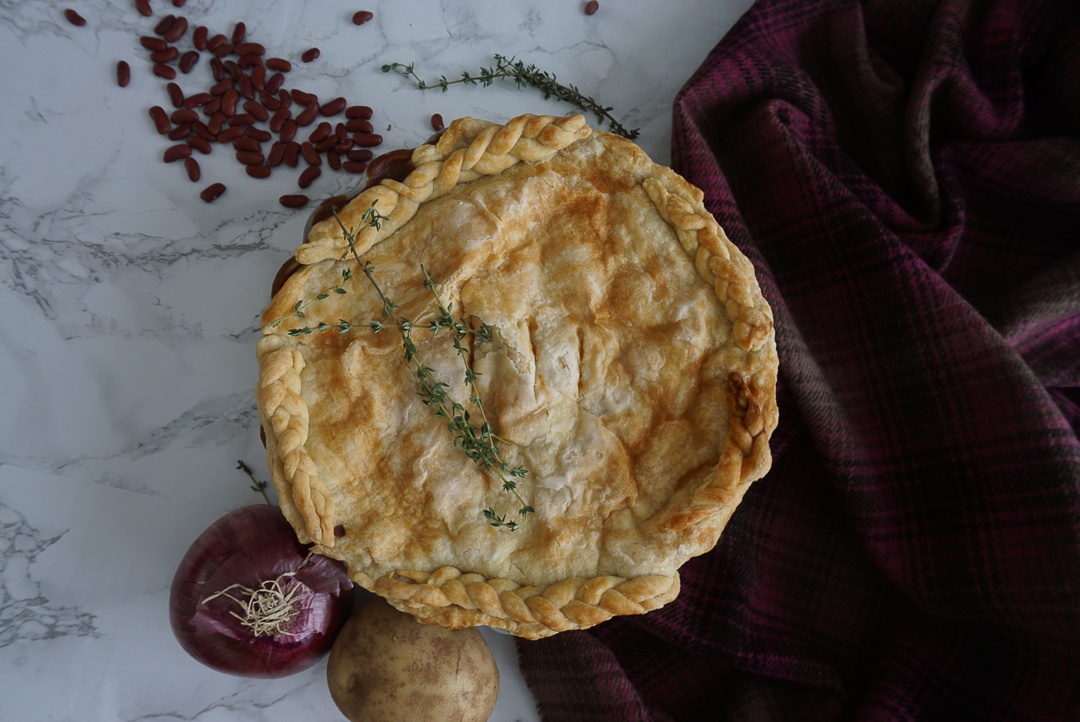 Bonus Recipe: Balsamic Dressing
Since I suggested greens tossed with balsamic as a side, I thought I'd share my absolute favorite balsamic dressing recipe. This is one you'll make again and again!
Ingredients
2 tablespoons honey
1 tablespoon Dijon mustard
¼ cup balsamic vinegar
½ teaspoon salt
¼ teaspoon pepper
¾ cup olive oil
Instructions
Put the honey, mustard, vinegar, salt and pepper into a bowl and whisk to combine and loosen the honey.
While constantly whisking, add the oil in a thin stream. It will emulsify as you go.
You can also add herbs if you like to this, or garlic - try any variations you like!
Storing
This freezes nicely and reheats well, so freeze any leftovers you want for work lunches later.
Will you make this? Will you check out other kidney bean recipes? Seem like a good party dish? Let me know in the comments!