Have you seen Waitress? There's a scene where Old Earl is chastising Jenna for her behavior a bit, and then proceeds to order the Spanish Dancer Pie with potato crust. As someone who loves food, my ears perked right up and I started wondering, what would MY version of that look like? Apparently I'm not the only one either - search Google for "waitress movie spanish dancer pie" and you'll see some fun recipes.
My vegan version of this savory Spanish pinto pie starts with pinto beans and smoked paprika, blended together and mixed with a flaxseed egg to bind the filling. This is poured into a potato crust and topped with sliced tomatoes for a colorful and delicious meal.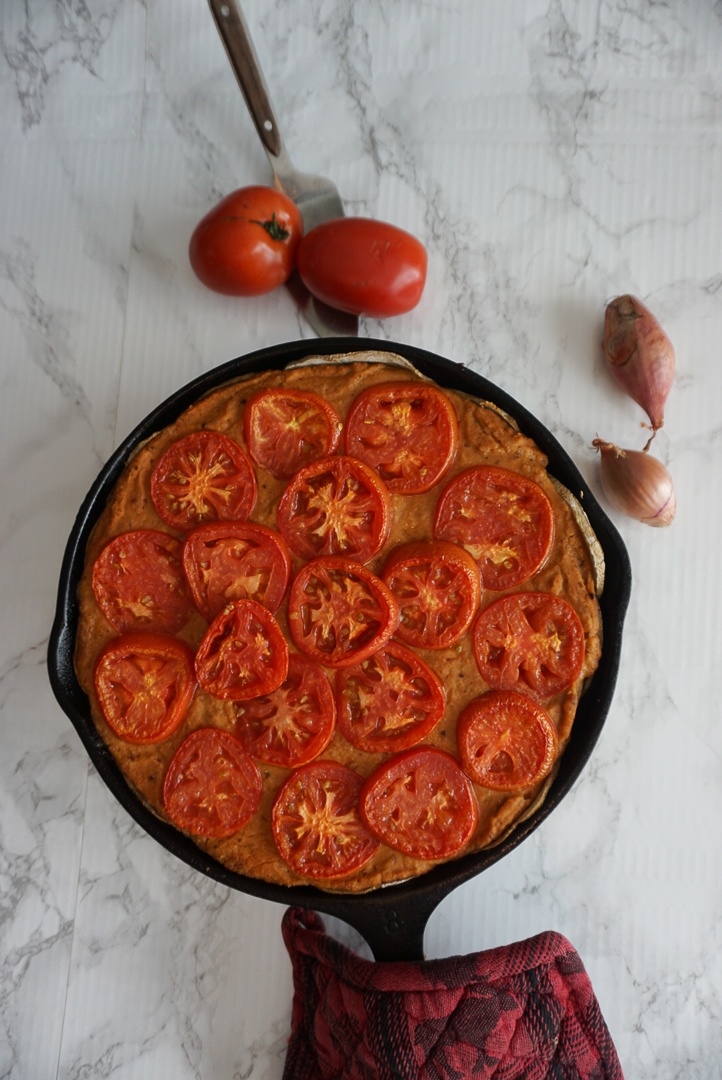 The tomatoes will shrink in the oven, and you want them to cover the top, so make sure you add plenty.
This is a perfect vegan substitute for a frittata, and it's definitely fun to serve to guests. It's very colorful - the paprika gives the pie filling a sunset orange-y color that looks really pretty paired with the bright and deep red of the tomatoes.
Add a salad and some crusty bread, and you have a perfect dinner. This is a one pan dish that's easy to make and looks great served right from the pan.
Speaking of serving - this should be served at room temperature, and it needs to sit for at least an hour to set. You can of course dive right in while it's hot, but it'll still be more of a mashed texture and you won't get a slice of "pie" so just use a spoon to scoop it out instead of slicing if you choose to do that.
What do you think of the colors? Does this look pretty, or do you think it looks weird? Would you bring it to a party? Would love to hear from you in the comments!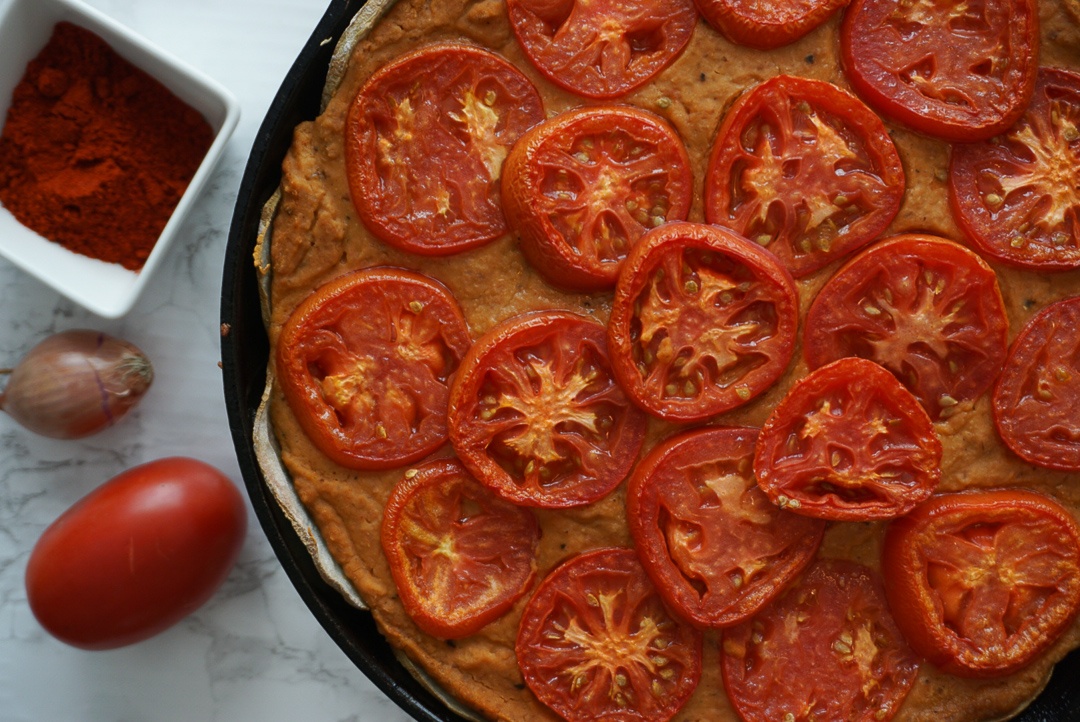 Servings: 4
Time: 1 hour
Ingredients
1-2 white potatoes, scrubbed, with the skin on
1 tablespoon golden flaxseed meal mixed with 3 tablespoons water mixed (Use the golden flaxseed if possible to avoid small dark flecks in your filling.)
1 29 oz. can pinto beans or two 15 oz. cans, drained and rinsed (3 cups cooked)
1 tablespoon smoked paprika
1 shallot, chopped
2 cloves garlic, minced
5-6 roma tomatoes, sliced into thick ½" rounds
½ cup water
1 tsp pepper
1 tsp salt
Instructions
Preheat the oven to 375 degrees F.
In a 10-12" cast iron or other ovenproof skillet, heat two tablespoons olive oil on the stovetop over medium heat.
Once shimmering, add the shallot and cook until soft, about three minutes.
Add the garlic and cook just until puffy, about 30 seconds more.
Remove the garlic and shallot from the skillet and set aside. Remove the pan from the heat, but keep it - you'll use it again.
Add the pinto beans, smoked paprika, coconut milk, shallots, garlic, and salt and pepper to taste to a food processor.
Once the flaxseed "egg" mixture has sat for at least five minutes to thicken, stir into the bean mixture in the food processor bowl.
Process on high for 1-2 minutes, until smooth and creamy.
Coat the bottom and edges of the skillet with olive oil.
Leaving the skin on the potato, cut into ⅛ inch thick rounds or slice thinly using a mandoline or food processor.
Arrange the potato slices along the bottom and sides of the skillet to form a crust.
Pour in the bean mixture into the crust and smooth out the top.
Top with tomato slices. Brush them with olive oil.
Put in the preheated oven and cook at 375 for 40 minutes. The center should still be wobbly when you pull out - it will set as it cools.
Serving
This is a perfect one pan meal and doesn't need much more than a green salad and/or some bread to make a lovely light meal. Serve this the same way you would a frittata.
Storing
This freezes just fine, though when you microwave the slices they probably won't retain their pie slice shape. They taste just as good though, so that's no big barrier to having these as leftovers.
Your Turn!
What do you think of the colors? Does this look pretty, or do you think it looks weird? Would you bring it to a party? Would love to hear from you in the comments!