I've posted a lot of green food recipes lately, and here's yet another one. It's still a spring thing - split pea soup is certainly in season right now (at least in the Northeast, where it's pretty much still spring until June).
Most split pea soups have ham added to them (Easter leftovers, amirite?), so I wanted to try to pull in some of that depth of flavor into a vegan split pea soup version. Also, I've been wanting to give eggplant "bacon" a try, and this was the perfect excuse.
The soup itself celebrates the pea flavor - split peas are combined with vegetable stock and onion and cooked for a long time until the peas are melting into the broth. A whiz of the immersion blender completes the puree. (Can I say "pea-forward"? No, no, gah, that's terrible, forget it…)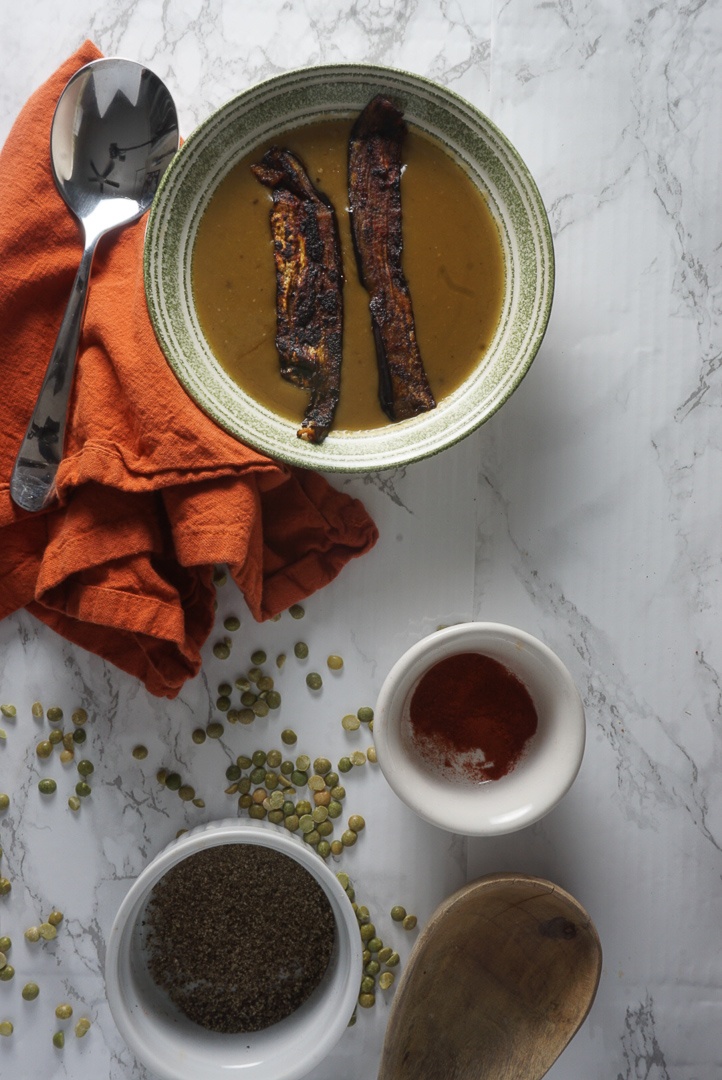 The eggplant bacon was pretty interesting to make - it takes a bit of practice to get the thin strips with the vegetable peeler, but it's easy enough once you get the hang of it. Then you just brush with the seasoning mixture and cook. A lot of recipes call for liquid smoke, but I left that out because a) I don't think it needs it and b) it's basically distilled barbecue smoke which just sounds kind of gross to me (and I have done absolutely no research on this but I don't know what they were cooking to generate the smoke and I doubt it's vegan).
I tried both oven and pan frying, and pan frying was the far superior method. I burnt the ever loving *#&$ out of the eggplant when I tried cooking it the oven. It started burning pretty much immediately, so if you're going to try this I would recommend going super low on the temperature. Cooking on the stove top gives you much more control.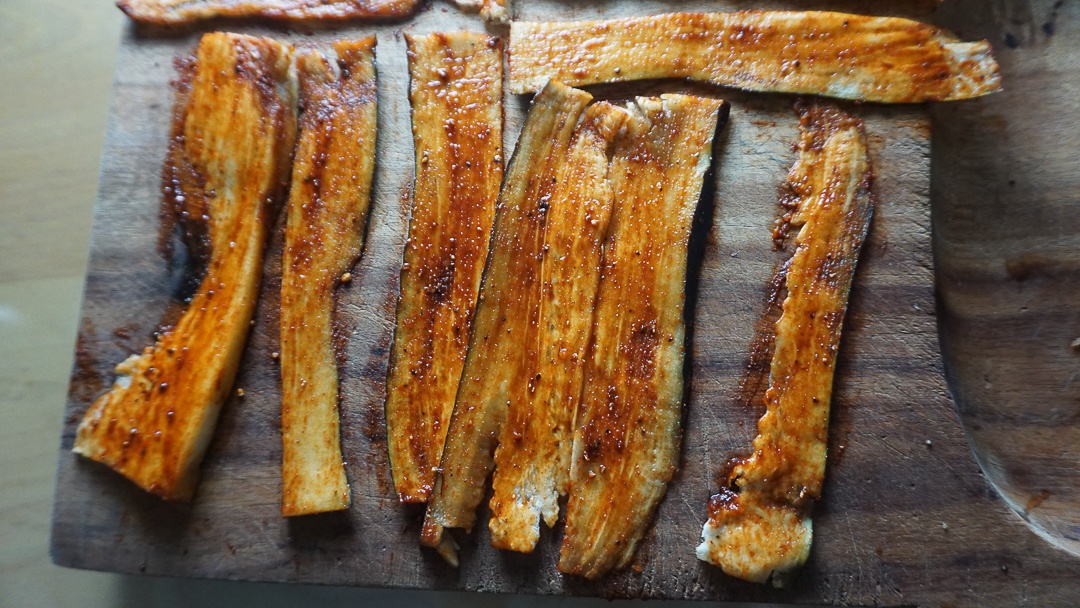 eggplant bacon before frying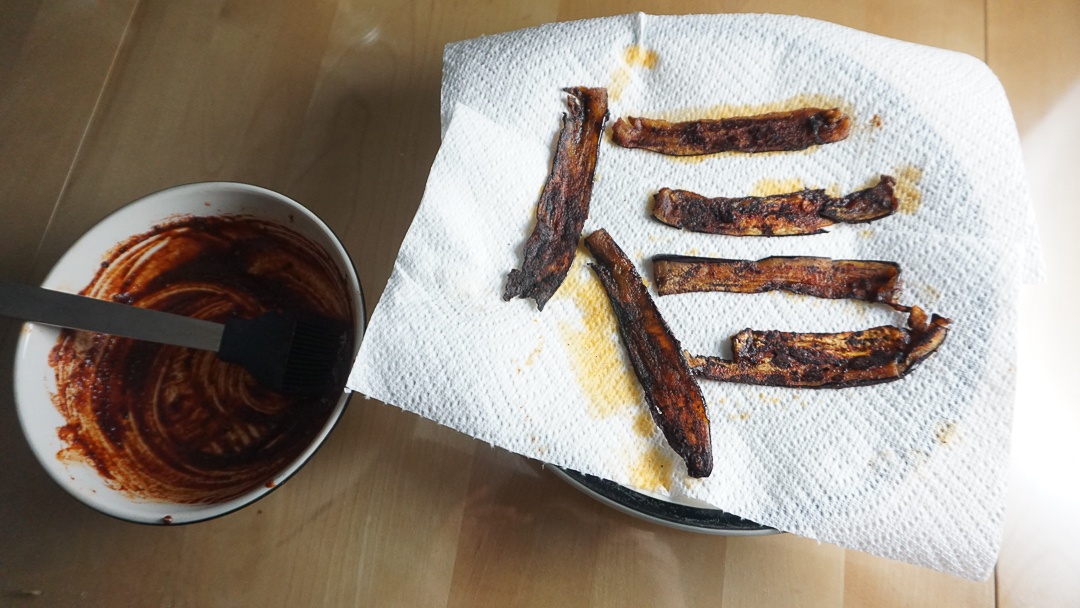 eggplant bacon after frying
This recipe is husband/ carnivore approved, and he especially loved the eggplant bacon - win!
Servings: 4
Time: 1 hour
Ingredients
Soup
4 tablespoons olive oil
1 medium red onion, diced
6 cups vegetable stock
2 cups split peas
Eggplant Bacon
1 medium eggplant (about 1 lb.)
¼ teaspoon tomato paste
1 teaspoon smoked paprika
1 tablespoon soy sauce
¼ tsp salt
¼ tsp pepper
2 tablespoons olive oil
Instructions
Add olive oil to stockpot over medium high and heat until shimmering.
Add the onion and cook until soft, 5-7 minutes.
Add vegetable stock and split peas and simmer for 60 minutes over medium low heat, until split peas are totally tender and melting into the broth.
While the soup is cooking, make the eggplant bacon.
Use a vegetable peeler or mandoline to cut the eggplant lengthwise into very thin strips. I found the easiest way was to quarter the eggplant lengthwise and then use a vegetable peeler to cut thin bacon like strips lengthwise on the flat edge. If the inside core is really soft, you may need to trim it away.
Combine the tomato paste, paprika, soy sauce, salt and pepper in a small bowl and mix together.
Brush one side of each eggplant strip with the seasoning mixture.
Heat the olive oil in a large cast iron skillet over medium low heat until shimmering. (You want it hot enough to crisp the eggplant, but not so high that the eggplant will burn right away - these are very thin strips).
Add strips of the eggplant seasoned side up first and fry until crispy, 1-2 minutes per side.
Drain on a paper towel lined plate, and repeat until all strips are fried.
When the soup is done, finish pureeing with an immersion blender.
Season the soup with salt and pepper to taste (be generous with the pepper) and serve topped with eggplant bacon slices.
Serving
Serve this with some crusty bread with olive oil for dipping. Or a grated carrot salad with a tart homemade vinaigrette would be a lovely complement to the deep flavors of the soup and smoky flavor of the eggplant bacon.
Storing
The soup will store and freeze perfectly, but the eggplant bacon won't, so if you have extra portions I would recommend eating all of the eggplant bacon right away. So difficult, I know!
Have you ever made eggplant bacon? Did you have success with the oven if so? What do you think of liquid smoke, am I wrong? Do you like split pea soup? Let me know in the comments!