What is it about spring that makes me want to cook all the green things? Or at least, all the pretty things - I've got savory tarts, macarons, and brightly colored pureed soups on my mind lately (and recipes are forthcoming).
This savory spring pea tart with asparagus tart is definitely spring inspired. The rich base is made from peas and coconut milk, then seasoned with fresh mint, lemon, and shallots. Top this with a dollop of creamy cashew ricotta and you've got a slice of something lovely.
TBH, I got some mixed reviews on this one. This is a love hate kind of recipe, and namely it comes down to whether or not you love or hate fresh mint. If you're not a fan you won't like this tart. Personally, I love it, which is why this recipe features plenty of it. Feel free to yell at me in the comments if you hate it :)
I just got some new leaf pie crust stampers, and I got to try them for the first time with this recipe, so you'll see the border of the crust lined with leaves. Not only does this add interest to the plating aspect, it means I'm not wasting any pie crust, which I really love.
I had regular flaxseed meal and not golden. I would recommend using the golden so you don't get the tiny dark flecks in the batter. Not a huge deal, but perfect presentation is always a goal, right?
You don't have to make the cashew ricotta, but it really adds a wow factor and it's easy to make from pantry items - just set the cashews to soak the night before (or morning of) the day you plan on making this.
This would be a good one to bring to a family gathering - it beats the pants off a quiche and those that love it will really love it. It's quite pretty too, so you can show off your fancy chef skills!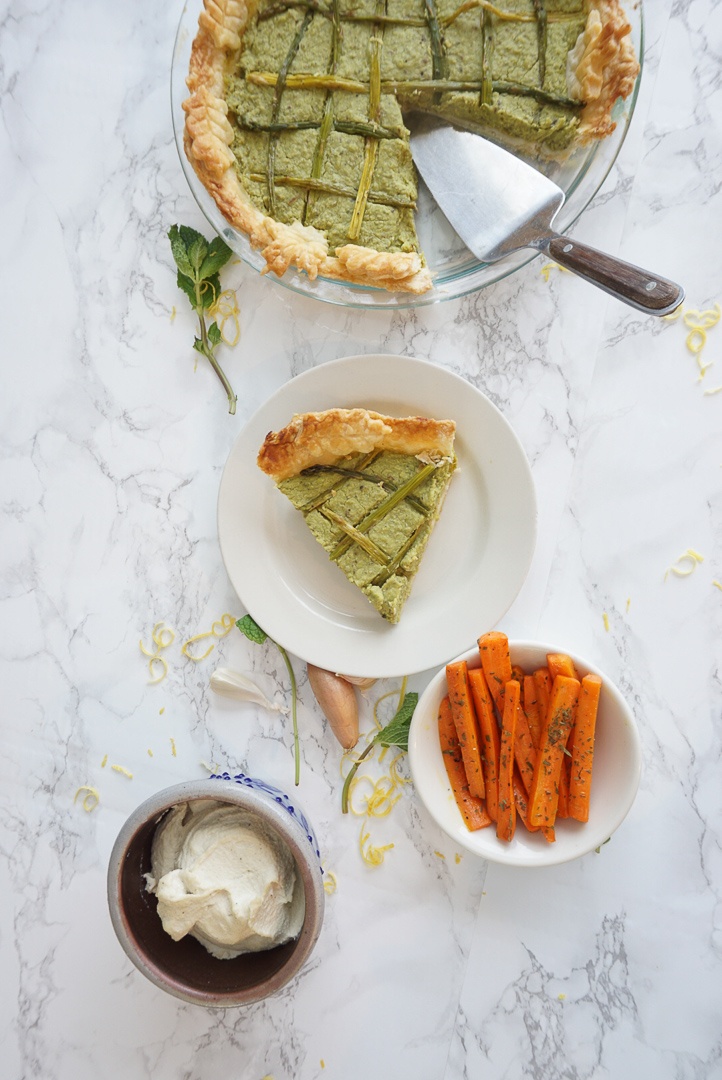 Servings: 8
Time: 1 ½ hours (40 minutes is in the oven, unattended), not including soaking the cashews overnight the night before.
Ingredients
Crust
1 cup plus 2 tablespoons all-purpose flour
½ teaspoon salt
8 tablespoons vegan butter cut into about 8 pieces (or real butter, if you prefer)
3 tablespoons ice water
Tart
1 cup cashews
2 tablespoons lemon juice + 1 teaspoon lemon juice, separated
2 tablespoons olive oil + 1 tablespoon olive oil, separated
8-10 stalks of asparagus
1 teaspoon lemon juice
2 cups peas (thawed frozen is fine)
1 shallot, chopped
1 small clove of garlic, diced
1 ½ teaspoons fresh mint
½ cup coconut milk
½ teaspoon pepper
1 teaspoon salt
1 tablespoons golden flaxseed meal and 3 tablespoons water mixed (this is a "flaxseed egg". Use the golden flaxseed if possible to avoid small dark flecks in your tart mixture.)
Instructions
To make the cashew cheese, you'll need to soak the cashews in enough water to cover overnight, so do this the night before. (The cashew cheese is optional, so if you don't have time for this you can skip the cashew cheese, but it really adds a wonderful compliment to the tart).
Drain and rinse the cashews and add to the food processor along with 2 tablespoons of olive oil and 2 tablespoons lemon juice. Blend until smooth, scraping down the sides as needed, about two minutes. Remove from and clean bowl and set aside.
Preheat the oven to 425 degrees F.
Next, make the crust. (This can also be made up to three days in advance, wrapped in saran wrap, and refrigerated, or frozen for up to a few months). Add the flour and salt to the food processor bowl and pulse a few times to mix.
Add the vegan butter and pulse 8-10 times until everything is blended and the mixture looks grainy.
Transfer the mixture to a bowl, add the ice water, and use your hands to form a ball of dough. It should stick together well without leaving dough on your hands.
Form into a ball, wrap in plastic wrap, and put into the fridge for at least 15 minutes before using.
Sprinkle your countertop with flour and roll out the dough into a circle big enough to fit into a 9" pie or tart pan. Press the dough firmly into the pan and trim the edges. Press a piece of aluminum foil over the crust and optionally weigh it down with dried beans, rice, or pie weights.
Bake the crust for 12 minutes, remove from the oven, remove the foil, and reduce the oven temperature to 400 degrees. Clean the food processor bowl.
Place the asparagus on a sheet pan and toss with one tablespoon of olive oil, one teaspoon of lemon juice, and salt and pepper. Put in the now 400 degree oven and roast for 6 minutes. Pull out and set aside, and reduce the oven heat to 350 degrees.
Whisk flaxseed and water in a bowl and let sit until the texture thickens, at least 5 minutes.
Place the peas in a saucepan with 1 cup water and boil for 10 minutes, until peas are totally tender. Drain.
Add peas, shallots, garlic, mint, coconut milk, salt, and pepper to food processor. Blend well until smooth.
Transfer pea mixture to a bowl and mix with the flaxseed "egg". Pour mixture into the prebaked pie crust. Place the roasted asparagus stalks on top of the tart - a lattice pattern looks nice, if you like.
Brush the visible edges of the crust generously with oat milk.
Transfer to the oven and cook for 40 minutes at 350 degrees F. The center should still be wobbly when you pull out - it will set as it cools. Serve at room temperature or cold with each wedge topped with a dollop of cashew ricotta.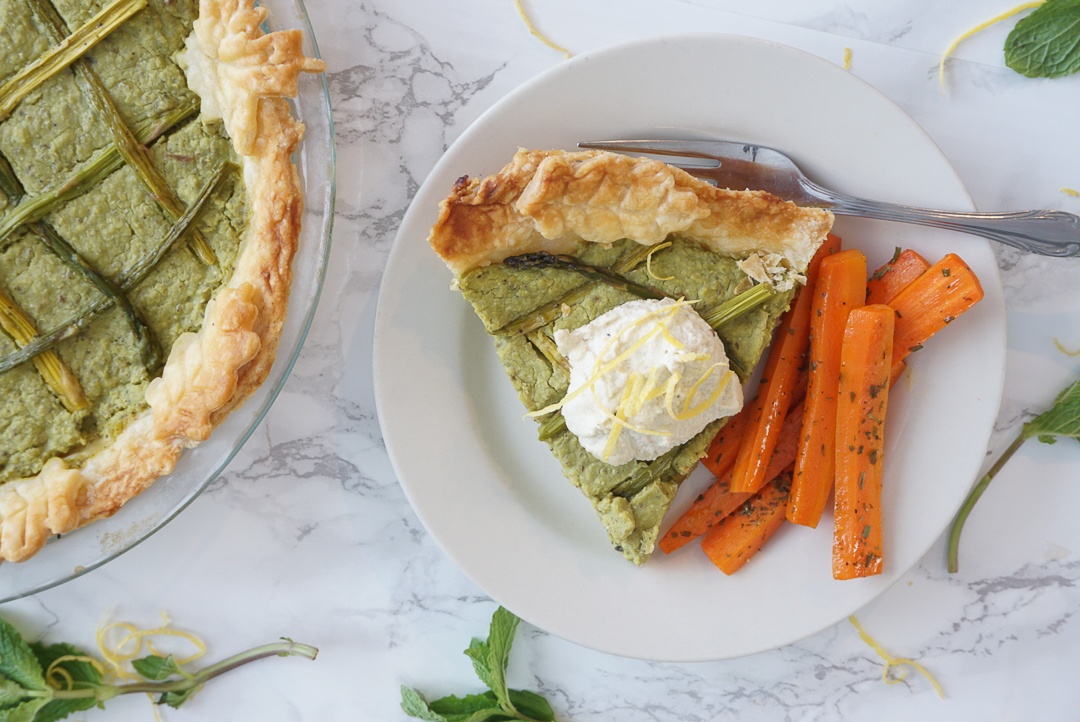 Serving
The cashew ricotta is optional, but it really makes this tart extra special, so include it if you can. And what goes together with peas, Jenny? Carrots, of course. Try tossing some carrots with olive oil and tarragon and roasting them, or a grated carrot salad with olive oil, lemon juice, salt and pepper is also lovely.
Serve this tart at room temperature, or cold.
Storing
This freezes just fine, so - more work leftovers!
What do you think? Will you give this a try for your next fancy party? Do you love fresh mint, or hate it? Let me know in the comments!