Made of bold, hearty ingredients, this tempeh vegan barbecue sandwich is a perfect picnic choice. Wrap it in some parchment paper and bring along some coleslaw too. Tempeh is assertive enough to stand up to the barbecue sauce, and garnishing the sandwich with tuscan kale instead of lettuce adds healthy greens that compliment the other sandwich ingredients without being overwhelmed by them.
I have a hankering for some barbecue, y'all, which is what inspired this barbecue tempeh sandwich. It's saucy and has the umami of a meat-based sandwich, so it's bold enough to satisfy while evoking thoughts of barbecue laden summers.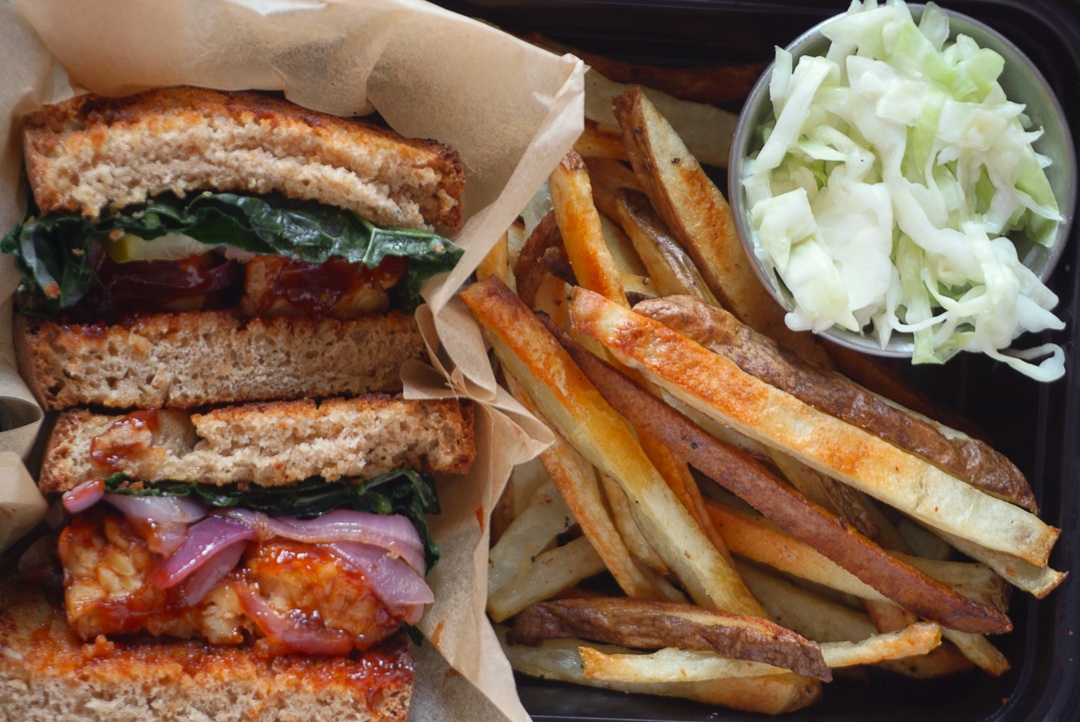 This is my first time trying tempeh - I've never had it before. Barbecue needs something that can stand up to it, so this seemed like the perfect time recipe to give it a try in. Tofu didn't seem like it would work well on a sandwich. (Although, it's really good braised in barbecue. I'm weird, I know, but I promise it's good, just try it!) Tempeh definitely has lots of umami flavor that can stand up to the boldness of barbecue.
Add some red onions, pickles, and kale, and you have a sandwich that's practically all you need for a meal. I've been seeing Tuscan kale in the supermarket and have been dying to give it a try - it's just the most beautiful color. The trick here with the kale is to soak it in water for about ten minutes. Steaming it makes it a bit too soft. Soaking it for a bit breaks down the cell walls enough that it's easy to eat without retaining any chewiness.
This dinner got a bit thumbs up from my meat eaters, which is always exciting! I had decided to make an extra sandwich for photos just in case, and then a friend decided to swing by. Everything happens for a reason, right? We told our friend that the price of dinner was to pay with words for my blog article. The feedback was that the sandwich has a good texture to it and it felt like meat. It didn't feel like they were getting a substitute, and the tempeh has a nice "chewiness" to it, and doesn't break up in your mouth.
This sandwich needs nothing else except for maybe some french fries and coleslaw (or just the coleslaw if you're going the picnic route).
Servings: 4
Time: 1 hour
Ingredients
List ingredients in the order they are used in the recipe.
8 leaves of Tuscan kale, stemmed and cut into thirds (you're looking for sandwich size pieces)
8 pieces of bread, cut into thick ½" to 1" slices
Olive oil for brushing
1 red onion, halved and cut into slices
1 tablespoon olive oil
2 tablespoons grapeseed oil
2 8 oz. packages of tempeh sliced into ½" strips
½ cup barbecue sauce
¼ cup water
Bread and butter pickles
Instructions
Trim the stems from the kale halves or thirds. You want a size that will easily fit on the sandwich. Put the kale in a bowl and cover with hot tap water. Soak for ten minutes, then drain and set aside.
Meanwhile, heat the oven to 400 degrees F. Brush both sides of all the bread slices with olive oil and place on a sheet pan. Cook for six minutes. Flip each piece of the bread over and cook for another five minutes. Remove from the oven and set aside. (Leave the oven on to cook the onions in the next step, or you can cook both sheet pans at once as long as you take care to pull the onions out earlier than the bread).
Toss the onions with 1 teaspoon olive oil and salt and pepper. Place on an aluminium foil covered sheet. Cook in the oven (still at 400 degrees F) for 8-10 minutes until soft. Remove from oven and set aside.
Add 2 tablespoons of grapeseed oil to a skillet and heat over medium heat until shimmering. Add the tempeh strips and brown on all sides, rotating with tongs, about 3 minutes per side.
Once all the sides are browned, add the barbecue sauce and water and stir, coating all of the tempeh slices. Turn the heat to medium low and cook for 5-8 minutes more, turning the tempeh to continue coating it in the sauce and letting the sauce reduce and thicken.
Make the sandwich by layering a slice of bread, tempeh, red onions, pickles, and kale.
Serving
This is perfect with oven fries and coleslaw. You could also garnish the sandwich with slaw instead of the kale.
Storing
If you have any leftovers, store them in separate containers and assemble the sandwiches when you're ready to eat them. All the ingredients can also easily be layered over whole grains to make a leftover barbecue bowl. These won't freeze well, so eat up!