You can for sure call this dish rice and beans, but this isn't the dish people complain about having to eat because they went over their grocery budget. (Well, I hope anyway!) I used a japonica black wild rice with white navy beans, and tossed it with roasted brussel sprouts. The contrasting colors pop on this wild rice and beans dish, and everything is tossed a balsamic and chili pepper blend for a flavor that's tangy and spicy.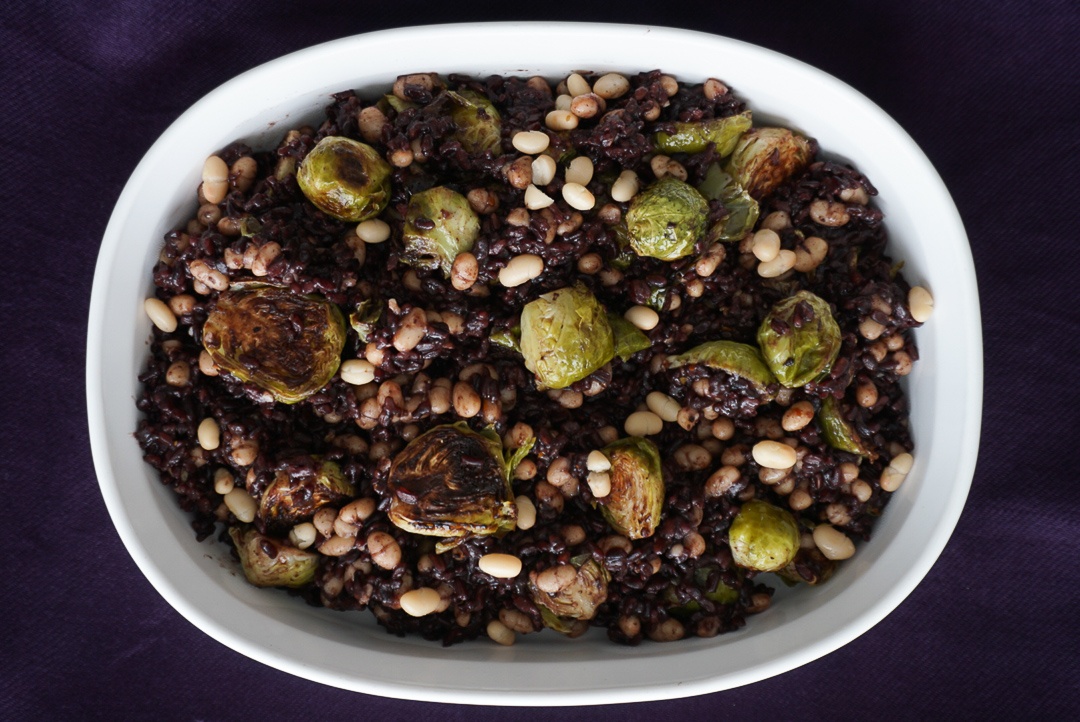 It's totally possible to be a vegan without eating healthily - plenty of candy is vegan, I can make vegan pie crusts all day long, and there are plenty of vegan cheese and vegan meat substitute products out there. Now that the weather is warming up, the hubby and I have decided it's time to shed that winter layer of fat and get to healthy eatin'.
Healthy eating (and the best way I've personally found to drop fat) is to stick to the following five categories - beans, whole grains, vegetables, fruits, and nuts. With vegetable oil and spices allowed, of course. I find when I eat this way, I don't have to count calories, which is a win for me because I personally am not a fan of tracking everything. (For beverages, I stick to water, sparkling water, and tea). No more macarons for awhile, I guess!
I hope this dish is a good example of how eating within these groups doesn't have to feel restrictive or boring. The flavors are savory, sour and spicy, and you have your beans, whole grains, and plenty of veggies. It's super filling, and perfect by itself or served with veggies.
This is also a great make ahead dish. You can cook all the ingredients and assemble them in a casserole dish, then pop the whole thing in the oven to warm up right when you need it. The longer it sits, the more the rice will absorb the flavors.
This is a titch on the spicy side, so feel free to add less red pepper flakes if you like (or more, if that's your bag). I'll also note that the amount of balsamic you need can vary by brand - some are sweeter than others. Try starting with two tablespoons, then add more and taste as you go. I use the organic Modenaceti (<-- not sponsored).
This is easy to make with just 8 ingredients and it's a delicious, filling meal. It makes excellent leftovers as well. If you don't like brussel sprouts, no worries - pretty much any veggie would be good here. Hope you'll give it a try!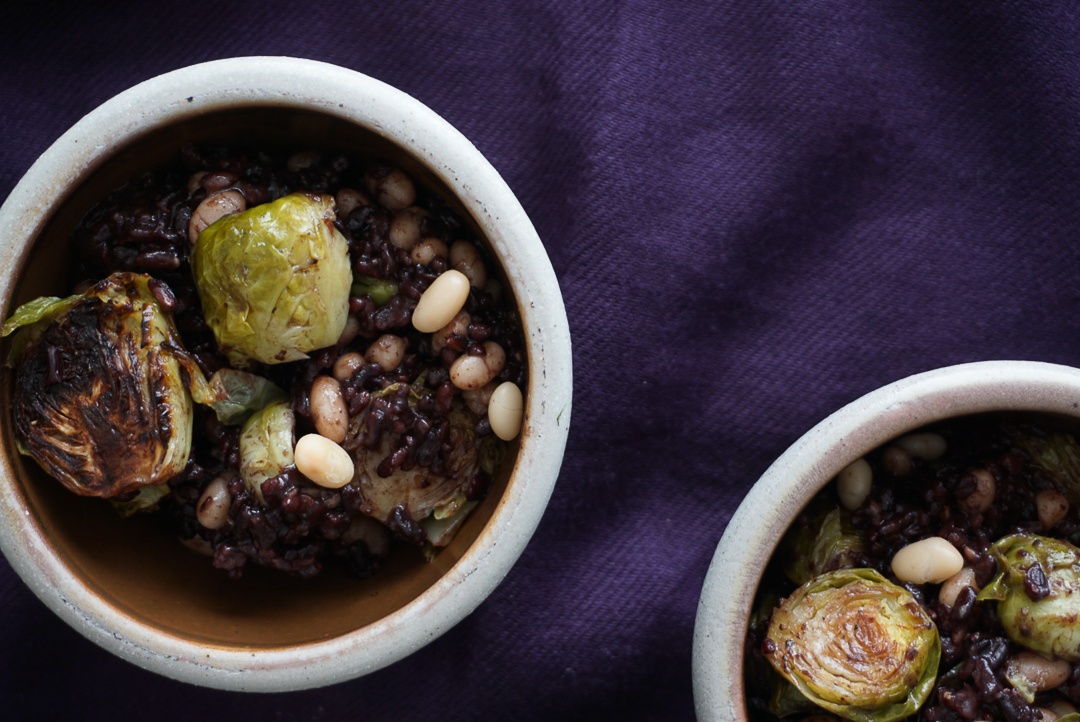 Servings: 4
Time: 1 hour
Ingredients
1 cup uncooked wild rice (I used black japonica rice, but any wild rice will do)
2 cups vegetable stock (or water is fine)
1 lb. brussel sprouts, halved
2 tablespoons olive oil + 2 tablespoons olive oil, separated
3 cloves garlic, minced (1 ½ tablespoons)
2 cans navy beans, drained and rinsed (3 cups cooked)
¼ cup balsamic vinegar
¾ teaspoon red pepper flakes (or more or less to taste)
Instructions
Preheat the oven to 400 degrees F.
Add the rice to a pot with the vegetable stock and bring to a boil. Turn the heat down until the rice is simmering, and cover and cook for 40 minutes or until tender. Check occasionally and if the rice becomes too dry, add more water.
Toss the halved brussel sprouts with 2 tablespoons of the olive oil, salt, and pepper on a sheet pan. Cook in the oven for 20 minutes until browned and soft.
When the brussel sprouts are done, put them in a large bowl.
When the rice is ready, drain and add to the bowl with the brussel sprouts.
Take the rice pan and add two tablespoons of olive oil and put back on the heat. When the oil is shimmering, add the garlic and cook for about 30 seconds, just until puffy.
Pour the garlic and oil into the bowl.
Add the beans, the other two tablespoons of oil, the vinegar, and the red pepper flakes to the bowl and stir until everything is well combined.
Serving
This is delicious on its own or with a side of any veggies at all.You can also serve this with dressed greens and even a side of fruit (pineapple would pair nicely with the spicy and sour flavors of the rice). This is also a great make ahead dish - simply assemble, pop into a casserole dish, and pop in the oven to warm through later.
Storing
Store this in the fridge for up to three days. This freezes very well, so don't hesitate to save any extras!
Do you like a spicy/ sour flavor combo? Are you a balsamic fan? How much spice can you handle? Would love to hear in the comments!