My last enchilada recipe had a tomato based enchilada sauce. I discovered after doing a bit of research that this is non-traditional (the word enchilada itself denotes a chili based sauce), so I decided to give a chili based sauce a try on these black bean enchiladas.
Black beans, corn, and butternut squash are seasoned with a bit of enchilada sauce, salt and pepper. The filling is then wrapped in enchilada shells, covered with the enchilada sauce, then baked in the oven until everything is warm and bubbly.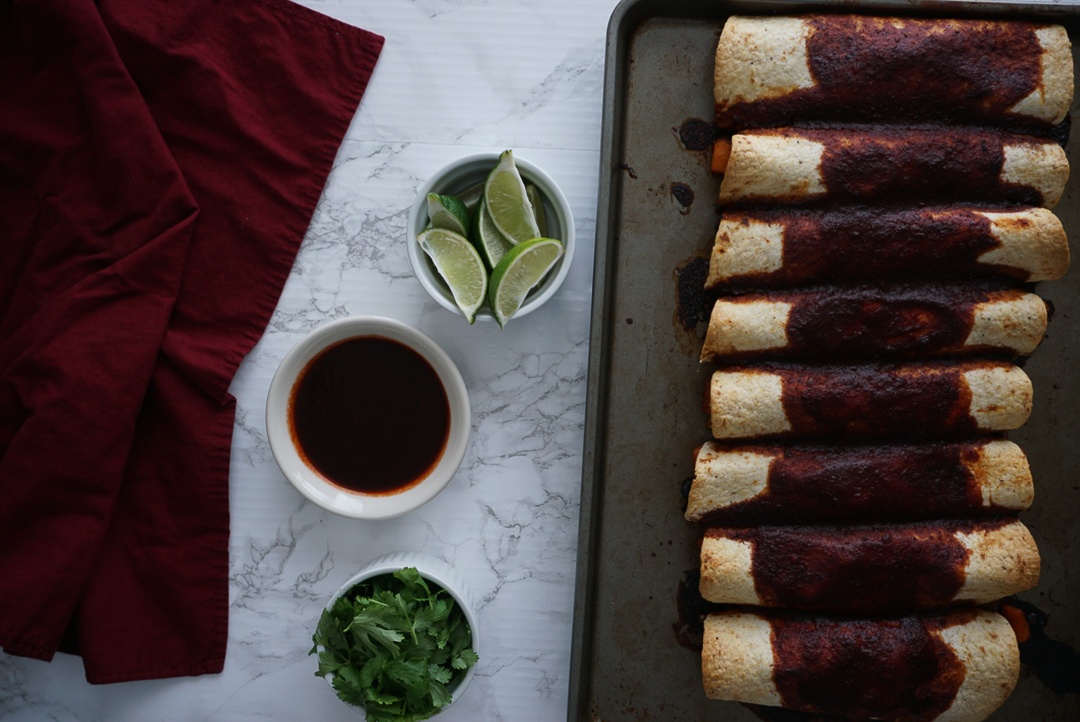 The sauce starts with dried, soaked chiles that are then processed with oregano, garlic and water. (I loved the addition of the oregano). At this point, I found the sauce to be pretty bitter and extremely spicy.
While this might be desirable if you've built up a taste for it (it seems many people online raved about that), I found that I needed a fair amount of sweetener and salt to mellow the flavors out a bit and cut through the bitterness. The sweetener and salt really made this sauce something delicious.
Beans, squash, and corn are super filling and the best combo - you have grains (corn is technically a grain), beans, and vegetables. You can substitute any squash for the butternut, so in warmer weather feel free to use summer squash or zucchini. The sweetness of the squash and corn pair beautifully with the spicy sauce.
There's plenty of beautiful, deep red enchilada sauce here, so serve the extra at the table along with the classic fixings. For me, that's cilantro, lime, and avocado. You could also add diced red onion or vegan cheese if you like.
Hope you enjoy these vegan black bean enchiladas with a more traditional chili-based sauce!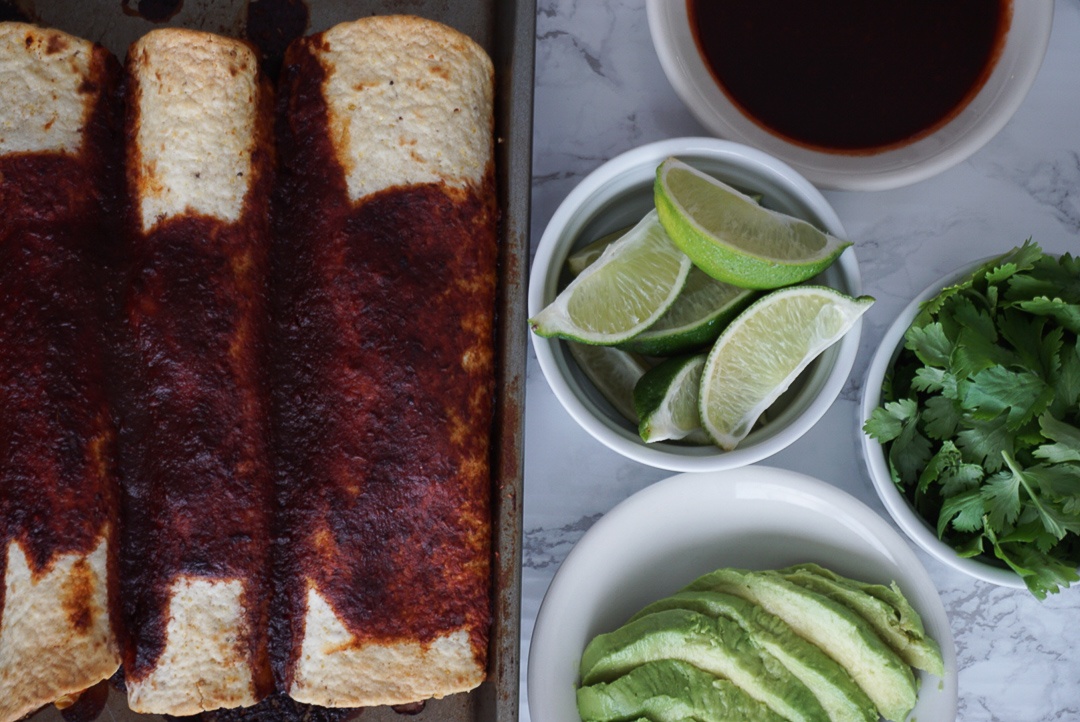 Servings: 4 (makes 8 enchiladas)
Time: 45 minutes
Ingredients
Enchilada Sauce
4 dried guajillo chiles, seeded and stemmed
2 dried ancho chiles, seeded and stemmed
1 dried arbol chile, seeded and stemmed
Hot water
3 teaspoons salt
4 tablespoons sugar
1 teaspoon chopped garlic, about 1 clove
½ teaspoon oregano
Enchiladas
2 cups peeled and cubed butternut squash (roughly ½ of a squash)
1 tablespoon grapeseed oil, plus more for brushing
1 cup frozen corn
2 cans black beans, rinsed and drained (3 cups cooked)
¼ cup enchilada sauce
8 tortillas
Toppings (optional)
One lime, cut into wedges
2 avocados, sliced
¼ cup roughly chopped cilantro
Instructions
Enchilada Sauce
Add the chilis to a bowl and cover with hot water (from the teakettle is easiest). Soak the chilis for 20 minutes until soft.
Scoop the chilis out of the water with a slotted spoon and put in the blender. Add one cup of chili soaking water and another cup of fresh water.
Add the rest of the ingredients and blend until smooth.
Taste and adjust the seasoning as needed, adding more sugar and/or salt if it's too bitter.
Enchiladas
Preheat oven to 350 degrees.
Spread the butternut squash on a sheet pan and toss with 1 tablespoon of oil.
Add to the oven and roast for 15 minutes, until squash is tender enough to be pierced with a knife.
Meanwhile, while the squash is roasting, boil one cup of frozen corn for about five minutes, until tender. Drain.
Remove from the squash from oven.
Add the squash, corn, and beans to a bowl and toss with ¼ cup of the enchilada sauce plus salt and pepper to taste.
Fill 8 enchiladas with about a ¾ cup of filling each, wrap, and put them on an oiled sheet pan or in a casserole dish, seam side down.
Cover with sauce down the center of the row of enchiladas, leaving the edges bare.
Brush the bare edges of the enchiladas with grapeseed oil and put in the oven. Cook for 15-20 minutes until filling is hot and and edges are crisped.
Remove from the oven and let cool for 5-10 minutes. Serve and pass the toppings at the table!
Serving
I pretty much serve any dish like this with avocados, lime, and cilantro, but the options are plentiful - add diced red onion, salsa, sour cream (vegan or non) or cheese (vegan or non) to the mix - wherever your fancy takes you!
Storing
These enchiladas freeze beautifully and are easy to reheat in the microwave. Having a few of these in my freezer has saved me more than once!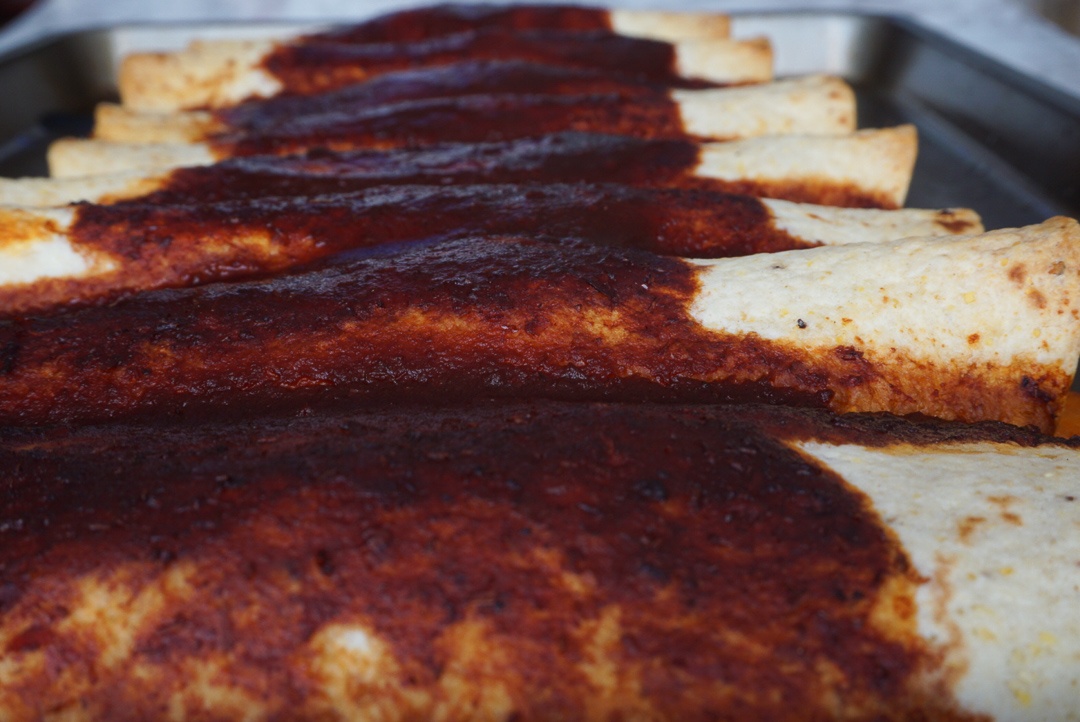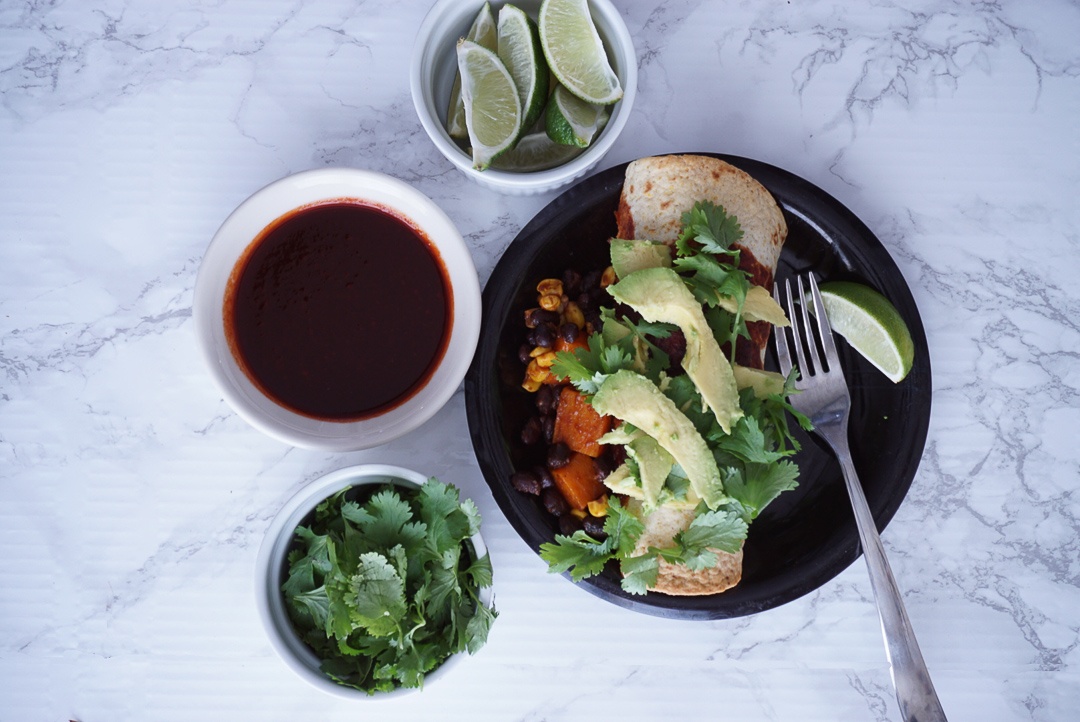 What do you think? Did you like this sauce, or do you prefer the tomato based version? Let me know in the comments!