There's just something about the combination of sweet and spicy that's just SOOO good. That's why you'll often see butternut squash used as a meat substitute in enchiladas or Mexican-inspired dishes.
This version of vegan enchiladas uses sweet potatoes and pinto beans, which makes them very filling and gives you a flavor profile that's a little bit sweet, spicy, and savory all at the same time. The chipotle in adobo adds smokiness, and if you serve these with cilantro and lime you'll add bright and fresh layers as well - all wonderful flavors alone, but especially combined. (If you've never used chipotle in adobo, do it soon - this is some truly magical stuff).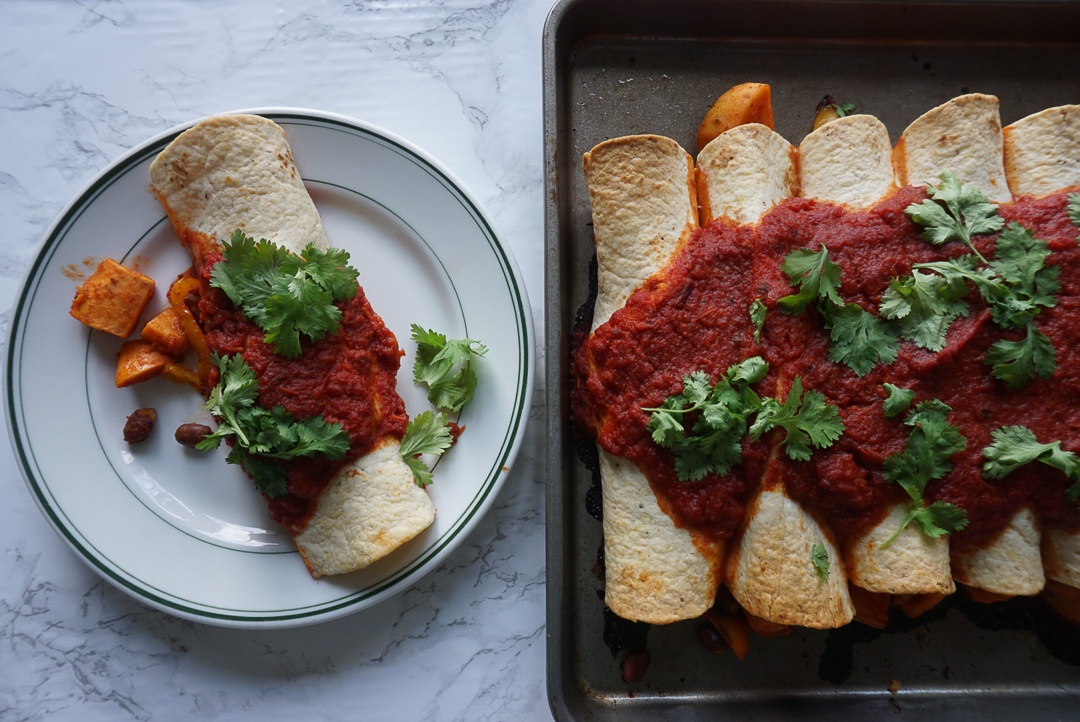 Now, I'm not an expert in traditional style dishes (but, goals), so I did a bit of digging on enchiladas. It turns out that traditionally, enchiladas sauce shouldn't be tomato based - the name enchilada translates to something like "between chilies" (I think).
Of course, I created this vegan enchilada recipe in blissful ignorance of that fact so these are smothered in a very non-traditional, chunky homemade tomato sauce spiced with chipotles and sweetened with a bit of finely grated carrot that melts into the sauce as it cooks (hat tip to my girl Saramanda for this trick - it'll change your sauce!). A little bit of oregano elevates this sauce into something really special.
No worries though - my next enchilada recipe will feature a homemade sauce based on just chilies and be sans tomato, so stay tuned for that!
This is a perfect dinner recipe - it's easy, super filling, and you don't need to serve it with anything but a few garnishes to pass at the table.
Servings: 4 (8 enchiladas)
Time: One hour
Ingredients
Enchilada Sauce
2 teaspoons grapeseed or other neutral oil
2 cloves garlic, minced
One 28 oz. can of crushed tomatoes
1 chipotle in adobo (about 1 tablespoon) + 2 teaspoons adobo sauce
1 teaspoon dried oregano (or 1 tablespoon fresh)
½ teaspoon ground cumin
1 small carrot, finely grated - about ¼ cup
1 teaspoon salt
¼ teaspoon pepper
Enchilada Filling
2 tablespoons grapeseed or other neutral oil, plus more for brushing
2 medium sweet potatoes, peeled and cut into 1" cubes (or smaller, if you prefer)
2 yellow bell peppers, cored, seeded, and cut lengthwise into strips
One 15 oz. can of pinto beans, drained and rinsed (1.5 cups cooked)
¼ cup enchilada sauce
Salt and pepper
8 tortillas
Toppings (optional)
One lime, cut into wedges
2 avocados, sliced
¼ cup roughly chopped cilantro
Instructions
Preheat the oven to 400 degrees.
Spread the diced potatoes and bell pepper strips onto a sheet pan and toss with the 2 tablespoons of oil.
Roast in the oven for 20 mins, until the potatoes are tender enough to be pierced with a knife.
In the meantime, while the potatoes are roasting, make the sauce.
Add the oil to a saucepan and heat until shimmering. Add the garlic and cook just until puffy, about 30 seconds.
Add the rest of the sauce ingredients to a saucepan and bring to a simmer, whisking to break up the chipotle. Season with salt and pepper to taste.
Simmer for 15-20 minutes over medium high heat, until flavors are well melded. Stir frequently to keep the sauce from sticking.
When the 20 minutes are up, remove the potatoes and peppers from the oven and turn the heat down to 350 degrees.
Add the potatoes and peppers to a bowl and toss with the beans, ¼ cup of the enchilada sauce, and salt and pepper to taste.
Fill 8 enchiladas with about a half cup of filling each, wrap, and put them on an oiled sheet pan or casserole dish, seam side down.
Cover with sauce down the center of the row of enchiladas, leaving the edges bare.
Brush the bare edges of the enchiladas with grapeseed oil and put in the oven. Cook for 15-20 minutes until the filling is hot and the edges are crisped.
Remove from the oven and let cool for 5-10 minutes. Serve and pass the toppings at the table!
Serving
Avocado, cilantro, and lime are perfect toppings to pass at the table. I also like to toss the avocado in a bit of lime juice. You can serve with a green salad - try a nice cilantro garlic and lime homemade dressing to compliment the enchilada flavors.
Storing
Store up the three days in the fridge - these freeze beautifully so if they make it that long in the fridge, freeze any leftovers for future work lunches.