Summer is sandwich season. They're easy to put together, require little to no cooking, are packable, portable, and aren't too gut-busting. I've always loved sandwiches, although my past version of a sandwich was always pretty much a few basic ingredients slapped between some sandwich bread. But there are so many varieties of sandwiches if you think about it - on traditional sandwich bread, gyros, stuffed pitas, wraps, quesadillas… the list goes on and on.
A gyro is probably just about the only sandwich I haven't attempted yet. This is the anti-Arby's gyro (we do NOT have the meats!) The base is still super savory though - mushrooms and chickpeas are cooked with soy and garlic for a super flavorful, super umami base filling. (Anytime you want a deep umami meat-like substitute, just saute mushrooms with some soy sauce and garlic - you can't go wrong).
Tzatziki is, of course, the key to any good gyro. You can make this fairly well in advance of the meal - the longer the it sits, the more the flavors well meld together. This particular vegan tzatziki is heavy on the cucumber, because that's how I like looooove it, but you should of course adjust the ingredients to taste.
The whole wheat pita in this vegan gyro recipe is filled with chickpeas and mushrooms, then topped with homemade vegan tzatziki, lettuce, tomato, and thinly sliced red onion. Wrap and serve it in parchment paper for the perfect summertime meal.
This comes together quickly and it's easy to make. It's perfect with fruit on the side - I'm partial to watermelon right about now myself, or strawberries.
What's your favorite sandwich? Any sandwich recipes you'd like to see in future? I'd love to hear from you in the comments!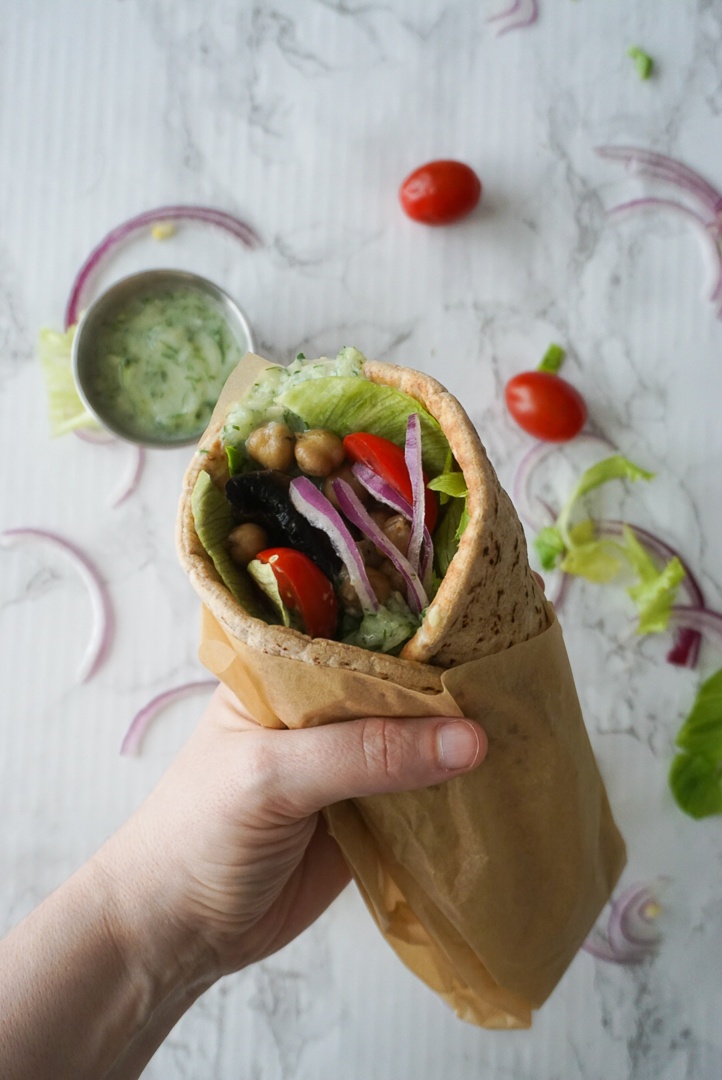 Servings: 4
Time: 40 minutes
Ingredients
Tzatziki
½ cup unsweetened coconut yogurt
½ tablespoon lemon juice
1 clove garlic, minced + 2 cloves garlic, minced
½ cucumber, finely grated (½ cup)
1 ½ tablespoons fresh chopped dill
Gyros
1 tablespoon olive oil
4 large portobello mushroom caps, cut into long 1" strips
1 tablespoon soy sauce
1 15 oz. can chickpeas, drained and rinsed
4 pieces whole wheat pita bread
Chopped fresh tomatoes for garnish
Chopped lettuce for garnish
Thinly sliced red onion for garnish
Instructions
Mix yogurt, lemon juice, 1 garlic clove, grated cucumber and chopped dill in a bowl. Set aside.
Heat the olive oil in a large skillet over medium high heat until shimmering.
Add the portobello mushroom strips. Cook undisturbed for 6-8 minutes, until they brown and release from the pan easily. Flip the mushroom strips and add the chickpeas.
Cook for another 6-8 minutes.
Add the soy sauce and the other two garlic cloves and cook, stirring frequently, for another 4-6 minutes or so until the mushrooms and chickpeas absorb the flavors.
Taste, adding salt and pepper as needed.
Add some tzatziki to the top of a piece of pita bread, then add filling. Garnish with lettuce, tomato, and onion and fold in thirds. Wrap in parchment paper.
Serving
These sandwiches are pretty filling as is, so you probably don't need a side. If you do have one though, serve with fruit - it's a great complement to the flavors in the gyro!
Storing
I wouldn't freeze a gyro, but you can certainly freeze the filling. It's also great to store in the fridge on its own and pair with rice to make a delicious bowl later in the week - bowls are perfect for eating the same thing in a different way to use your leftovers.