We live in a busy world, and all of us have days when we're short on time or are feeling overrun and exhausted. These are the times when we're most tempted by fast food or delivery. The bad news is that these options are often unhealthy and expensive. The good news is that it's easy to get out of that grind and put a quick meal on the table in less time than it takes to order delivery or drive somewhere to get takeout. And you won't need any fresh ingredients for any meals on this list - all the recipes here rely only on ingredients you probably already have in your pantry.
Time: The recipe says an hour, but there's no reason you can't cook your pasta and sauce while the mushrooms are soaking, making this a total of 30 - 40 minutes.
As an alternative option if you aren't in the mood for tomato sauce, toss the pasta and mushrooms with olive oil and garlic. Or add all or any combination of sun-dried tomatoes (reconstitute the same way as the mushrooms), cooked (frozen) spinach, and thyme or oregano.
https://cooking.nytimes.com/recipes/1016479-pasta-with-dried-mushrooms-and-tomato-sauce
Time: This dish is on the table in 20-30 minutes. The prep is minimal - the only thing you have to do for prep is peel and cut up a potato. And if you use my variation below, this will be done cooking in about 15 minutes total.
This is fast, filling, and a favorite in our household - you can't go wrong with this one. My favorite version uses red lentils instead of brown - they cook in the same amount of time as the potatoes, so you can just throw it all in the pot together. I prefer to use one can of coconut milk for the braising liquid and water to make up the rest, but you can use all coconut milk, all water, all stock, or any combination of them. Omit the garnishes to make this a fully pantry sourced meal. Use plenty of cracked pepper if you like a little extra heat, and serve with rice and/or stir in some spinach to make it extra filling.
http://www.bootsintheoven.com/boots_in_the_oven/2009/10/lentilpotatocurryrecipe.html
Time: This is done in 30-40 minutes (much sooner if you use white rice instead of brown). It's also a one pot dish, so cleanup is minimal. Use olive oil instead of butter to make this vegan.
I know, this sounds boring but believe me, it's anything but. Short grain brown rice is lovely here. Not only is this satisfying and delicious, it's a one pot meal so cleanup is minimal. This dish is a great demonstration of the fact that a simple combination of olive oil, salt, and pepper make a home cooked dish taste pretty amazing.
http://www.sharingplate.com/brown-rice-with-minted-green-peas/
Time: This comes together in mere minutes - just about as much time as it takes to heat water.
Omit the scallions to make this a totally pantry sourced meal. Get your veggies in by adding lightly sautéed julienned carrots and/or frozen greens. To make this more satiating, try soaking rice noodles until tender and stirring them into the miso broth when it's finished.
http://markbittman.com/how-to-cook-miso-soup/
Time: Because you're using canned beans here, this dish is very fast - forego the pasta, and it'll be done in about 15 minutes with one skillet to clean.
Feel free to leave the basil out or replace it with any dried spice of your choosing. A tablespoon or so of cumin added to the tomato bean mixture before stirring in the pasta is quite nice, and something different.
Time: If you make the beans from scratch, this one takes between one to two hours, nearly all of which is unattended. If you use canned beans and dried sage, this will take 15 - 30 minutes. It all comes together in one pot as well, so cleanup is easy.
The sage makes this dish super savory, and it's all beans so it's quite filling. This is a great dish to leave bubbling away in the pot while you take care of other things. Serve it with some bread and a salad and you have a fantastic (and healthy) meal.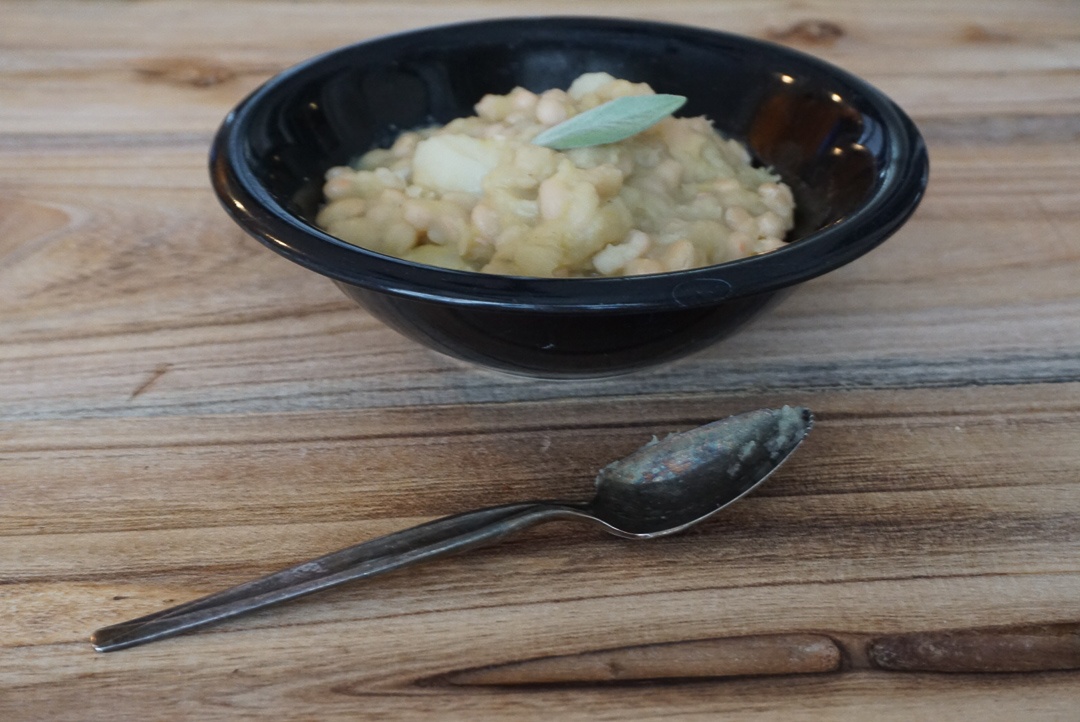 7. Hummus with carrots and celery
Time: This comes together in about 15 minutes - simply puree your hummus ingredients in a blender or food processor, peel and cut up your carrots and celery sticks, and dinner is served!
I know, veggies and dip doesn't sound very filling. Trust me though, when it's a dip made of beans you'll be stuffed pretty quickly (as Mrs. Frugalwoods can attest to). The tahini and olive oil pack in extra protein and fat, which is part of what makes hummus so satiating. Try to make this in the morning or a few hours in advance, as it really needs to sit in the refrigerator for a bit to allow the flavors to meld and the hummus to thicken. It's just not as good warm from the blender.
https://cooking.nytimes.com/recipes/12703-hummus
8. Prune Paella (skip down to the last variation)
Time: 30 minutes. It all comes together and cooks in one skillet, which also makes cleanup a breeze.
Paella is one of those dishes that can seem intimidating until you actually make it. It's essentially rice (with something else) cooked in the oven. As a bonus, it looks great served right from the skillet! This is also wonderful with tomatoes, but use prunes to make it 100% pantry sourced.
http://wednesdaychef.typepad.com/photos/uncategorized/2007/09/05/p1120016.jpg
Time: 30 minutes at most - only a bit longer than it takes to cook the quinoa.
This is actually a recipe for pepper stuffing, but it's so good you can just eat it with a spoon. I recommend you do just that if you don't have the peppers on hand (or time to stuff and bake them). The flavors here meld together really well yet are quite simple to put together.
Time: About 2 hours, mostly unattended. This is cut in less than half if you use canned beans instead of dried fresh (though this is one dish where cooking from dried does make a noticeable difference).
Chili is such a classic, and is so warming and satisfying that it just had to be on this list. Using a dried peppers instead of fresh makes the ingredients fully pantry sourced. Make the chili with tomatoes version for the more traditional preparation that we're all familiar with.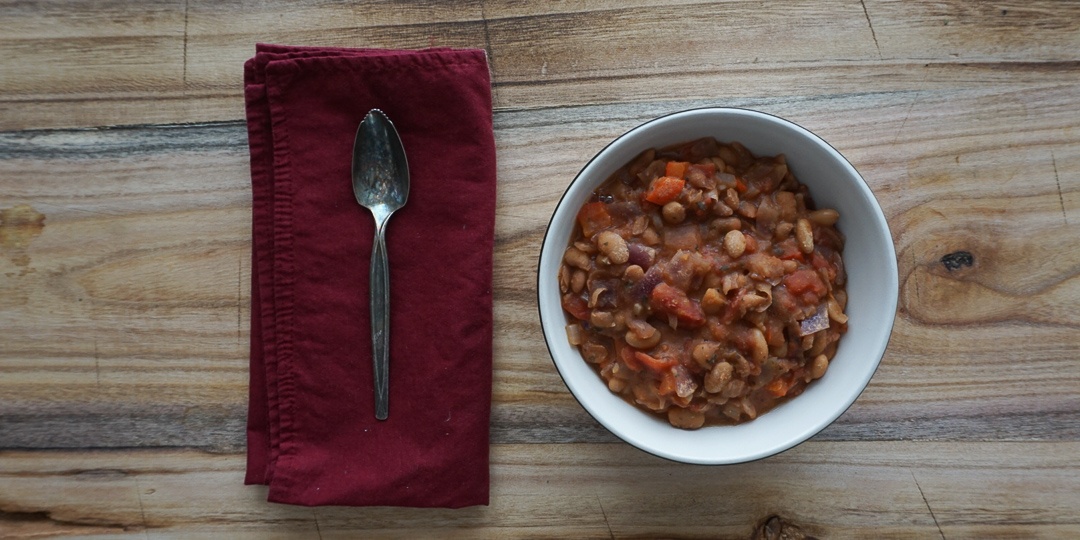 Time: About 10 minutes, and the wow factor makes it seem like it took much longer.
If you're feeling like a bit of dessert or just a fall treat, brew up a vegan pumpkin spice latte using some non-dairy milk (I prefer oat milk), some canned pumpkin puree, and maple syrup along with your pumpkin spice. An immersion blender adds an impressive amount of froth.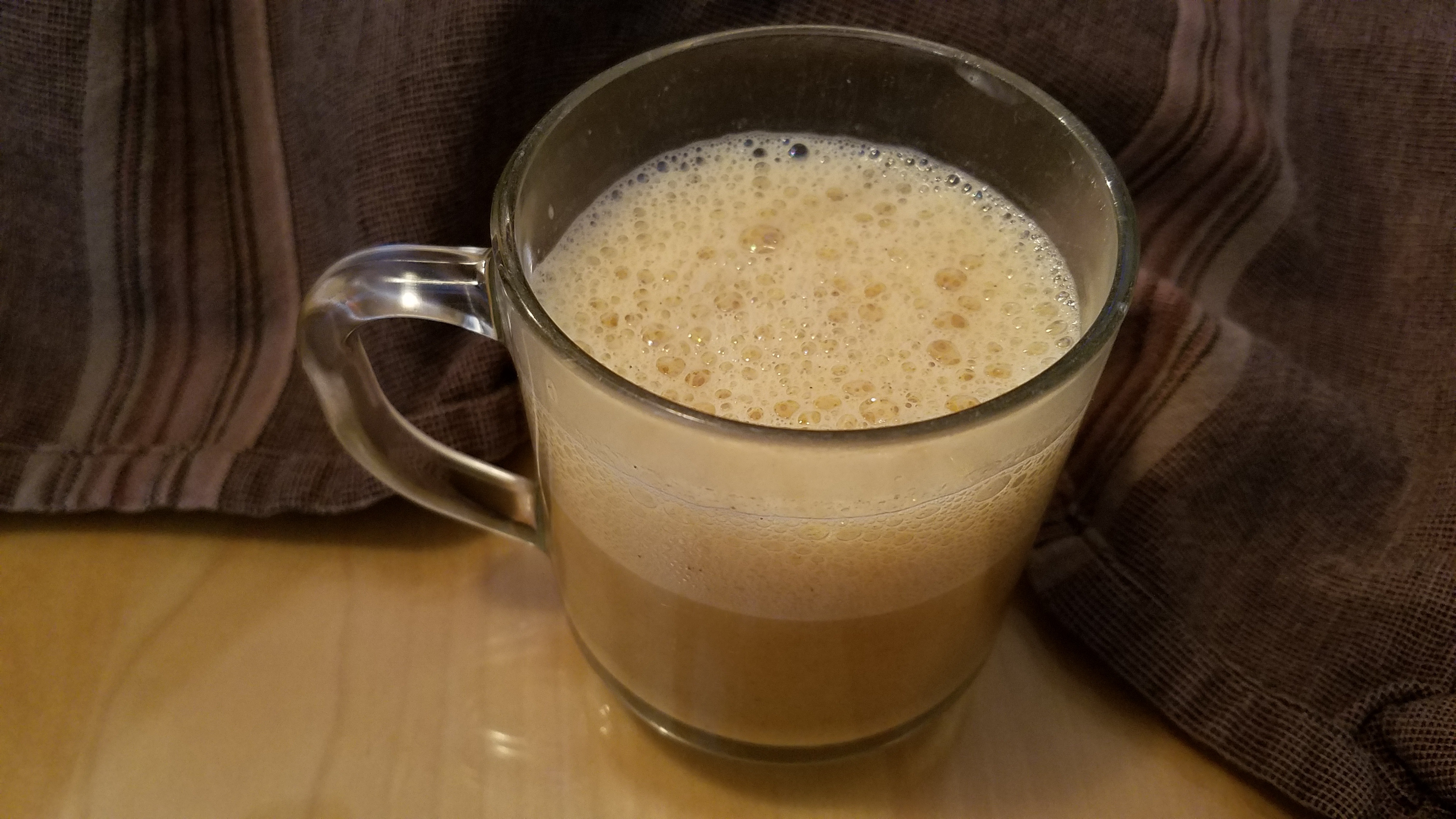 And there you have it. Ten dishes you can get on the table in the time it takes you to call and wait for delivery, and probably about ten times better for you. There's something for everyone on this list!
See anything you'll make the next time you need to pull something together quickly? Let me know in the comments and let's dish!