I want to lose some weight, so I'm going full on healthy foods for a while (which means the blog recipes are too!). No more macarons for a bit :) The best way I've personally found to lose weight is to stick to five "food groups" - grains, beans, fruit, vegetables, and nuts.
Everyone is motivated by different reasons for losing weight - for me, the older I get the more I think about my long term health and quality of life (something that NEVER occurred to me in my twenties). I exercise so that I'll remain strong and (hopefully) maintain independence later in life, for as long as possible. I strive to eat as many whole foods as possible so that I can (hopefully) avoid diseases like diabetes (which runs in my family), or cancer (which also runs in my family).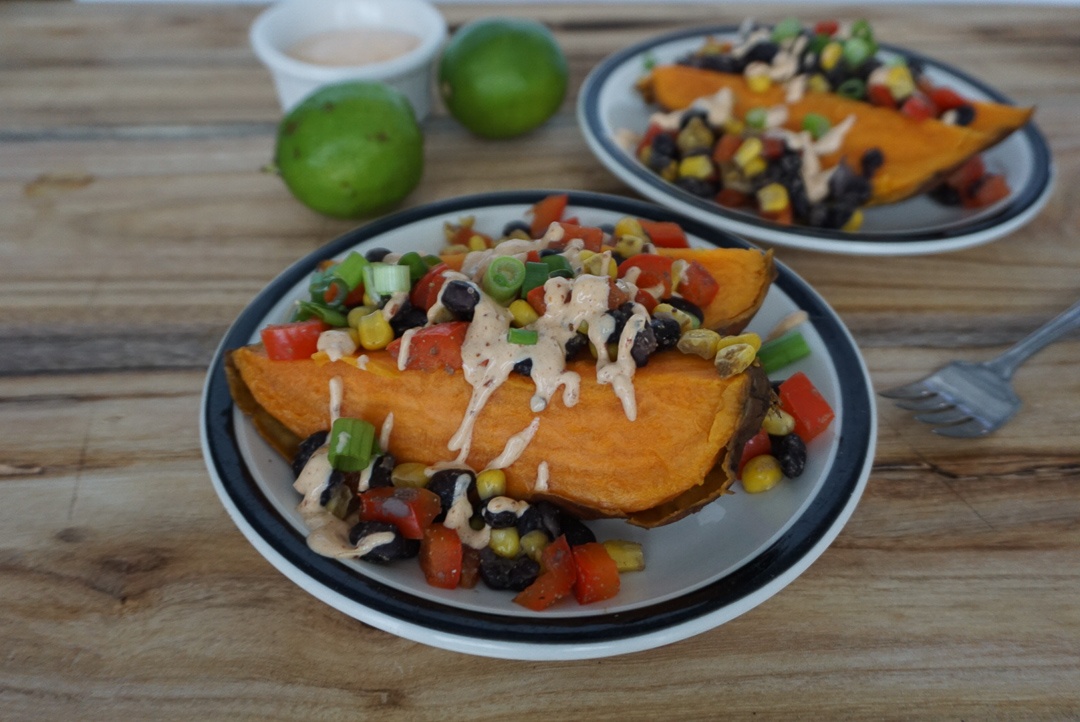 My target is 10-20 pounds, though I'm not as concerned about the actual weight, especially because I lift weights as part of my fitness routine which can increase muscle weight. My real target is to get rid of some belly fat, since that's a leading indicator of future health problems (after all, I'm almost 40 now!).
It's tough - your body does NOT want to give up that weight! That's why sticking to whole foods helps- they're naturally full of fiber so you get that full feeling on less calories. As the hubby says, go ahead and just try to eat 10 oranges.
This recipe is a perfect example of a plant based, fiber packed meal. Eat the entire baked sweet potato plus toppings, and you'll definitely be full. I opted out of cooking the topping with oil to keep the calories low, and seasoned with cumin, salt and pepper. The entire plate of food is 400 calories. Go ahead, just try to eat two portions of this!
Spicy and sweet go together like woah, so a spicy topping was needed to pair with the sweetness of the ingredients. The topping is a corn, black bean, and diced red pepper blend seasoned with cumin for a southwest feel. Top all of this with a vegan creamy chipotle sauce, which adds a ton of flavor and the perfect amount of spice. And yes, the sauce is included in the calorie count, though if you want to save about 100 more calories you can opt for straight hot sauce (or straight chipotle in adobo, if you dare!)
Most of the time it takes to make this is the baked potato baking. Otherwise, there's not much more to do - just cut up the red pepper and sauté all the topping ingredients with cumin, then whisk together the ingredients for the spicy chipotle drizzle. This is easy to make and doesn't require many ingredients - 5 for the main dish, and 5 for the sauce. It all comes together super quickly - less than a half hour not counting the time it takes the potato to cook.
This is delicious, filling, has low calorie density, and all whole food ingredients. You can't go wrong with this one for dinner, and it makes excellent leftovers too!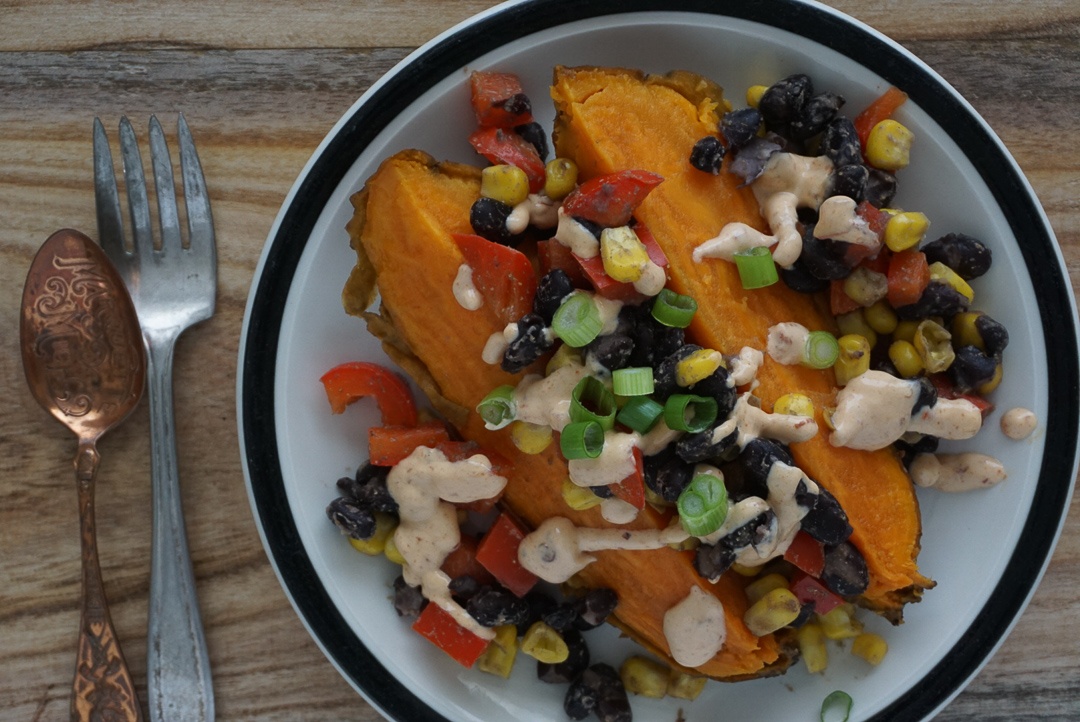 Servings: 4
Time: 1 hour and 15 minutes
Ingredients
Topping
¼ cup vegan sour cream
¼ cup vegan mayonnaise
1 tablespoon lime juice
1 tablespoon chipotle in adobo
1 clove garlic, minced
Dish
4 sweet potatoes
2 cups corn kernels (thawed if starting with frozen)
2 12 oz. cans black beans (3 cups cooked)
2 red bell peppers, diced
1 tablespoon cumin
Instructions
Preheat the oven to 400 degrees.
Wrap the potatoes and in foil and put on a sheet pan (they might leak a bit). Bake in the oven at 400 degrees. Cook for 60 to 90 minutes, depending on the thickness of the potatoes. They're done when you can pierce the potato easily with a knife.
Add the sour cream, mayonnaise, lime juice, chipotle and garlic to a bowl. Whisk to combine into sauce.
About fifteen minutes before the potatoes are done, add a half cup water to a skillet over medium heat. Add the peppers to the skillet and cook, stirring frequently, until peppers are soft, about 8 minutes.
Add the corn, black beans, cumin, and salt and pepper to taste to the skillet. Cook, stirring, until everything is warmed through.
Remove the potatoes from the oven and cut them in half. Top with the black bean mixture in the skillet and drizzle each potato with the chipotle sauce.
Serving
This doesn't need much - you can top with some scallions, cilantro or serve with a green salad to round it out as a meal and get your greens in, but it's pretty filling as is and that's how I typically serve it.
Storing
Store in the fridge for up to three days. This makes excellent leftovers/ work lunches, and freezes well too.
Will you give this a try? Are you a fan of sweet potatoes? Let me know in the comments!