Does anyone else love hot open faced sandwiches? There's something about a nice thick piece of bread topped with savory delicious layers of toppings while soaking up sauce that just speaks to me, especially when there's still that cold bite in the air as spring approaches. And I do love me some bread.
Mushrooms are the perfect "meaty" star in this vegan open faced portobello sandwich. There are four layers to this sandwich and it's finished with a light drizzle of sauce that uses the white bean puree as a base.
Start this sandwich with a piece of thickly sliced bread (if you have homemade, all the better) that's brushed with olive oil, salt and pepper and toasted in the oven until it's perfectly golden and crunchy. Then spread a generous layer of white bean and thyme puree on the toast. Thyme and beans are a perfect pairing for the next layer - a browned pan-fried portobello mushroom. Finally, top it all with a layer of sauteed red onion and a drizzle of creamy lemon sauce that cuts through all that wonderful richness a bit.
This is best served hot, which does require attending to a few pans on the stovetop at once. Fortunately, it's an easy matter of stirring and flipping here and there, so while you do have to remain at the stove, everything cooks up really quickly and there's very little prep (just blending up the puree and making the toasted bread, really). Just think of yourself as a food conductor!
I love to serve this with roasted broccoli that has a little bit of the lemon sauce drizzled over it as well - just toss the broccoli in olive oil, salt, and pepper, and then pop the broccoli in the oven right after the bread is done for 10-15 minutes. Or if you don't like broccoli, any vegetable that likes roasting will do quite nicely.
I knew I needed more recipes to add to my sandwich category, and this savory and filling open faced sandwich is just what the doctor ordered to ward off a chilly evening. Here's hoping you make and enjoy this!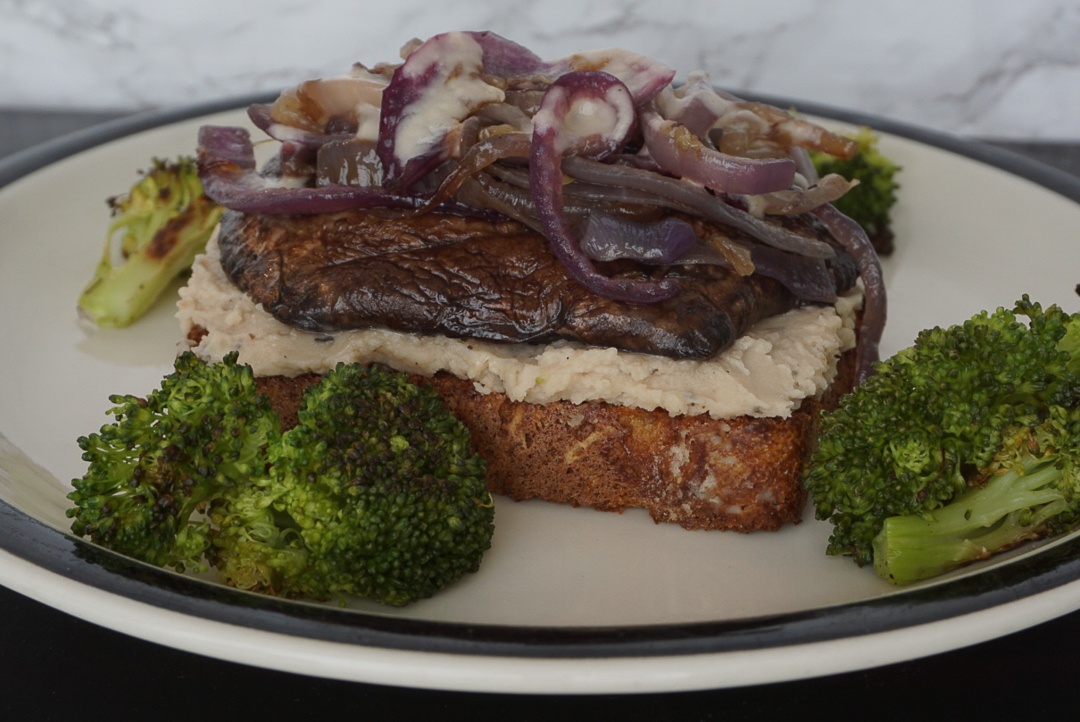 Servings: 4
Time: 45 minutes
Ingredients
2 15 oz. cans navy beans, drained and rinsed (3 cups cooked)
3 tablespoons olive oil + 1 tablespoon olive oil + 1 ½ tablespoons olive oil, separated, plus some for brushing
½ teaspoon dried thyme
½ cup water + 1 tablespoon water, separated
1 teaspoon salt
½ teaspoon pepper
1 tablespoon lemon juice
4 slices of bread, sliced 1" thick
½ - 1 tablespoon olive oil
1 medium red onion, halved and sliced
4 large portobello mushroom caps, stems removed
Instructions
Preheat the oven to 400 degrees F.
While the oven is preheating, add navy beans, 3 tablespoons of olive oil, thyme, water, salt and pepper to a food processor and blend until smooth, about one minute. Set aside.
Take ¼ cup of the white bean puree you just made and add it to a bowl with a tablespoon of water and the lemon juice. Whisk until you have a thin sauce. Set aside.
Brush both sides of the bread with olive oil and a little bit of salt and pepper. Place on a sheet pan. Put in the preheated oven and cook for 6 minutes, then flip and cook the other side for 5 minutes, until both sides are golden brown. Remove and set aside.
If serving with broccoli or other roasted vegetables, roast them now.
Now, you'll work with three pans on the stove together - one with the bean puree, one with the mushroom caps, and one with the onions.
Add the bean-thyme puree to a saucepan over medium heat. You're not trying to cook this, the goal is just to warm it. Stir frequently to prevent sticking while you're cooking the onions and mushrooms.
Meanwhile, add 1 tablespoon olive oil to a skillet over medium heat and heat until shimmering. Add the onion, salt and pepper to taste, and cook for 10-12 minutes or more until totally soft. Remove from heat and transfer onions to a bowl.
Meanwhile, add ½ tablespoon of oil to a large skillet over medium heat, and place 2-4 mushroom caps in it gill side up- as many as will fit. Sprinkle with salt and pepper. Cook for 5-7 minutes on each side until browned - do not try to remove from the pan before it is ready, wait for it to release easily. Repeat for any remaining portobello caps.
Assemble four open faced sandwiches by placing a piece of bread on a plate, pooling ¼ cup of white bean puree on top, then the mushroom cap, then top with ¼ of the onions. Drizzle about a tablespoon of lemon sauce over the four sandwiches and serve immediately. Drizzle any remaining lemon sauce over any vegetable side you're serving with (if it goes well with lemon).
Serving
This is really hearty, and benefits from a roasted vegetable side. I love broccoli, but there are lots of options - brussel sprouts, turnips or squash, asparagus. These are all delicious with a bit of the lemon sauce drizzled on them as well. A salad or some coleslaw is also wonderful. (I'd go with a lemon dressing on the salad to complement the flavors of the sandwich, myself).
Staying away from bread and want to make this a bit healthier? Serve this as a bowl over a whole grain - farro would be perfect (it's wonderful with mushrooms).
This can also be a good summer meal - try grilling the bread and the mushroom and serve with grilled veggies, and you have a non-oven meal.
Storing
Bread isn't the best out of the freezer, but I personally froze this and brought it for work leftovers and found it to be just fine (the bread was a bit soggy, but that's preferable over throwing it away to me).
Will you give this a try? Does it sound easy, or too complicated? Let's dish in the comments!