As spring arrives (later here in New England than for the rest of you, I'm sure), I'm feeling inspired break out the peas. Mushrooms and onions are also in season in the spring, so it seemed fitting to combine them all into a pea salad. The vegetables are roasted and combined with the peas, olive oil, lemon juice, and lots of dill for a simple and herb-y medley. This is easy to make, and it's perfect as a starter salad or a side dish.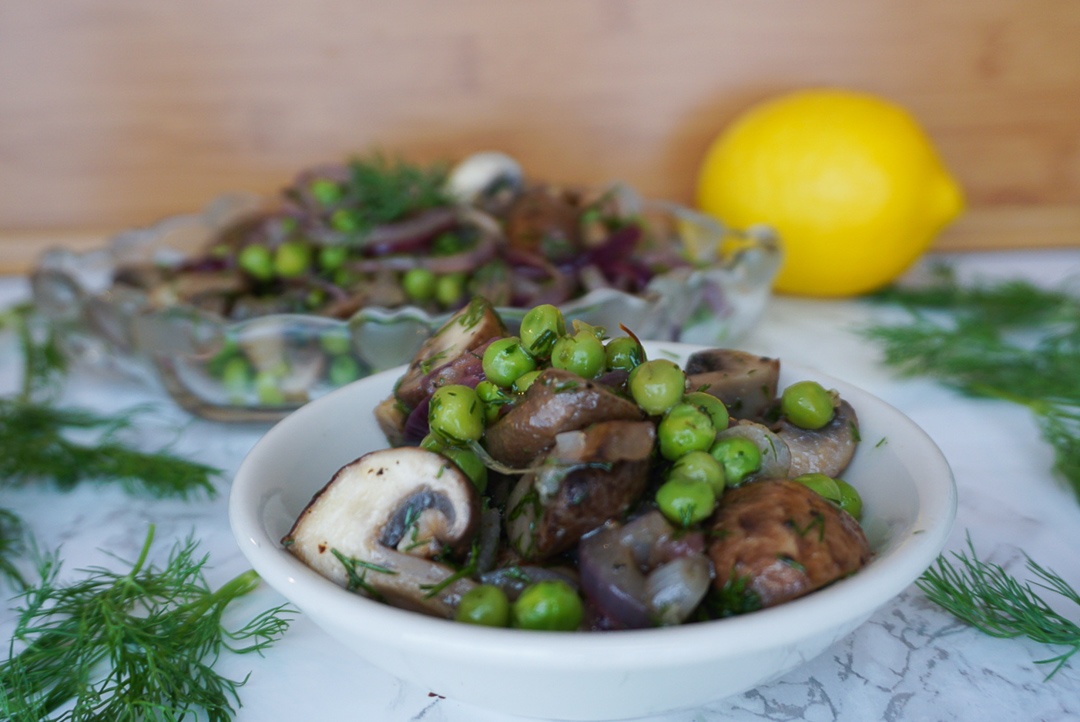 I'm not sure why, but I've been super into mushrooms lately, so this was perfect. This can be served with pretty much anything as well - it's a perfect side to any meal. The onions are roasted in the same pan as the mushrooms until they're just soft, and roasted mushrooms have so much flavor and such a great texture. The bright lemon and dill balance the umami of the mushrooms perfectly.
As always, my taste testers are my husband and anyone else that's over and happens to stumble into a meal. This recipe got a "That is bangin'". Which is, like, a good thing.
This is equally good hot or at room temperature. You can easily make this a meal by adding pasta. (The other piece of feedback I got was "You almost don't miss the ziti" - which is actually a fabulous idea, wish I'd thought of it!)
If you're not a dill fan, no worries - most any herb could work here (though taste as you go on the measurements - you wouldn't want a full ¼ cup of rosemary for example). This would also be wonderful with parsley, cilantro, basil, or even dressed with pesto instead of lemon and oil. Vary it up however you like!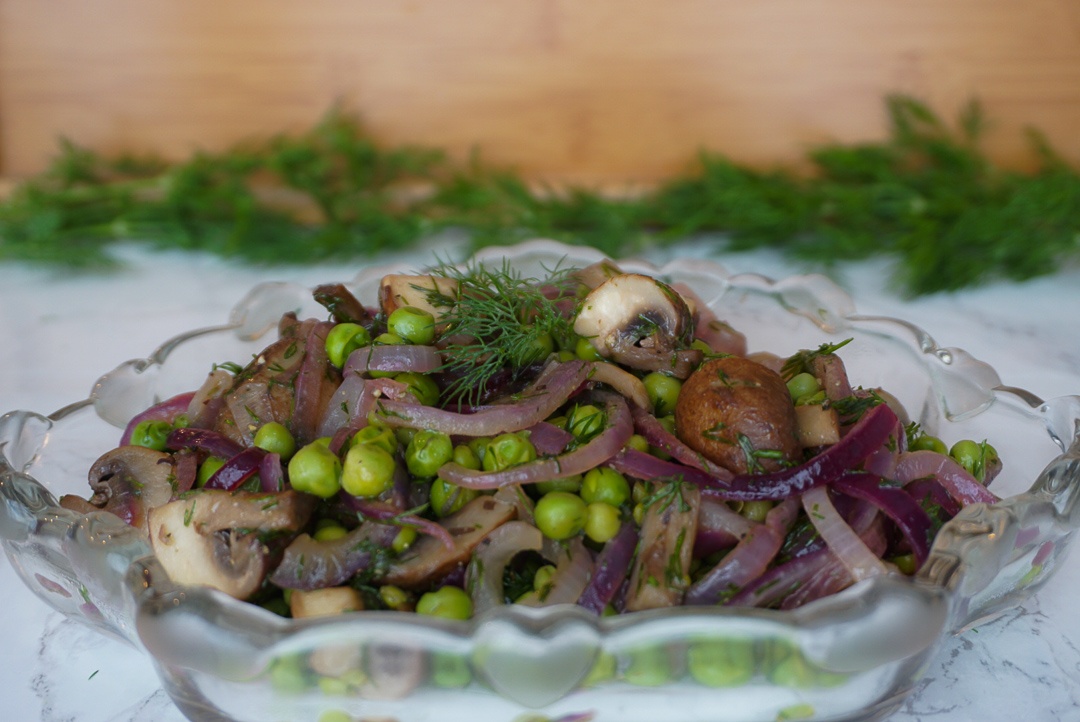 Servings: 4
Time: 35 minutes
Ingredients
List ingredients in the order they are used in the recipe.
2 tablespoons olive oil + 2 tablespoons olive oil, separated
One 16 oz. package of button mushrooms, sliced
1 red onion, halved and sliced
2 cups frozen peas
2 tablespoons lemon juice (freshly squeezed, please)
¼ cup roughly chopped fresh dill
Instructions
Preheat the oven to 400 degrees.
Toss the mushrooms and onions with 2 tablespoons of the olive oil, salt and pepper on a foil covered sheet pan.
Add the peas to a saucepan with 2 cups of water and bring to a boil. Turn the heat down to medium and simmer for 5 minutes, until thawed and tender. Remove from heat, drain, and put in a large bowl.
When the oven is preheated, add the onions and mushrooms and cook for 10 minutes. Remove from oven.
Using a slotted spoon, scoop the mushrooms and onions into the bowl with the peas.
Add the other two tablespoons of olive oil, the lemon juice, the dill, salt and pepper, and toss. Let the salad sit for a few minutes to allow the vegetables to absorb the flavors. Serve warm or at room temperature.
Serving
This is perfect with anything potatoes. Serve with roasted or boiled baby potatoes with oil and salt and pepper, or my favorite, a nice potato leek soup. This is also delicious over mashed or baked potatoes. I didn't try this, but I think it would also be amazing with some marinated tofu pieces (think a cheese substitution).
Storing
This can be refrigerated up to three days, and freezes just fine (I would reheat the leftovers in the microwave though, myself, and eat the leftovers hot).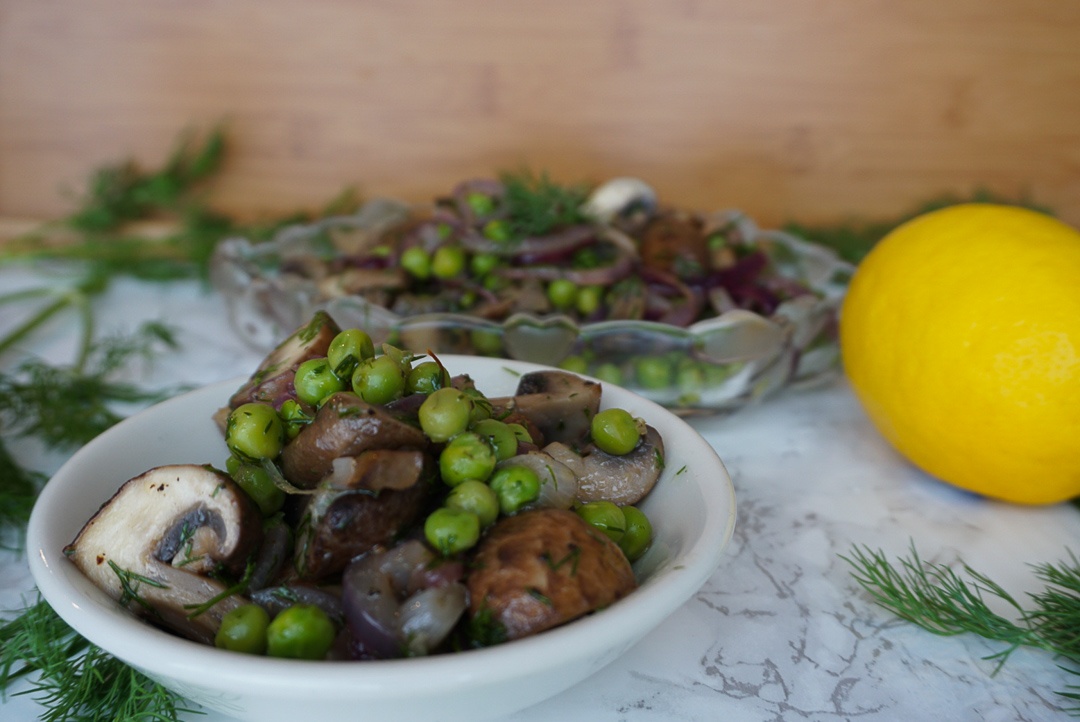 Are you a fan of mushrooms? When you roast veggies, do you cover the pan with tin foil? Do you like dill, or would you try another fresh herb? Let's dish in the comments!