Chili is one of those dishes that you can serve in every season. It's sure to please in summer, winter, and everything in between. This plant based chili recipe is packed full of nutritious ingredients, so it's good for you too.
When it comes to traditional dishes like chili, there are tons of different recipes out there. They can be really complex, and while people get really passionate about debating ingredients and methods, I think that the very best recipes are simple, stick to the basics, and let the main ingredients shine.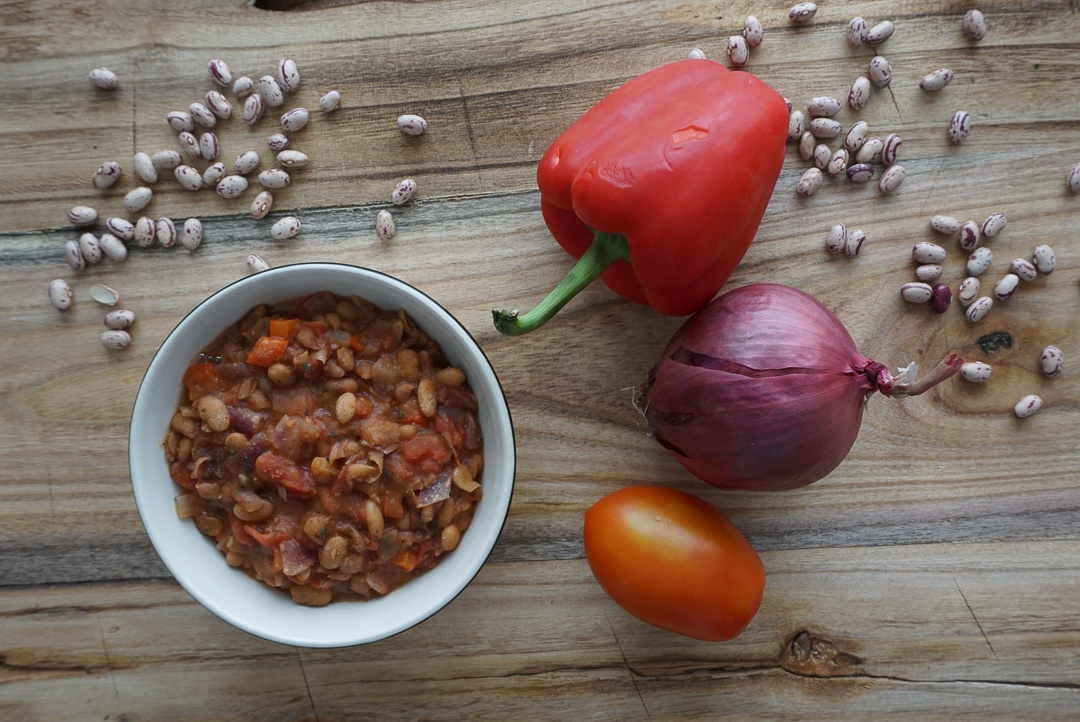 Pinto beans are the star of this recipe, so it's worthwhile to cook your own from scratch here (though you can certainly cut the recipe down to about 30 minutes total by using canned).
I've noticed a trend in my Facebook feed and life lately. At least three people I know have recently decided to start eating vegan. I'm not sure if it's happening more, if I'm just noticing more, or if it's not something people really talk about unless it's to other like-minded people, but I've started thinking about what I could do to help people that are either new to veganism or thinking about dipping their toe in.
How about you? Have you tried it? Are you thinking about or wishing you could try it? What's holding you back? What resources would be, or have been, helpful? Would love to hear from you in the comments!
One of the ways that I think food blogs (and recipe developers in general) can help is to offer plant based recipes that are delicious and easy to make. This chili is one of those meals that you could probably feed your family without them even noticing the lack of meat (maybe). It's a great basic recipe to have in your arsenal, and super easy to use as a plant based meal for the family.
This recipe is easy, it has less than 8 ingredients, and it's super flavorful and filling. Although it takes some time to make if you're cooking the beans from scratch, using canned or pre-cooked beans cuts the time down to 30 minutes or less.
The chili starts with dried pinto beans simmered in water until tender. Layer in tomatoes, onion, chili powder and cumin and cook until all the flavors meld. You get a simple yet powerfully delicious chili. Eat on its own or pile on the toppings - you won't be disappointed.
What's your go to chili recipe? What do you love in chili? Any secret ingredients you want to share? Please let me know in the comments!
Servings: 4 large servings
Time: 1 ½ hours (if using dried beans, 30 minutes if using cooked or canned beans).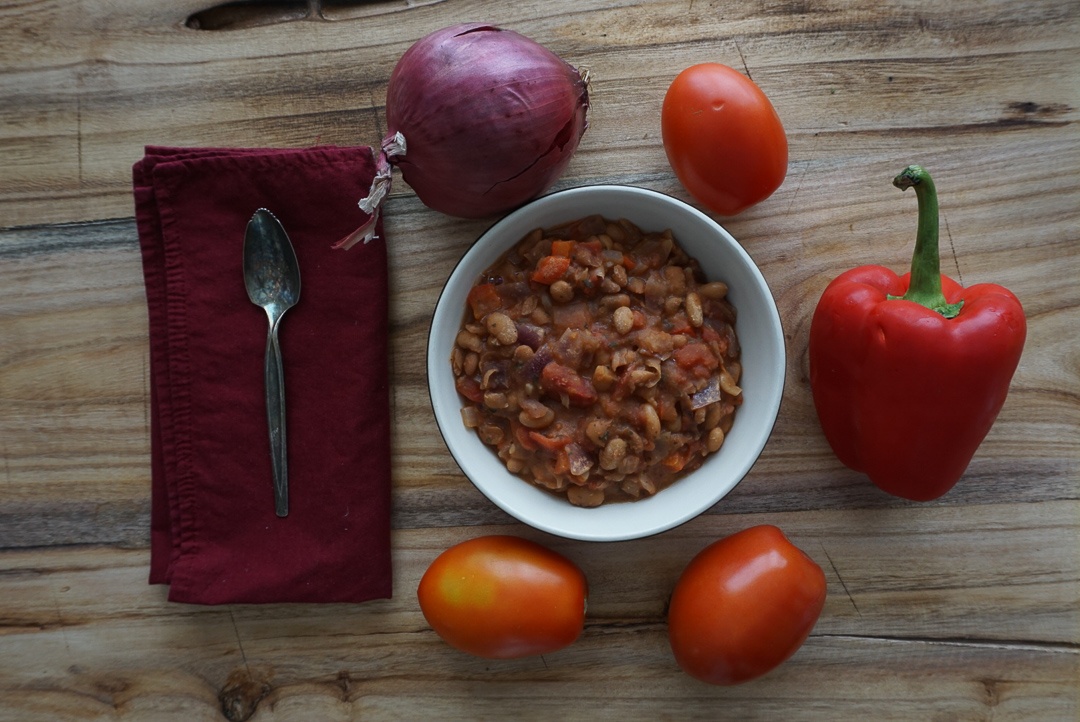 Ingredients
1 lb. dried pinto beans (or 7 cups cooked or 4 15 oz. cans, drained and rinsed)
1 red onion, diced
1 red pepper, diced
1 28 oz can diced tomatoes
2 teaspoons dried oregano
2 teaspoons cumin
1 tablespoon chili powder
Instructions
Rinse and pick through the dried beans, making sure you don't see any rocks.
Add the beans to a stockpot and cover with water by about two inches.
Bring the beans to a boil, then down to a simmer.
Simmer for 60 minutes or until tender, then drain and put back into the stockpot.
Add the onion, red pepper, tomatoes, oregano, cumin, chili powder, and salt and pepper to taste.
Cover, stirring often, until the vegetables start to break down, you see some broth form, and the flavors meld together, about 15 minutes.
Serving
Serve this chili with vegan sour cream, vegan cheese, scallions, hot sauce, diced onion, diced jalapeno - any or all of the above. It's delicious by itself, or I love to serve it with cornbread and/or coleslaw.
Storing
Store for up to three days in the refrigerator, and this freezes perfectly. Chili makes excellent leftovers or as ingredient in other dishes like bowls or burgers.
Your Turn
What's your go to chili recipe? Any secret ingredients you want to share? Are you a new vegan, or part-time, or thinking of jumping in? Would absolutely love to hear from you in the comments!