Introduction
This chickpea pizza recipe is dedicated to my cousin Liz, a wonderful mom who recommended this delicious vegan pizza cheese. The pizza has homemade dough (the key to a truly superb pizza) and is loaded with vegetables and chickpeas. The So Delicious mozzarella shreds melt into perfect cheesy creaminess. (This is not a sponsored post - she really did recommend this when we were reminiscing about our past love for cheese.)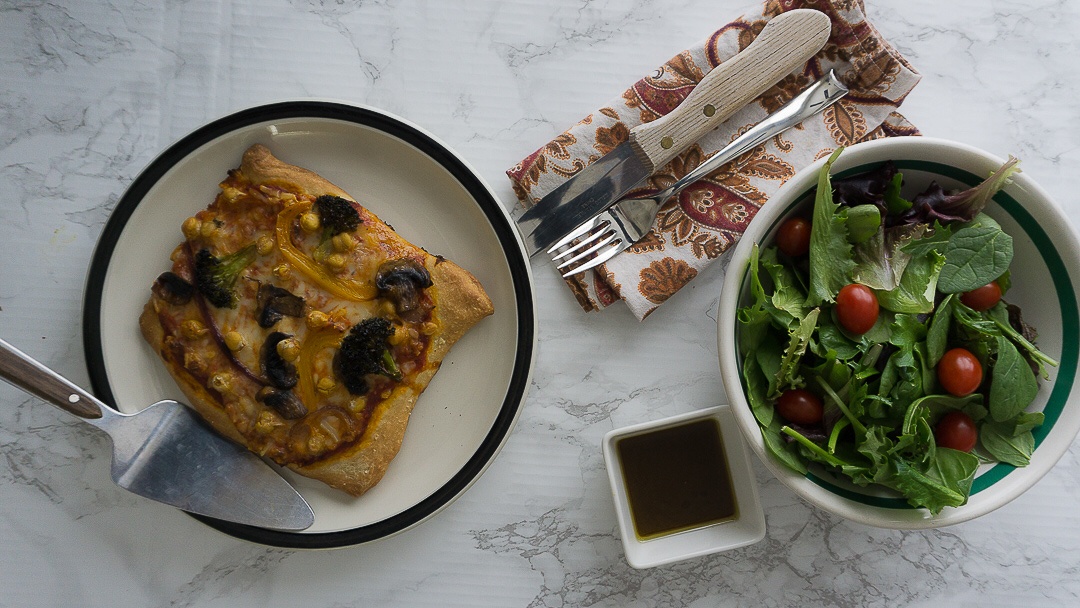 Liz and I see each other pretty rarely, and almost never without lots of other people around (because huge family y'all), but I recently got a chance to catch up with her and her adorable son.
Before I get into the recipe, I just want to tell you what an incredible mom this woman is. In the short hour or so we had together, it was strikingly evident what an amazing mom she is. For example, at one point, her son said "hi mommy" (like kids do), and she whispered to him - "I love you".
You guys, my heart just MELTED and I thought to myself - what a wonderful mom, just making sure he knows he's loved through words and little affectionate gestures. He's really good at expressing his feelings for a two year old which is amazing - you can tell his mom and dad check in with him regularly. (I mean, I've met adults who can't express their feelings that well as this little cutie.)
We also had a great discussion around how lifestyle blogs/ instagram feeds seem effortless but are of course cultivated, and can make women feel somehow inferior. Of course, those shots and posts take plenty of work and editing. So ladies, don't judge yourselves - you're doing great!! (And here's another gratuitously staged food photo for you :)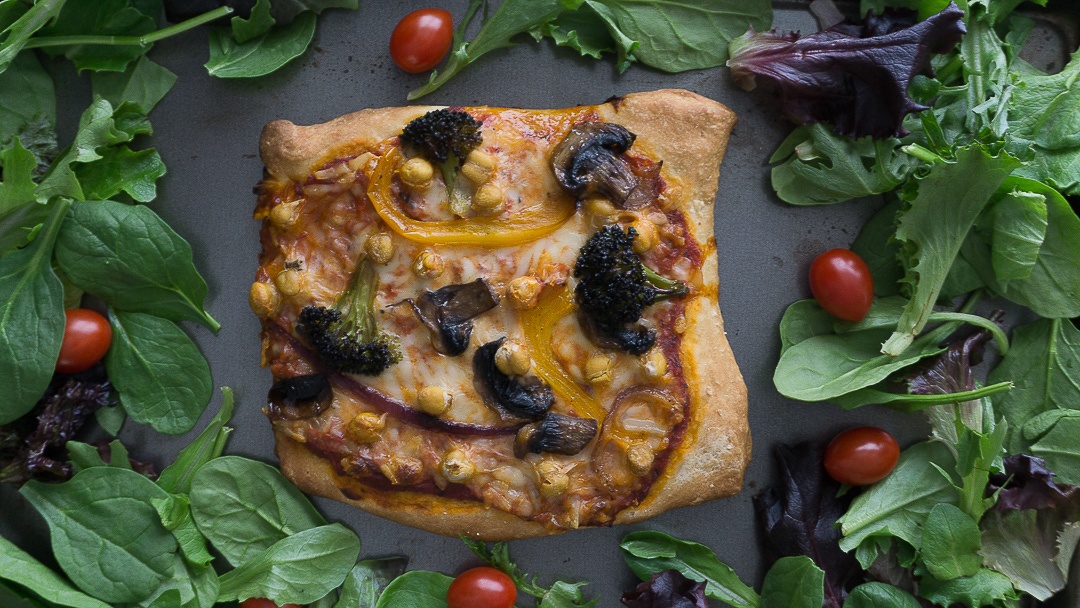 ANYHOO, back to actual food related things. In the course of our catching up, she mentioned this non-dairy cheese, so of course I had to go grab some. I've been just foregoing cheese on my pizza, so was super excited to give this a try!
A recipe note - this makes way more vegetables than will fit on the pizza, but that's deliberate. Leftover cooked veggies are great - put them over some grains and have them for lunch or dinner the next day.
She has a few other recipes she said I could steal for the blog using this cheese, so keep an eye out for those soon. Hope you enjoy this cheesy vegan pizza!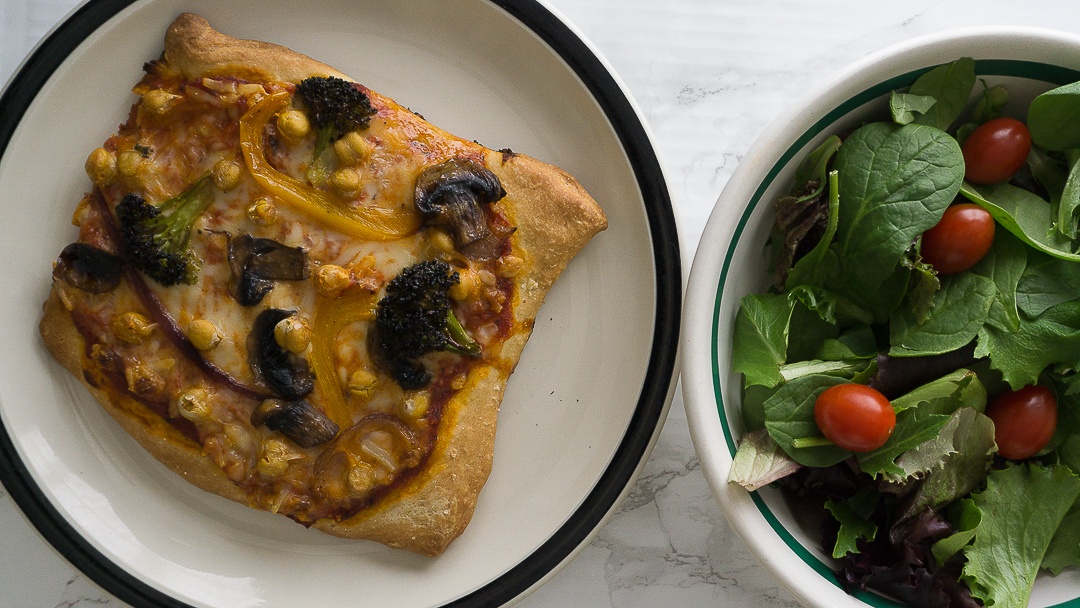 Servings: 4
Time: 1 ½ hours (not counting the time it takes the dough to rise)
Ingredients
1 recipe pizza dough
3 cups all-purpose flour
2 teaspoons instant yeast
2 teaspoons salt (sea or kosher salt is best)
2 tablespoons olive oil
Pizza sauce
2 tablespoons olive oil
1 garlic clove, minced (or more to taste)
1 red onion, diced
1 28 oz. can crushed tomatoes
1 ½ teaspoons dried oregano
Toppings
1 crown broccoli, cut into bite sized florets
1 red onion, halved and sliced
1 yellow pepper, sliced thinly lengthwise
1 12 oz. package mushrooms, sliced
Vegan cheese - (Liz recommends So Delicious mozzarella shreds, and I concur!)
1 can chickpeas, drained and rinsed (1 ½ cups cooked)
Instructions
Pizza dough
Combine all the dough ingredients in a food processor and pulse a few times to combine ingredients. With the machine running on high, slowly pour in one cup of water until a ball of dough forms.
Form the dough into a ball.
Place the dough into an oiled bowl, cover, and let rise until it doubles in size, about 1-2 hours. Or, make it in the morning and put it in the refrigerator for 6-8 hours. I prefer the refrigerator method because it's more convenient and the dough develops more flavor when rising slowly.
Pizza
Add 2 tablespoons of olive oil to a saucepan and heat over medium heat until shimmering. Add the garlic and cook just until puffy, about 30 seconds.
Add the red onion and cook until soft, 6-8 minutes.
Add the crushed tomatoes, oregano, and salt and pepper. Turn the heat to medium low (you don't want the sauce to splatter), and cook for 15 minutes so all the flavors meld together.
Remove the dough from the refrigerator if needed. Form the dough into a ball and let rest in the bowl or on the countertop while you cook the vegetables.
Turn the oven to 400 degrees F. Cover two sheet pans with foil.
Toss the broccoli and mushrooms with 2 tablespoons of olive oil, salt and pepper on one of the sheet pans.
Toss the onions and peppers with 1 tablespoon of olive oil, salt and pepper on the other sheet pan.
Put the pans in the oven and cook for ten minutes. Remove both sheet pans from oven and set aside.
Turn the oven up to 500 degrees F.
While the oven is preheating, roll out the crust into a rectangle or round on a pizza stone or sheet pan. Feel free to make a couple of smaller individual sizes here too - the choice is yours.
Layer the sauce, cheese (if you're using it), vegetables, and chickpeas on the pizza.
Cook in oven for 20-30 minutes until the crust is browned and crisp.
Let sit for 5 -10 minutes before serving.
Serving
I always love pizza with a salad myself - preferably with homemade balsamic dressing.
Storing
The leftovers will last up to 3 days in the fridge, and freezes quite well. If you don't want to eat the leftovers cold, it's preferable to heat them in the oven because the microwave makes the crust rubbery.
What do you think? Would you give this a try? Have our own preference for your favorite vegan cheese? Let's dish in the comments!