I've been on a mushroom kick lately for some reason. They're just so dang good. There aren't a lot of mushroom variety choices at my supermarket though - if I don't want button, it's pretty much shiitake (if they're in stock).
But hey, who's complaining? Mushrooms are good tons of ways, and stuffed is of course one of the classics. I haven't had these in ages, so it's time to create a recipe for vegan stuffed mushrooms!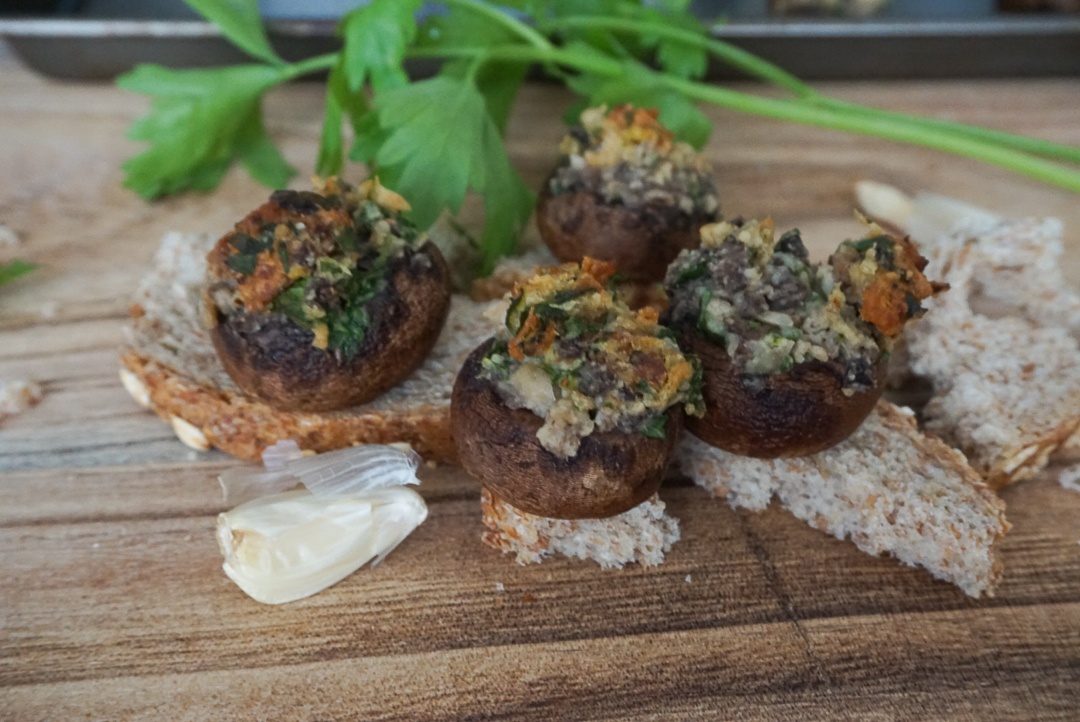 These mushrooms are stuffed with bread crumbs. They're garlicky and herby, with lots of lovely umami from the mushrooms and soy sauce. On a side note, you can't go wrong with a mushroom soy sauce garlic combination - it's a classic flavor combo that's SO. DANG. GOOD.
Adding beans to the filling binds everything together just like an egg would, and adds a nice boost of low-fat protein.
This is a super easy appetizer for a party or just yourself. Or throw these in the oven while you're cooking a nice soup. I'm picturing these served with a tomato soup for dinner - amazing. They're super with Miso soup too (yup, that was my lunch for leftover day)!
How do YOU feel about mushrooms? Love 'em? Hate 'em? What's your favorite way to eat them? Please share in the comments, I'd love to talk shrooms!
Servings: 4
Time: 1 hour
Ingredients
1 lb. package of button mushrooms
4 slices of whole wheat sandwich bread
1 15 oz. can of cannellini beans, drained and rinsed (or 1.5 cups cooked)
1 clove garlic, minced
¼ cup roughly chopped parsley
2 tablespoons vegan mayonnaise
1 tablespoon nutritional yeast
1 tablespoon soy sauce
Instructions
Preheat the oven to 400 degrees Fahrenheit.
Remove the stems from the mushrooms. (I find it's easiest to pull them out gently.) Set the caps aside.
Roughly chop the stems. Add to a large bowl.
Crumble the bread with your hands, or process into rough crumbs with a food processor. Add to the bowl.
Mash the beans with a fork and add to the bowl with the garlic, parsley, mayo, nutritional yeast, and soy sauce.
Stir until all the ingredients are well blended. Season with salt and pepper to taste.
Put the mushroom caps on a lightly oiled sheet pan, round side down, and top each with the filling from the bowl, filling in the holes where the stems used to be and mounding the stuffing up.
Cook the mushrooms for 15 minutes, until the filling has browned and the mushrooms are cooked through.
Serve, topping with more chopped parsley if you like.
Serving
These are a great appetizer. Serve them before pasta, or alongside soup for a lovely light dinner (try tomato, or miso).
Storing
These will keep up to three days in the fridge - I wouldn't freeze them.