My go to taco filling base has always been green lentils. They offer a beautiful crumbly texture and absorb seasoning well. But after making a BBQ tempeh sandwich that I loved, I knew I wanted to try tempeh in tacos.
I still like my lentils, but tempeh works wonderfully as well. It's definitely got a more "meaty" texture and a strong umami flavor. It crumbles beautifully, and it's a strong base for the tacos.
Pretty much everyone loves taco night - tacos are so easy to make, full of flavor, and they're fun to eat too. After all, most of the greatness is in the toppings - salsa, chopped veggies, yum. Sour cream is my fave (vegan, of course).
One recommendation - get the flour taco shells in the store. The corn ones are more traditional, but they break and fall apart. (This applies to soft tacos of course.) If you want to do the corn ones, try making your own - so much better!
Okay, two recommendations - also make your own taco seasoning. It's super easy - I make a big batch at a time and store it in a small mason jar. It's nice to know what's in it - you never know what extra preservatives or chemicals make it into those packets in the box.
These tacos are filled with crumbled tempeh sauteed with taco seasoning. Add the typical taco seasonings that you love - avocado, salsa, chopped onion, vegan sour cream, diced tomatoes, cilantro, lime wedges - any or all of the above, make 'em however you like 'em!
What are your go to taco toppings? Please share in the comments, I'd love to hear from you!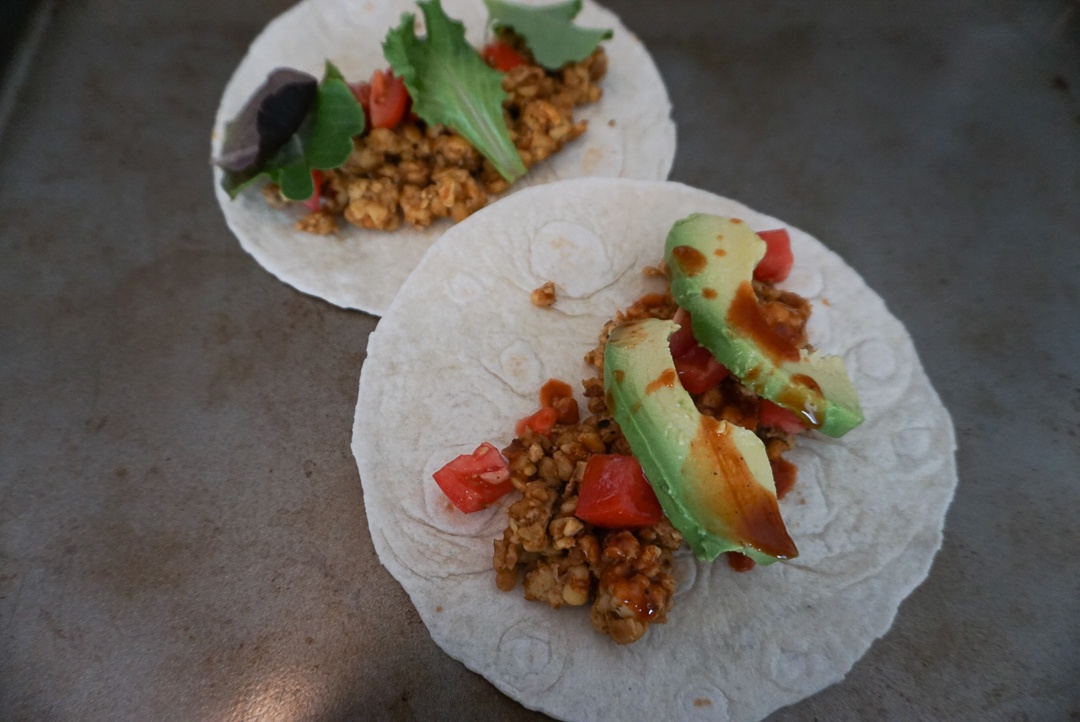 Servings: 4
Time: 40 minutes
Ingredients
Tacos
1 package tempeh
2 tablespoons taco seasoning
2 tablespoons olive oil
8 taco shells
Toppings
Lettuce, shredded
Tomatoes, diced
Avocado, chopped
Salsa
Vegan sour cream
Hot sauce
Cilantro, chopped
Lime, cut into wedges
Instructions
Put the oven on the keep warm setting. Put the taco shells on a sheet pan and place in the oven.
Put the oil in a skillet over medium temperature and heat until shimmering.
Crumble the tempeh into the pan and cook for about 15 minutes, stirring frequently, until browned.
Add the taco seasoning and ¼ cup water. Stir to coat evenly and cook until seasoning is absorbed and water has evaporated off.
Assemble tacos by using tempeh meat in shells and top with the fixins - hot sauce, salsa, sour cream, hot sauce, etc etc etc.
You can also make a taco bowl by serving the tempeh and fixin's over brown rice.
Serving
So many topping options… lettuce, tomato, vegan sour cream, salsa, avocado, cilantro, lime wedges, diced onion…. The only limit here is your imagination!
Storing
Tacos go pretty quickly, but if there is any tempeh filling left, this will freeze well (I wouldn't recommend freezing the shells or veggies).