This red curry has edamame and lots of colorful vegetables. Everything is sauteed with garlic and ginger in oil, then simmered in spicy curry sauce. The vegetables are bright and add lots of bulk in addition to the edamame. Served over rice, this vegetable curry is a perfect one bowl meal.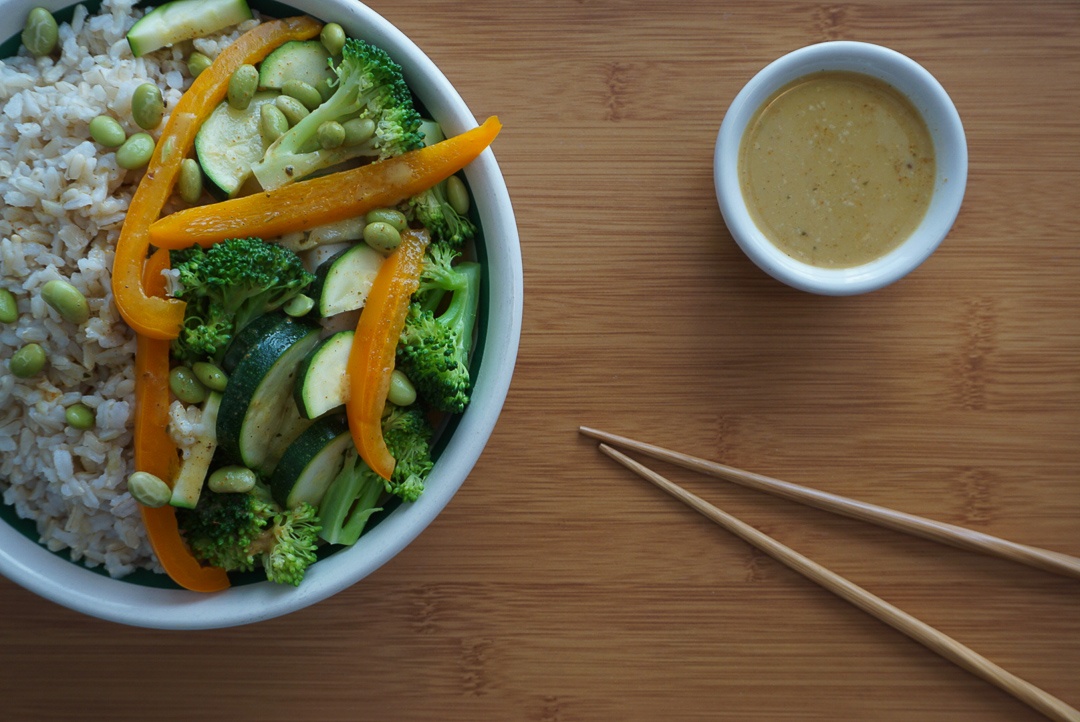 We're still going for eating healthily (which for me, means focusing on veggies, beans, and grains), and this vegetable edamame curry fits the bill perfectly. Curries have tons of flavor and they're made to serve over rice, so building in both beans and whole grains into a single meal is easy. Serve it all in one bowl topped with scallions and a lime wedge.
Curries are easy to cook too - put everything in one pot with coconut milk and curry powder, cook for a bit, and you're done. Once the vegetables are cut up, this dish comes together really quickly. This means it's perfect weeknight meal choice.
One of the attractions of curries is that you can put whatever you like in them. One evening could be yellow curry with butternut squash, another could be a red curry with vegetables and beans, and you've got two dishes that taste very differently. I like a combination of harder vegetables (like broccoli) and a soft vegetables (like zucchini). I pretty much love all curry powders - I'm a fan of the yellow ones but this red one was delicious as well.
The amino acids are an optional ingredient. They're a substitute for fish sauce and a nicely complex layer of flavor to the sauce. But if you don't have them, feel free to leave them out - this will still be delicious with just the coconut milk and curry powder.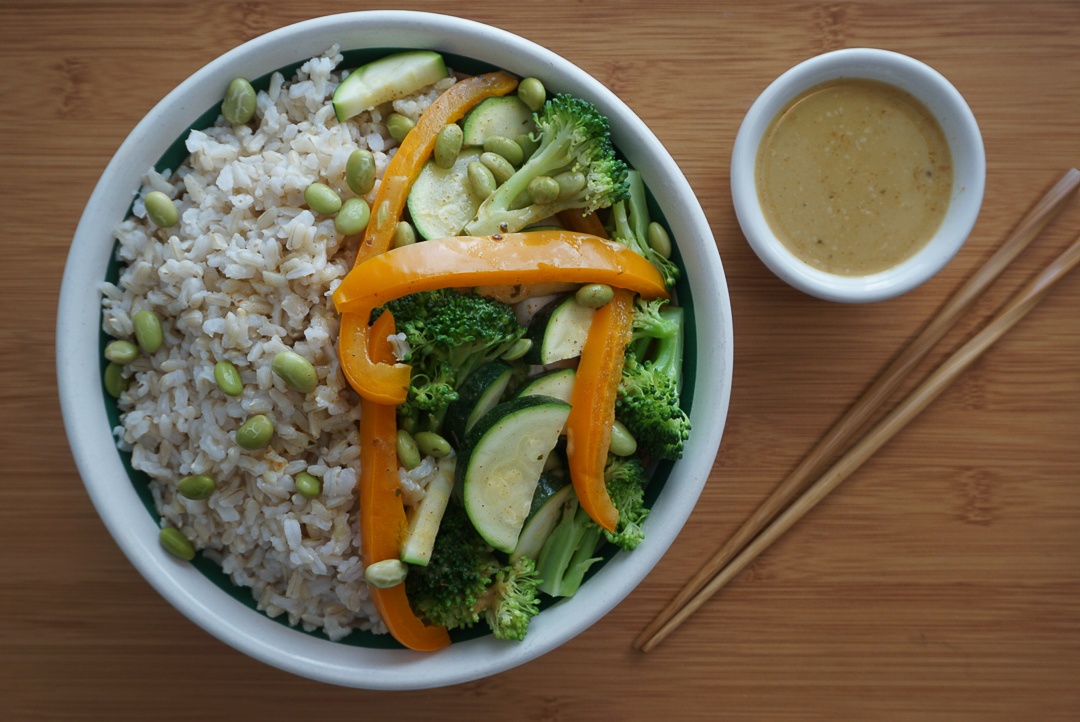 Servings: 4
Time: 45 minutes (including prep)
Ingredients
List ingredients in the order they are used in the recipe.
2 cups edamame (frozen is fine)
¼ cup vegetable oil (I use grapeseed, because the flavor is neutral)
½ tablespoon minced garlic
1 teaspoon grated frozen ginger
1 red onion, halved and sliced
1 bell pepper, cut into strips
2 heads broccoli, cut into large florets (4 cups of florets)
2-3 zucchini or summer squash, halved and sliced (1 ½ cups)
Two 13.5 oz. cans coconut milk (3 ½ cups)
1 ½ tablespoons red curry powder
½ tablespoon Bragg's liquid aminos
Instructions
Put the edamame in a saucepan with water to cover. Bring to a boil, then turn down to a simmer. Cook for 10 minutes, then drain and set aside.
Add the oil to a pot and heat until shimmering.
Add the garlic and ginger until the garlic is puffy, about 30 seconds.
Add the onion and bell pepper and cook until soft, about 8 minutes.
Stir in the broccoli and zucchini and cook for about 3 minutes, stirring occasionally, until the color of the vegetables brightens.
Add the coconut milk, curry powder, amino acids, and edamame. Stir and bring to a simmer. Add salt to taste.
Cook for 5-7 minutes until broccoli is tender. Serve immediately.
Serving
Curry pairs perfectly with rice, and curry and this is definitely a complete meal paired with some (I like a long grain brown rice with my curry). Top this with scallions and a wedge of lime. I love serving curry with greens, so cook up a bit of frozen spinach on the side and stir it in on your plate.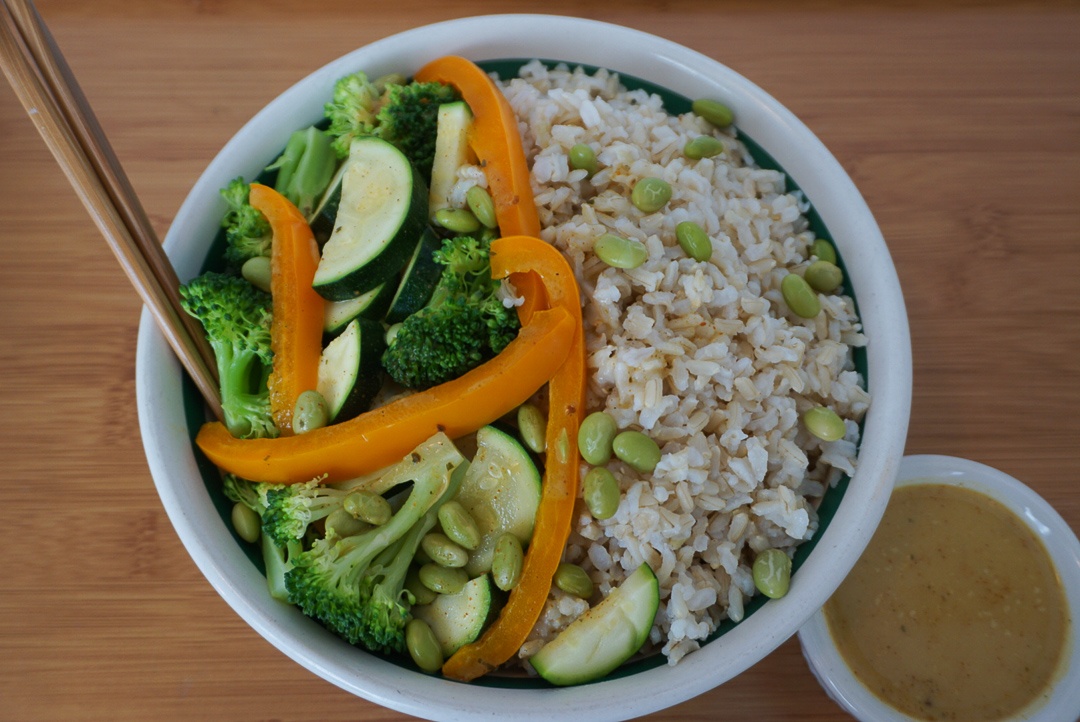 Storing
This lasts for up to three days in the fridge, and freezes quite well.
Do you like curry? Which is your favorite, red or yellow curry? What's your favorite curry ingredient - tofu, or vegetables? I'd love to hear from you in the comments!