Happy fall! The weather is finally cooling a bit and that crisp smell is beginning to permeate into the air. A very few leaves are beginning to show red and orange, and pumpkin spice things are beginning to creep out. I'm starting to buy apples again (I missed you, apples!).
I'm not quite ready to give up on those lovely summer tomatoes, yet it's also a season when I crave things that are a bit more hearty. So why not make up some crisp baguette smothered with lots of glorious, delicious tomatoes?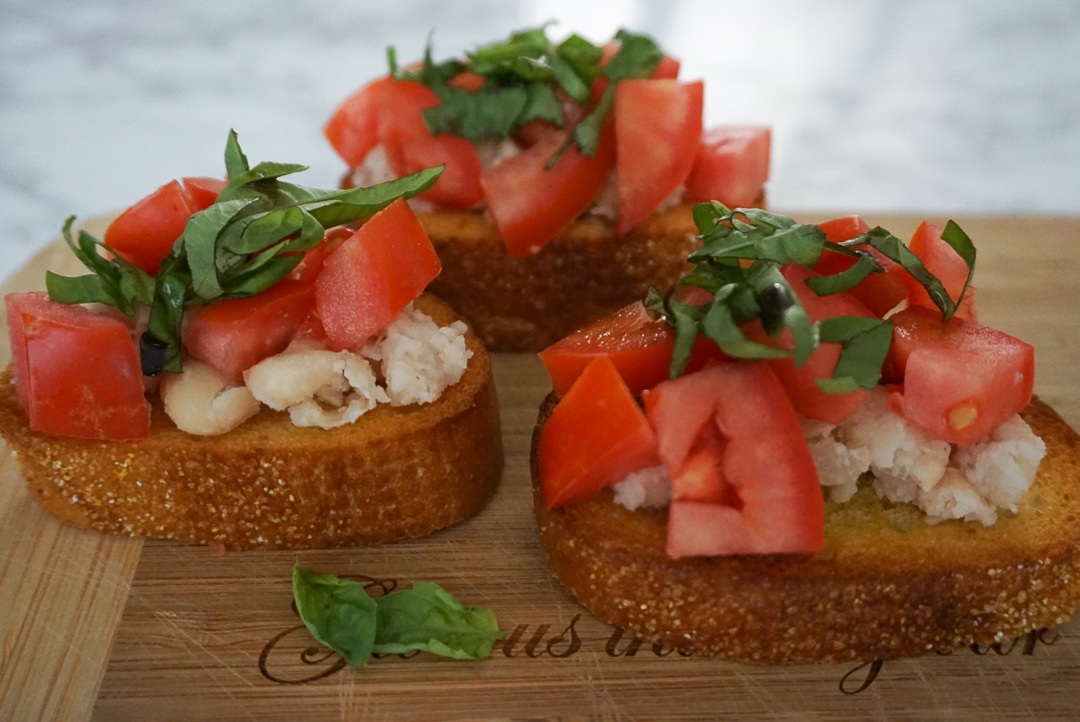 This white bean bruschetta starts with some crispy baguette, as all bruschetta does. A spoonful of white beans smashed with garlic is layered on, adding substance and a lovely depth. From there, it's all about the tomatoes - they're loaded on and piled as high as they'll go. The little rounds are then finished off with some basil chiffonade and a drizzle of balsamic reduction and olive oil.
These are the perfect finger food for that summer-fall transition. I love eating these on their own, as an appetizer, or my current favorite is to pair them with a nice light brothy soup for a delicious light and flavor-filled meal.
What are you starting to crave right now? Is it too soon for the pumpkin spice latte, or are you into it? Would love to hear your thoughts in the comments!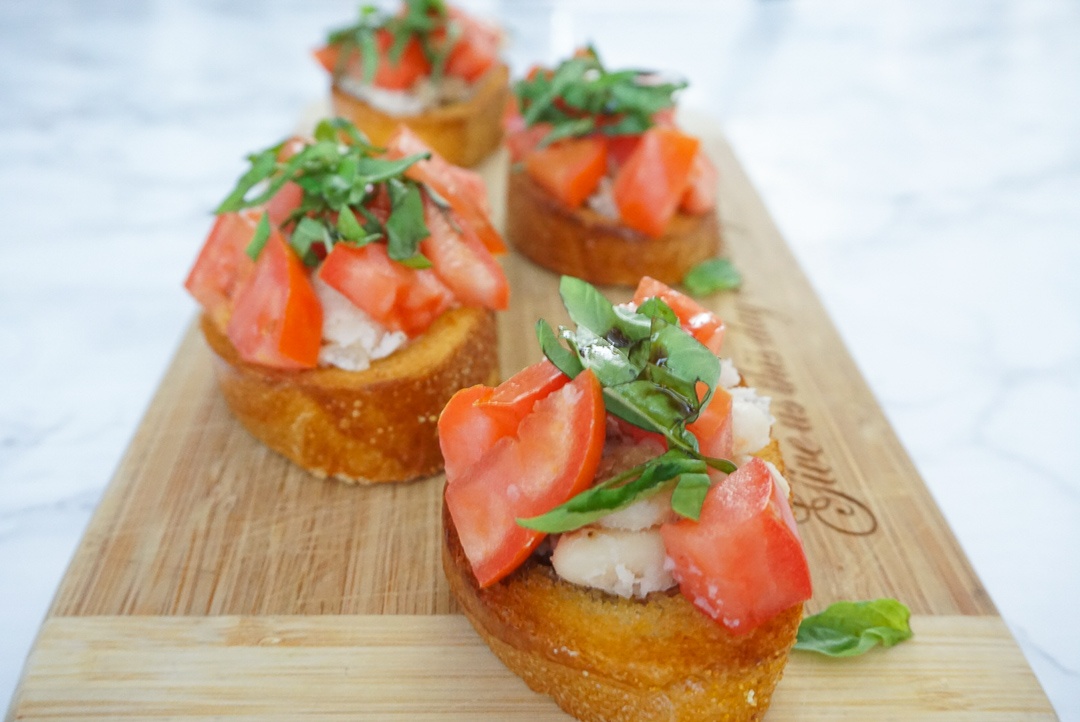 Servings: 8
Time: 40 minutes
Ingredients
1 large baguette
2 tablespoons olive oil
⅔ cup balsamic vinegar
2 15 oz. cans cannellini beans, drained and rinsed (or 3 cups cooked)
1-2 cloves garlic, minced
6 roma tomatoes (or 3 large tomatoes), roughly chopped
¼ cup basil leaves, roughly chopped or cut into chiffonade
Instructions
Preheat the oven to 400 degrees fahrenheit.
Slice the baguette into 1" thick slices.
Brush one side of each slice with olive oil and place on a sheet pan, oil side up.
Bake the bread for 3 minutes. Flip with a pair of tongs and bake for another three minutes, then remove from oven. The oil side of the bread should be just golden brown. (If not, cook for another 1-2 minutes).
In the meantime, add the balsamic vinegar to a saucepan and heat over medium heat (should be just bubbling slightly) for about 10 minutes, until reduced to ¼ cup. Remove from heat and set aside.
Mash the beans with a fork. Add the garlic and salt and pepper to taste and blend thoroughly, so the garlic and seasoning is evenly distributed. Top with a drizzle of olive oil if desired.
After the bread has cooled a bit, top each slice with some mashed beans, then tomatoes, then basil. Drizzle all with the balsamic reduction and a little bit of olive oil and serve.
Serving
This is a delicious appetizer (or lunch, as I had it for several days). It's super yummy with some soup!
Storing
I wouldn't freeze these - if you don't think you'll eat them all, put the toasted bread in a sealed container, same with the beans and balsamic reduction, and wait to cut the basil and tomatoes until you're ready to serve. The bread will keep for 2-3 days (though it's better fresh, of course).