One of my absolute favorite restaurants serves a broccoli slaw that is to die for, and this edamame salad recipe was inspired by that dish. I added some edamame for heft (and also, I'm the Bean Queen and therefore believe everything is improved by beans). Broccoli florets, shredded carrots, and edamame are dressed with a sesame oil and soy dressing, and dried cranberries add little punches of sweet and tart flavor.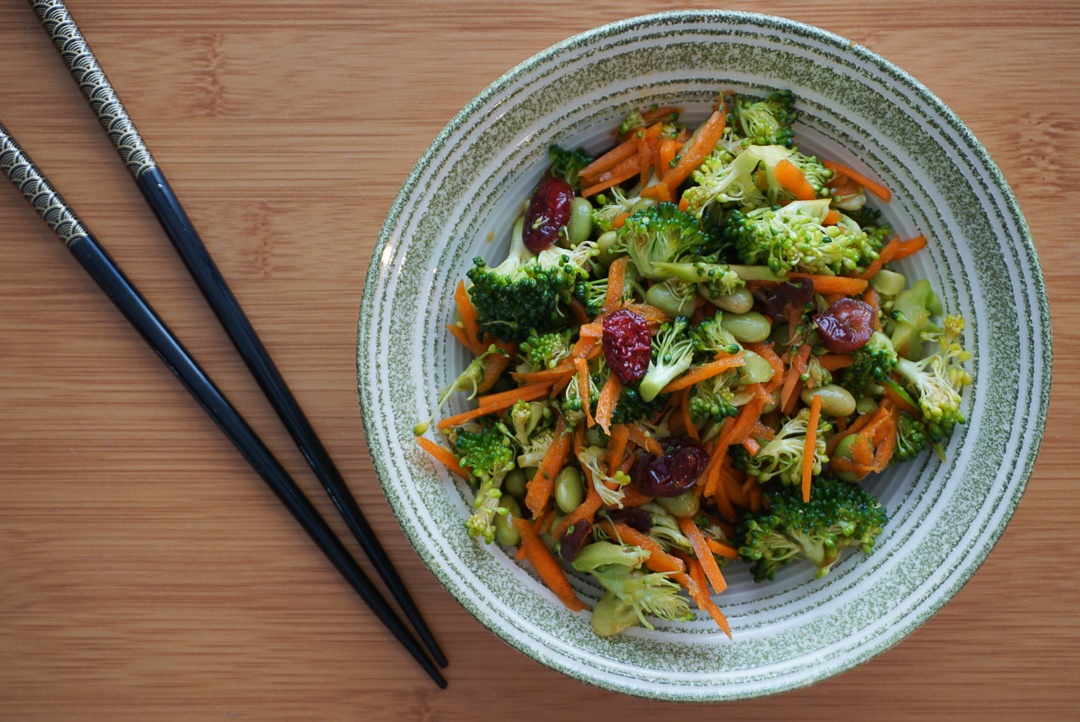 Seriously, I order this dish all the time, so it's something I knew I wanted to be able to have at home too. (Or at least, something approaching it's brilliance). The broccoli is raw in this edamame salad, but cut into tiny florets so it's crunchy without being too intense on the teeth. The sesame oil and cranberry actually pair really well together and create a really interesting flavor profile.
The trick to cutting the broccoli is to place the stalk with crown against the cutting board, and then cut down with the knife. Your broccoli will chop up in no time into perfectly small pieces. You can julienne the stems, too.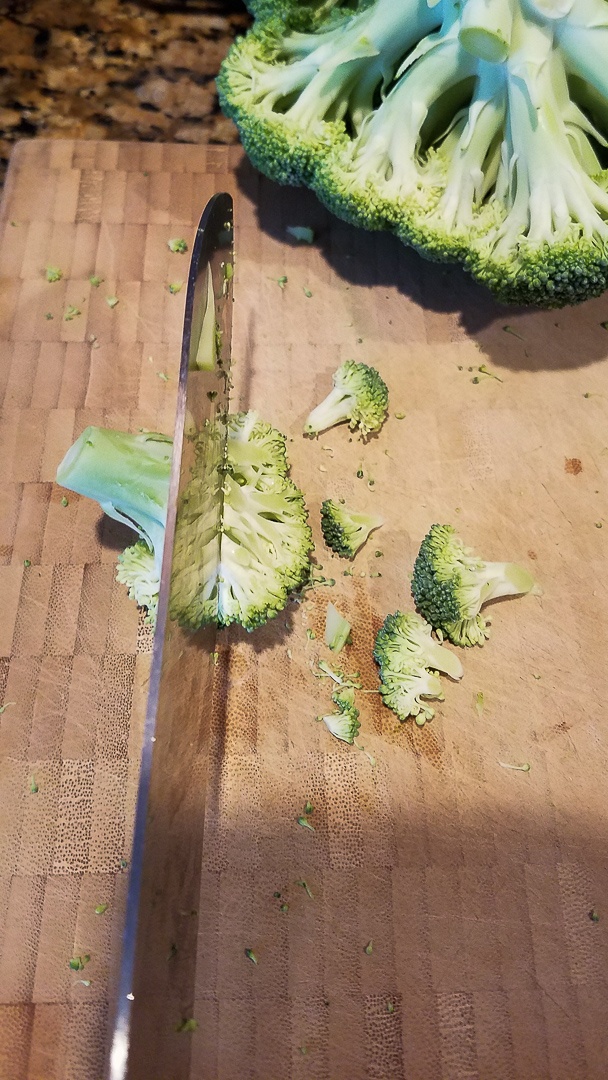 The edamame are boiled (you could also steam them) for 10 minutes to make sure they're totally thawed and tender. Then all the vegetables and cranberries are tossed with the rich dressing. Let the salad sit a bit so the vegetables can absorb the flavors, and you're good to go!
You'll see the instructions call for ginger that's minced or "frozen grated". I keep a piece of peeled ginger in the freezer, and simply grate it up to use in recipes as I go. It's the only way I can manage to not waste the stuff - fresh ginger is obviously the best but I never use it quickly enough. And I absolutely hate throwing stuff out.
This is an excellent side dish, and it's great to bring to parties because it's a bit different than the mayo-based broccoli slaws you typically see. Enjoy!
Servings: 4
Time: 45 minutes
Ingredients
¼ cup dried cranberries
1 cup frozen edamame
1 head of broccoli (about ¾ lb.) - four cups diced
2 carrots, grated
2 tablespoons sesame oil
1 ½ teaspoons rice vinegar
1 ½ teaspoons sugar
4 tablespoons soy sauce
¾ teaspoon ginger, frozen grated or fresh minced
1 tablespoon water
Sesame seeds for garnish (optional)
Instructions
Soak the cranberries in hot water for fifteen minutes. Drain and set aside.
Set the edamame in in a pot and boil for ten minutes. Drain and set aside.
Cut the broccoli into small florets. You're not cooking this, so it needs to be in relatively small pieces to be easy to eat and absorb the flavors. The fastest and easiest way to do this is to place the broccoli crown side down against the cutting board, then cut down with the knife.
Combine the cranberries, edamame, broccoli and carrots in a large bowl.
In a separate bowl, whisk together the rest of the ingredients (except the sesame seeds) to make the dressing.
Add the dressing to the large bowl and toss well.
Garnish with sesame seeds if you like, and serve.

Serving
If you'd like to serve this as meal, simply serve with some rice - I like brown rice with some red curry paste stirred in myself. This would also be great with these Thai edamame noodles!
Storing
This lasts up to three days in the fridge. It's a great make-ahead dish, because the veggies will absorb the flavors the longer it sits in the fridge. You can freeze this, though once thawed I would probably microwave it and eat it hot with some rice.
Are you a fan of broccoli? Would you attempt to eat this with chopsticks? Any parties coming up that you might bring this dish to? Let me know in the comments!