One question we get a lot as vegans is "Where do you get your protein"? An even meat to beans swap is easy to explain, and easy to execute for new vegans. This vegan Caesar salad is a perfect example.
Caesar salad consists of just three main building blocks - dressing, lettuce, and croutons - which means the key to a great one is super high quality (read: homemade) ingredients.
The chickpeas in this recipe are cooked in vegetable oil until the outside is just crispy, and then tossed in savory spices - onion, garlic, and some nutritional yeast to add depth and umami.
The briny, creamy, and rich vegan Caesar dressing is tossed with crisp romaine and topped with crunchy homemade croutons and chickpeas, making this a hearty salad-as-a-meal lunch or dinner option.
This homemade dressing features capers in place of anchovies and vegan Worcestershire, giving that distinctive Caesar dressing flavor and color. This is super easy to put together from your pantry, and you won't even be able to tell it's vegan. It's husband-approved!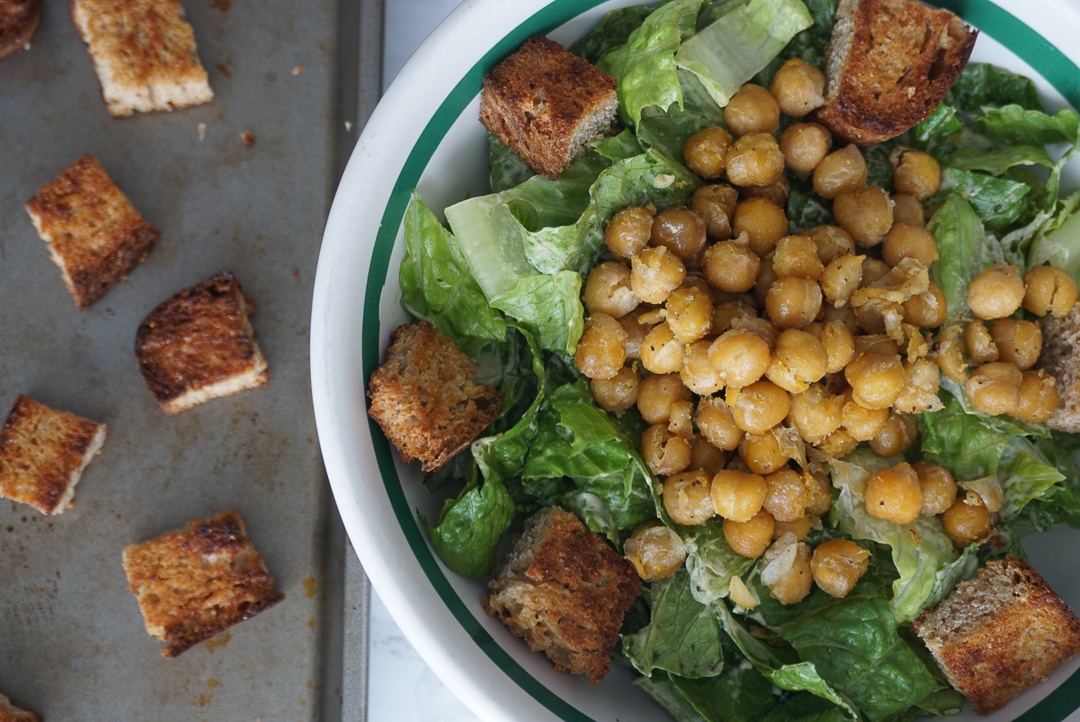 Servings: 4
Time: 25 minutes
Ingredients
Dressing
6 tablespoons vegan mayo
1 ½ tablespoons nutritional yeast
2 tablespoons lemon juice
1 ½ tablespoons capers
1 teaspoon red wine vinegar
2 teaspoons vegan Worcestershire sauce
1 garlic clove, minced
½ teaspoon Dijon mustard
½ teaspoon salt
½ teaspoon pepper
¼ cup extra virgin olive oil
Salad
4 (preferably thick) slices of bread or one baguette (baguettes are perfect for croutons)
Olive oil for brushing
4 teaspoons nutritional yeast
1/8 teaspoon garlic powder
1/4 teaspoon dried minced onions (found in the spice aisle)
1/4 teaspoon salt
1/4 teaspoon pepper
1 cup vegetable oil for frying the chickpeas (I use grapeseed here because it's less expensive than olive oil, has a neutral flavor, and does well with high heat)
2 15 oz. cans chickpeas, drained and rinsed (3 cups cooked)
1 head romaine, chopped, rinsed, and dried
Instructions
Preheat the oven to 400 degrees F.
Brush both sides of slices of the bread with olive oil and lightly season with salt and pepper. Cut into bite size cubes.
Cook for 5 minutes, then stir with a spatula. Cook for another five minutes or until golden. Remove from oven and set aside to cool.
Make the dressing by adding all the dressing ingredients to a blender. Blend until thick and creamy, about one minute. Set aside.
Combine nutritional yeast, garlic powder, dried minced onions, salt and pepper in a large bowl.
Add oil to a dutch oven and heat on medium-high until oil is shimmering. Add the chickpeas, cover, and cook for 10-12 minutes until golden and crispy.
Remove chickpeas with a slotted spoon and let drain on a paper-towel covered plate for a minute or two.
Add the chickpeas to the spice mixture in the bowl, and toss until coated. Set aside.
Toss the lettuce with dressing to coat (whether or not you use all of the dressing depends on how big the head of lettuce is and how much dressing you like). Divide into four portions, top each with ¼ of the croutons and chickpeas, and serve.
Serving
Serve this just as is for a great lunch or light dinner. Caesar salad also pairs quite well with soup. Or, try serving this is as a Caesar salad wrap with a side of veggies or oven fries.
Storing
This isn't going to store well, so eat it all now :)