Oh boy. If you want your house or kitchen to smell amazing, make this stew - it has ALL the aromatics (fresh spices, leeks, and garlic). It's delicious, lovely, and warm.
A lot of the recipes I write have beans as a component - chickpeas might be part of a chickpea Caesar salad, or play a role in a soup. But beans have a ton of flavor and deserve to be a main dish in their own right, too.
This stew is based on beans, with some potatoes and leeks added to create a fully rounded meal. And in summer, (or anytime, really) what's better than a one pot dish? This is a satisfying meal and it's perfect with some bread.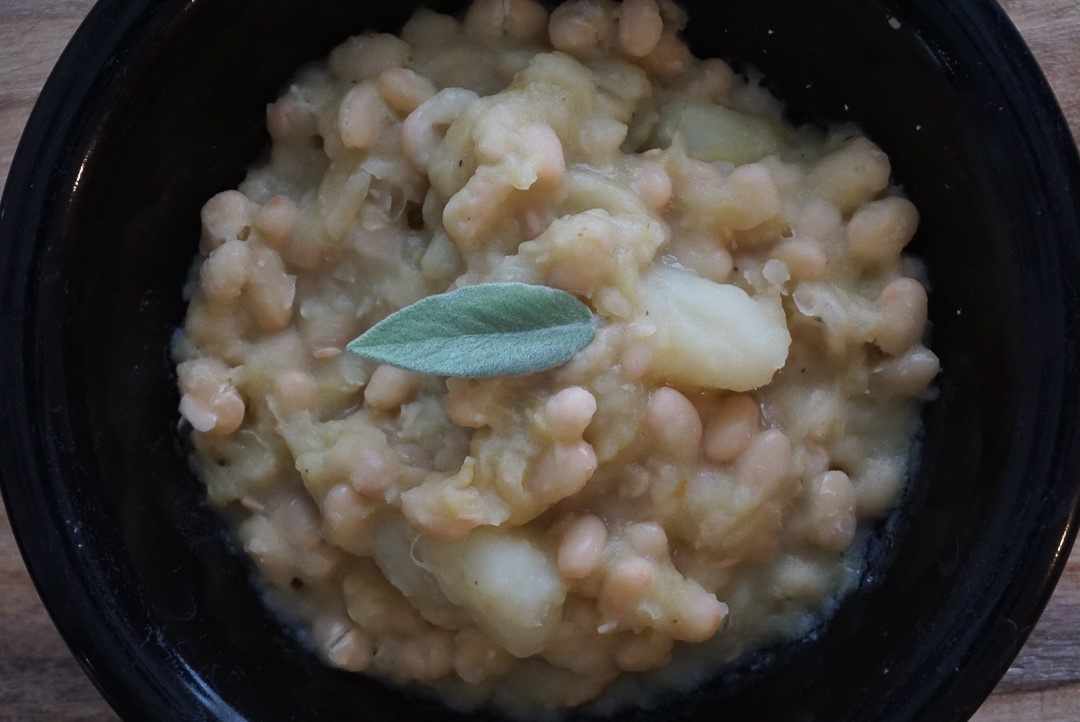 Start out by cooking leeks in olive oil until velvety soft, then add sage, navy beans and potatoes. When everything is tender and cooked into a stew, stir in some garlic and olive oil. The resulting one pot meal is saturated with flavor and is quite filling without being super calorie dense.
The sage leaves cook down into greens that are diffused through the stew. Don't like sage? No problem - you could sub out really any fresh herb here. Rosemary, basil, thyme- all are fair game.
This is one of those dishes where the flavors are simple and the ingredients are few, yet combined make something quite amazing. I can picture eating this rustic dish in a farmhouse or in the French countryside.
Are stews fair game in summer? What fresh herb would be your favorite? I'd love to hear from you in the comments!
Servings: 4
Time: 1 ½ hours (most of which is cooking the navy beans- use canned and this becomes ½ hour).
Ingredients
1 tablespoon olive oil, + more for drizzling
3 leeks, washed and sliced thinly
1 lb dried navy beans, rinsed and drained
10-12 leaves fresh sage or 1 tablespoon dried
3 russet potatoes, peeled and cut into large chunks
2 cloves garlic, minced (about ½ tablespoon)
Instructions
Add 1 tablespoon of olive oil to a deep pot and heat over medium heat until shimmering.
Add the leeks and cook until soft, stirring frequently, 7-9 minutes.
Add the dried beans and cover with water (or vegetable stock) by about one inch.
Bring to a boil, then turn down to a simmer. Cover.
Simmer for 45 minutes, until beans are beginning to soften.
Add the potatoes. Cook for 15-20 minutes more, or until the beans and potatoes are soft. Add more liquid if they begin to dry out.
Stir in the minced garlic.
Season with salt and pepper to taste.
Divide stew into bowls, drizzle with olive oil, and serve.
Serving
Serve drizzled with olive oil. This is lovely with a simple salad - I love serving this with a salad of sliced tomatoes drizzled with olive oil and sprinkled with salt and pepper. A baguette wouldn't go amiss either - it's perfect to dip into the stew.
Storing
This will keep for up to three days in the fridge, and freeze quite well.