I'm continuing on my bowl streak this week with a beautiful vegan sweet potato curry recipe. I'm loving one bowl meals lately, and curry is a perfect fit. Maybe I just can't be bothered to spend a lot of time cooking when it's hot out (who even wants to turn on the oven??), and quick one pot meals like this are perfect.
This bowl is nice because it includes plenty of whole food plant based ingredients, and it's super filling (potatoes, grains, and beans paired together will do that). Go ahead, enjoy a nice big bowl.
I like to always use squash in curries because of the texture and sweetness it adds. I used eggplant here. It melts into the liquid of the curried coconut milk and thickens it, and you know how I feel about combining sweet and spicy things.
I usually use a golden curry powder, but I used a red one this time and it turned out great. I'll definitely be making more red curries in future! (On a side note, I got some thai red curry paste and I LOVE that stuff, so more recipes to come with it in future!)
Sweet potatoes are cooked in coconut milk and curry powder, and combined with eggplant and edamame. Served over brown rice and garnished with cooked fresh greens, this curry is loaded with vegetables and has under 10 ingredients. It's easy to make, healthy, and super satisfying.
Hope you enjoy this recipe, and please let me know your thoughts in the comments!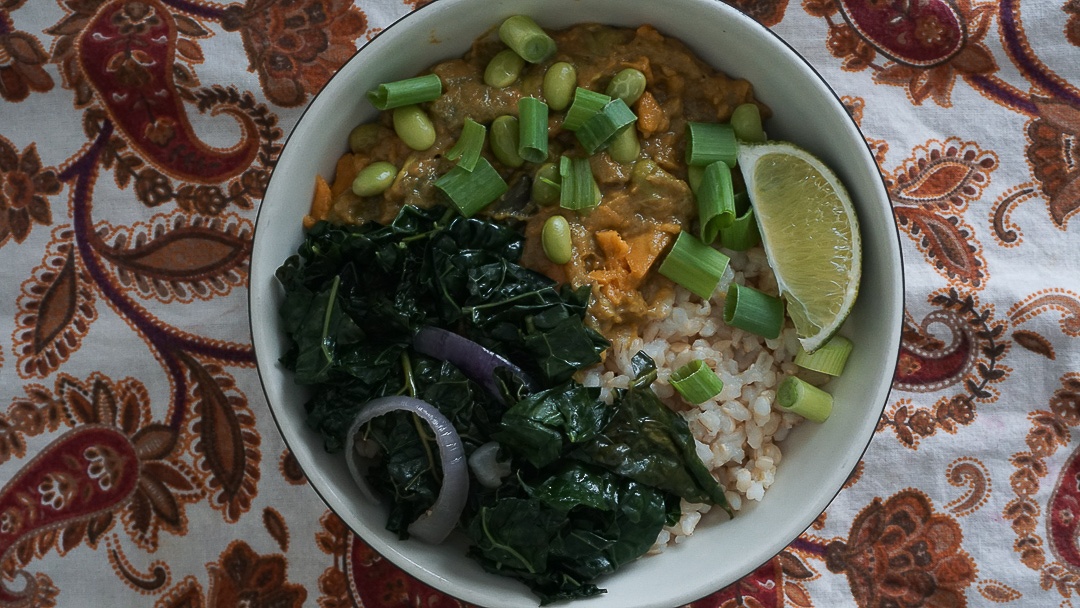 Servings: 4
Time: 45 minutes
Ingredients
List ingredients in the order they are used in the recipe.
2 cups frozen edamame
2 tablespoons grapeseed oil
2 sweet potatoes, cut into 1" cubes (4 cups)
1 small eggplant, cut into 1" cubes (3 cups)
1 can coconut milk (1 ½ cups) + ¼ cup water
1 tablespoon + 1 teaspoon curry powder
1 lime, cut into wedges
1 bunch scallions, chopped
½ bunch kale, chopped (optional)
Instructions
If you're serving this with brown rice, start the rice now.
Add the edamame and 2 cups of water to a saucepan. Cook over medium-high heat for 10 minutes to thaw. Drain and set aside.
Heat the oil in a dutch oven over medium heat until shimmering. Add the potatoes and eggplant and cook for 5 minutes, stirring frequently, until coated in oil and fragrant.
Add the coconut milk, curry powder, and edamame.
Bring to a simmer and cover. Cook for 15 minutes more, stirring occasionally, until potatoes and eggplant are tender and mixture is saucy. It's done when the sauce has thickened and you meet no resistance when piercing a potato with a sharp knife.
If you're serving with greens, cook them now (you can steam them, or saute them in a pan with a bit of oil).
Add salt and pepper to taste and remove from heat.
Serve with scallions and lime wedges on the side.
Serving
This is perfect over brown rice. I highly recommend serving with sauteed greens - I love the combination of greens and curry (especially cooked spinach!)
Storing
This will keep for up to three days in the fridge, and freezes wonderfully.