Yes, I've been on a total bowl kick lately. They're a fantastic way to use leftovers without feeling like you're eating the same thing over and over.
This one was inspired by trying to make having a burger feel a bit healthier- I'm good with the vegan burger patty itself, but the nutritional value of the bun is definitely a bit more questionable. Pairing it with whole grains seems to be much more the thing!
This vegan burger bowl takes a veggie burger patty and pairs it with chewy farro. The fixin's are the same - in this case lettuce, tomato, and pickles with a bit of ketchup, but you could easily do a barbecue or even curry theme - your imagination is the only limit!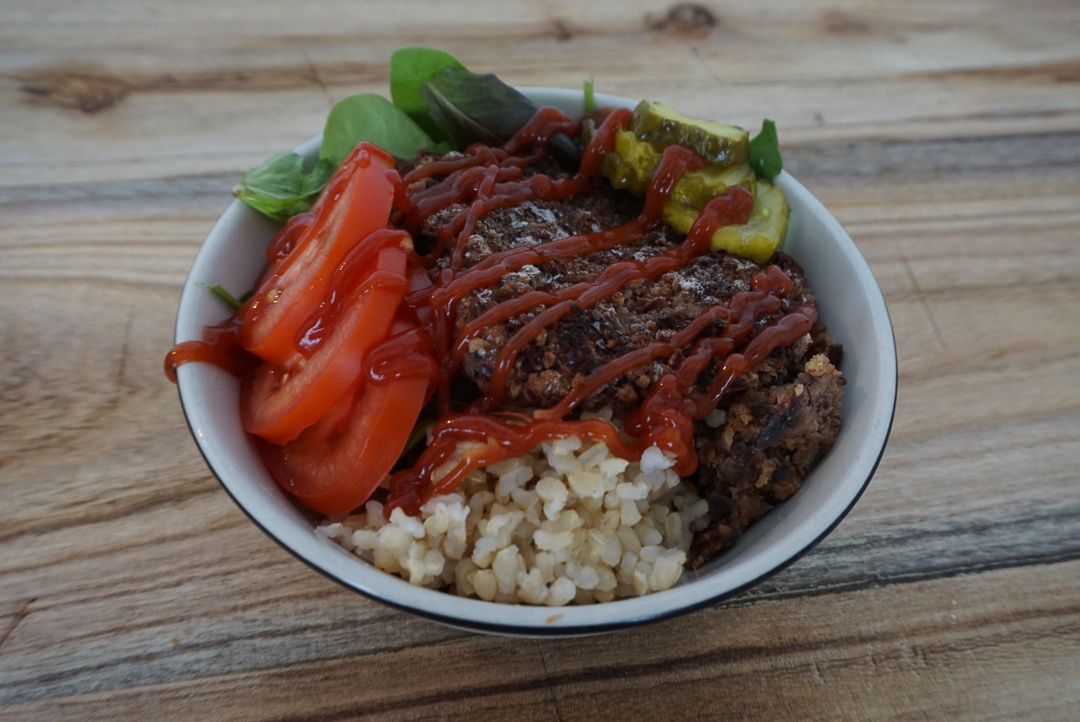 Since I usually make a double batch of veggie burgers and freeze them, putting this together is as easy as cooking the whole grains and prepping the veggies. If you want to get really gourmet about it you can make your own ketchup, but I cheated here. Hey, whatever gets dinner on the table, no?
Although - I've made my own ketchup before and it's amazing. I highly recommend giving it a try if you can and have the time - and of course like everything homemade, it's so much better for you.
Another advantage to doing it this way is that you can simply sub in a grain like brown rice to make this gluten-free, so everyone can enjoy a tasty burger! It's also a great choice to use up those veggie burger patties in the freezer :)
What do you think? Do burgers belong on buns, or is a bowl legit? Would love to hear from you in the comments!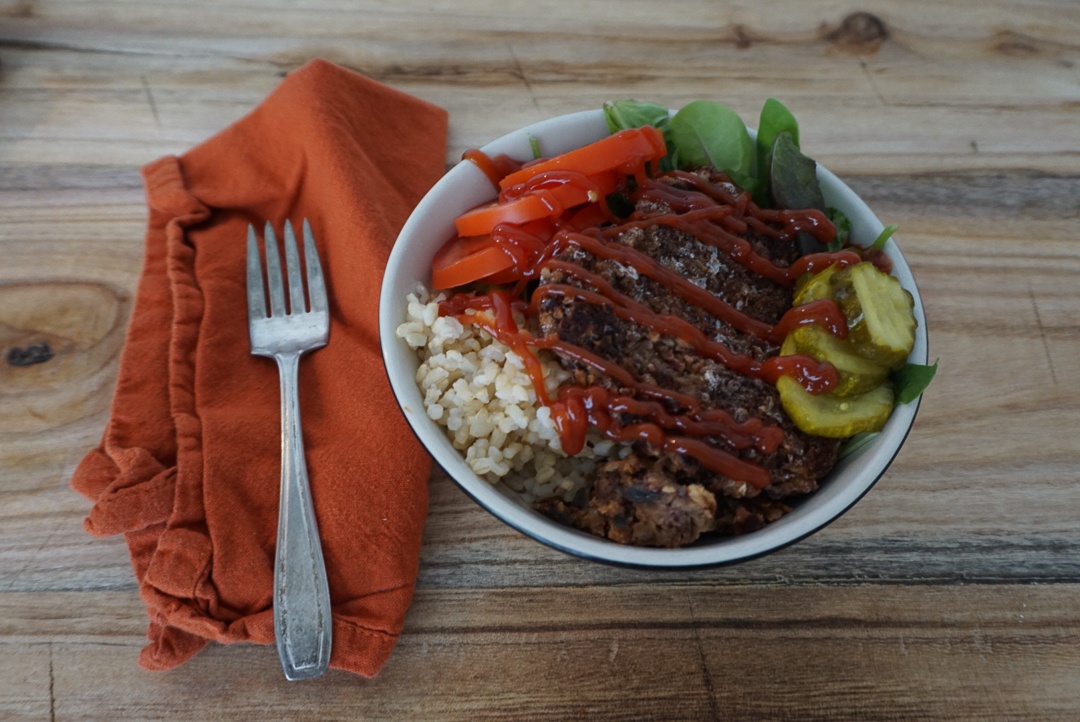 Servings: 4
Time: 40 minutes
Ingredients
1 ½ cups farro, rinsed and drained
Chopped lettuce
4 medium tomatoes, chopped
1 cup pickles, chopped
½ red onion, sliced thinly
4 tablespoons ketchup
Instructions
Preheat the oven to 350 degrees F.
Put the farro in a saucepan and cover with water by an inch. Bring to a boil.
Turn down to a simmer and cover. Cook for 30 minutes or until tender. Drain.
Meanwhile, put the burger patties on a sheetpan covered with parchment paper and cook in the oven for 15-20 minutes or until warmed through. (Alternatively, you can microwave them).
Divide the farro between four bowls, top with a burger patty and garnishes as desired.
Serving
This burger bowl has the classic toppings - lettuce, pickles, and ketchup - but you can mix this up any way. Add some cooked mushrooms and vegan cheese for a twist on a mushroom swiss burger, or some fried onions, coleslaw, and barbecue sauce for a barbecue burger. Any burger combo you like will work!
Storing
The farro and burger patties freeze well, so you can make these in bulk and pull them out as needed when you want to throw together a quick meal.